Learn how to build powerful digital products quickly, without needing to learn code. This guide explains the basics of low-code solutions and how you can use Webflow to create and manage a website for your business. Get started with Webflow today
Webflow is an excellent low-code solution for developing professional-looking marketing websites. We will explain why progressive companies choose low-code solutions for their development and why they choose to create a website with Webflow in this article.
How to build a website with Webflow?
Why are low-code solutions an excellent opportunity for your business? Because it's a resource-efficient way to get your business online while saving time and money. Low-code solutions speed up the process, incorporating pre-made parts or highly-automated tools to create a custom product. For example, you can receive a website made with Webflow, a platform that offers you a comprehensive design editor so you can make a website while knowing nothing about coding. Are you Interested to learn more? Let's dig deeper.
What is Webflow?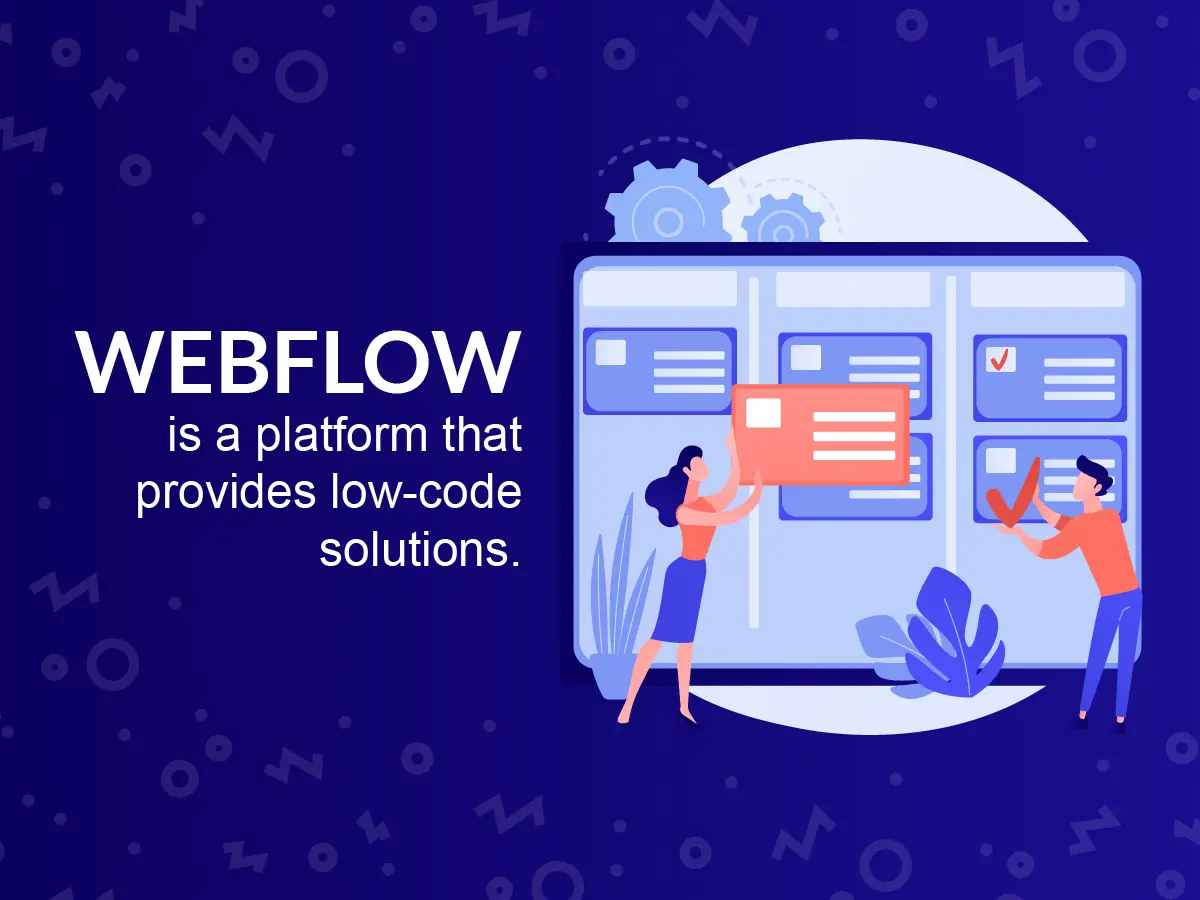 Webflow is a no-code builder for creating custom websites. It's a cloud-based platform for professional designers to create unique, eye-catching UX/UI for fully functional websites. It's a CMS platform with the option of integrating third-party APIs to bring more functionality to your web apps, such as CRM systems, payment methods, login forms, and much more.
Pros and cons of Webflow
Ease of use
Low-code solutions doesn't demand any technical skill. For example, Webflow is a website builder, which means the platform provides you with the necessary toolset to simplify the process of building a website as much as possible. In addition, the visual editor Webflow provides a drag-and-drop feature, so you can create a functional UI without writing a single line of code.
Among the cons is a steep learning curve. While it is true that Webflow is a convenient tool for building a website using no-code and low-code solutions, first, you need to get used to its editor, interface, and tools, if you are new to web development. If this is your first time diving into the topic, you will need time to understand the basics.
The great news is that the basics are all you need, frankly. Do keep in mind, though, that Webflow, for example, was created with professional UI designers in mind, so it does offer an editor quite sophisticated for a low-code platform. This flexibility provides vast opportunities for creating professional, unique, and highly appealing interfaces but requires a particular effort. Another benefit is that you can use a template and skip this process entirely.

Digital product
With a platform like Webflow, you can make a genuinely high-quality website, even though the process of its creation is significantly simplified and incorporate low code.
You can create:
An appealing website with interactive animations
A convincing marketing website with an editable blog page using Webflow CMS
A static landing page with an aesthetic product presentation
A web app with third-party integrations
Webflow was designed with expert craftsmen in view, so the platform's capacities don't appear constraining. The drag-and-drop editor lets you fully control the design creation process while integrated SEO & marketing tools help optimize your web pages for Google ranking.
Production time
The production time of a product that incorporates low-code solutions decreases drastically compared to full-cycle development. TTM (Time to Market) becomes much shorter since using a website builder quickens the process. Many steps in the process are automated, meaning less time on meticulous details spent by your team's programmers, designers, and QA testers. Excellent choice for creating MVPs —- Minimale Viable Products to verify your idea on the market before committing to the long-term development of a more complex project.
Workspace
Webflow's workspace is both intuitive and intricate. The digital space is divided into two subcategories:
Designer mode, where you create, iterate and incorporate changes directly in the UX/UI and any visual part or element of the interface.
Editor mode, where you can make changes only in the content of the website, and not UI.
Such division in the workspace and restriction of access allows you to designate specific roles when you handle a team, for example. Your content editor gets an opportunity to make changes in the blog, while you can rest assured there will be no accidental tempering and breaking in the website structure.
Maintenance
Hosting, security, updates, and maintenance — everything handled by Webflow and covered by your subscription. Unlike websites that require manual handling, low-code solution platforms take that headache away from you. So there is no risk of messing up the security protocol, as Webflow, for example, comes with standard SSL security as a default, as many other automized platforms do.
There are also no issues with updating different plugins and running into compatibility issues. No need to track your hosting subscriptions and domain payments, as everything is included in your plan and handled by the platform. In a world with too many things to focus on, it's an excellent opportunity to have, at least every part of your website in one organized and well-maintained space.
How to build a website with Webflow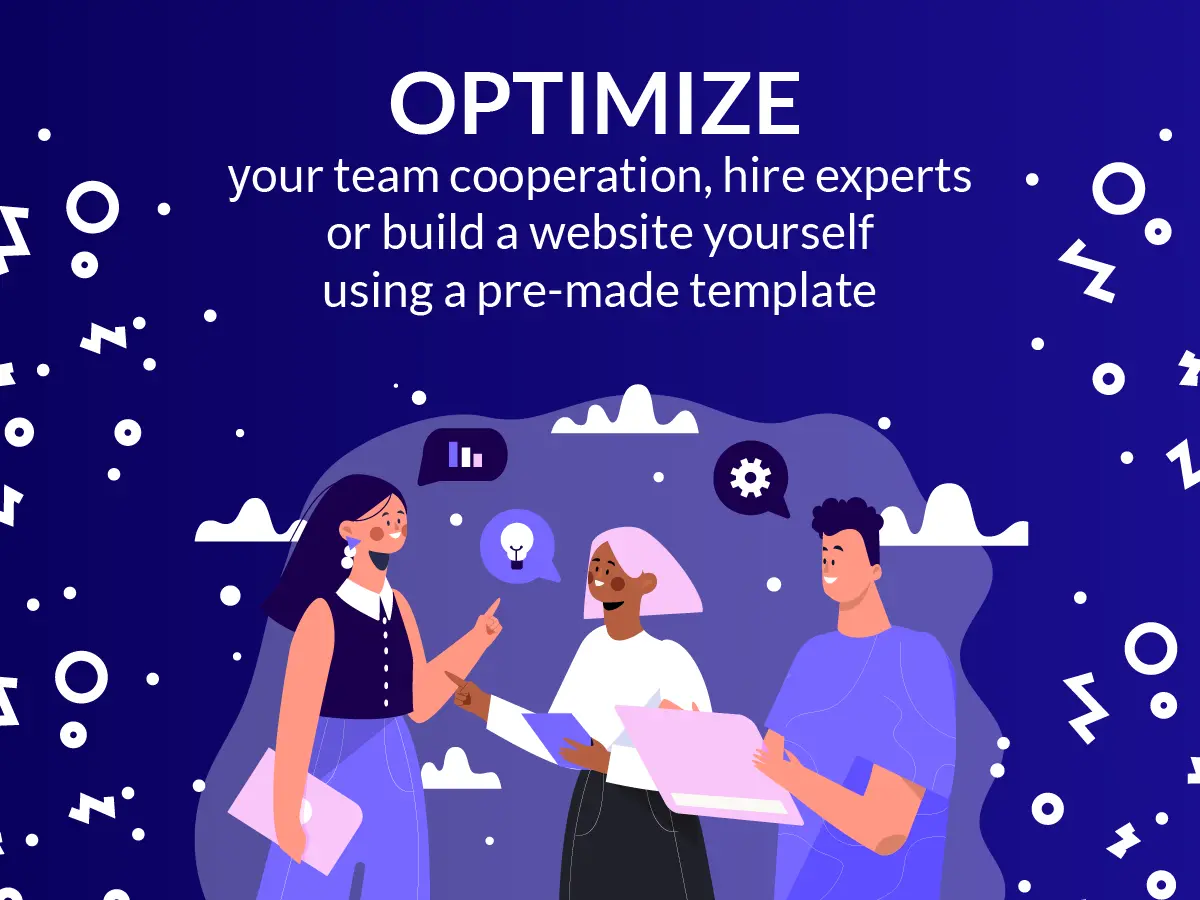 Generally, there are a few options for creating a low-code website on Webflow:
Building it from scratch with Webflow functionality
Using one of the Webflow templates from the official library
Hiring Webflow Experts
We will discuss about Webflow Experts in more detail in the article, but for now, we want to mention what you can do independently.
Here are a few suggestions:
Transfer your UX/UI design from Figma to Webflow. You, as a designer proficient in Figma, you don't need to use Webflow's editor; you can move your pre-made project here. You can combine the two functional programs and build a website with Figma and Webflow.
Webflow University is a platform created by Webflow that contains dozens of video tutorials on handling Webflow platforms. The lessons are concise, understandable, and not without humor. All videos are easily digestible and provide a great explanation of the core features.
You can choose a pre-made template from the Webflow template library. Hundreds of excellent options can jump-start your business online with little to no effort.
Is Webflow free?
You might have asked yourself an important question: is Webflow free? The platform has a policy of "free until you are ready to publish." You can sign up for services and look around, taking as much time as you need, but you must pick a plan to launch a website live and access the total capacity of tools and services. Webflow is a subscription-based service, meaning your Webflow costs will ultimately come down to your chosen package.
Two varieties of plans are offered:
Site plans
Workspace plans
Site plans provide technical features, such as the number of websites you can have on one account, hosting details, etc. Finally, workspaces handle the side of online cooperation for you and your team or specialists you hire.
Official Webflow Partnership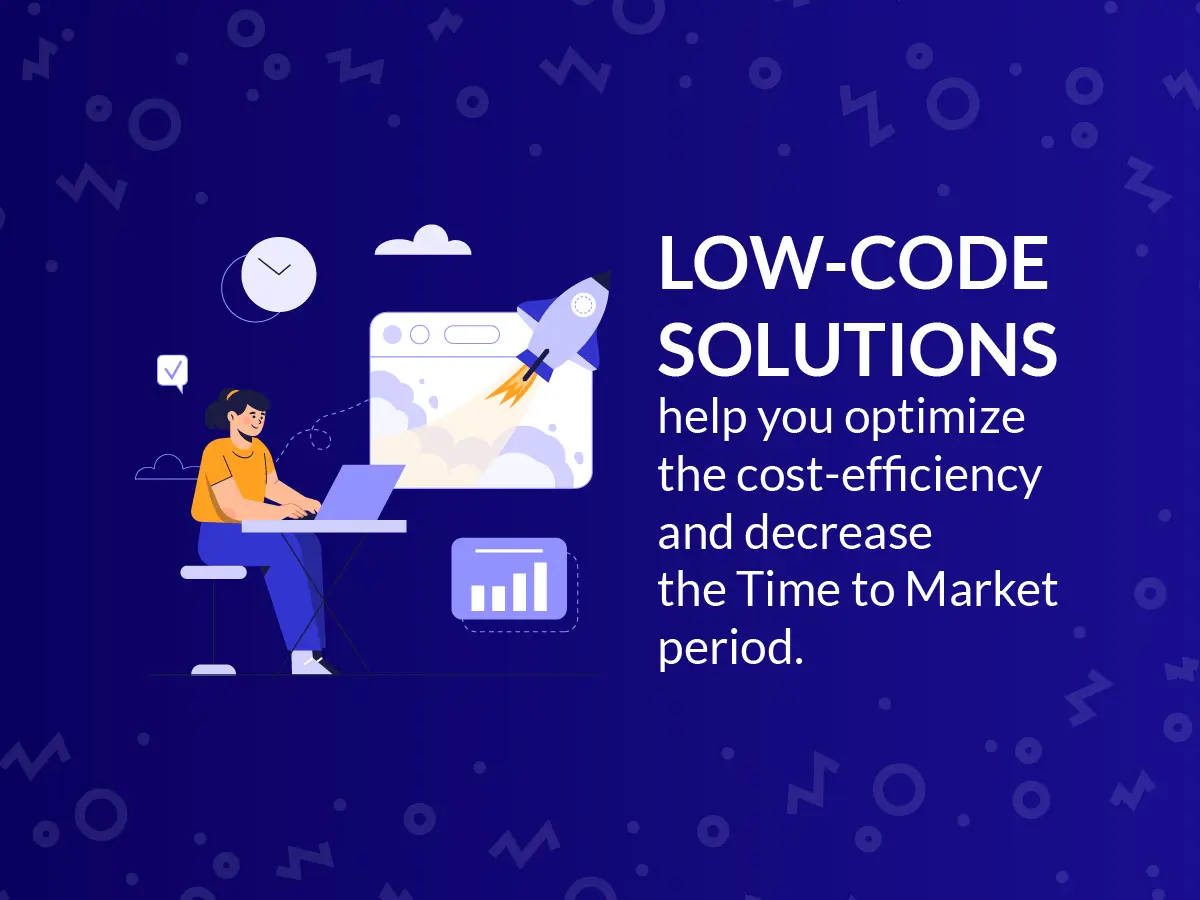 Many professionals are available today on every freelance platform, such as Fiverr and Upwork. But with low-code platforms like Webflow, there is an excellent opportunity to hire professionals directly via the platform.
What are Webflow Experts?
Webflow lists selected professionals officially recognized as Webflow Professional Partners, or Webflow Experts for short.
A particular criterion must be met to receive a status of an expert:
A professional must have several websites developed and launched with Webflow.
An agency or a freelance must submit a portfolio of completed projects.
The Webflow team reviews the work for professionalism and skill level.
Webflow recognizes an agency or freelance as a Webflow Professional Partner only when all criteria are met. So in hiring such an agency, you can be assured of their work quality and professional reputation as a web developer and designer.
What benefits can you get from hiring a Webflow Expert?
You are hiring a recognized professional with solid experience
They can provide custom solutions with unique designs and personalized functionality, which overall requires more complicated development
They will have the necessary skill set to utilize the platforms in the most efficient way
The list comes with recommendations directly from Webflow, so the safety of your deal and the quality of a product are guaranteed
You can even sort the list according to the country of origin, so you can find specialists from your native country that speak your native language or any other location of your choice

Tips from Webflow experts
There are certain aspects to examine when building a new website. Certain items only become apparent when you have been handling them for several years while needing to be clearer for newcomers. Here we offer some valuable tips from Webflow experts to help you on your journey.
There are a lot of essential questions. For example, what is the purpose of the website? Is it to improve brand awareness or to receive more orders? Do you need to improve organic traffic? Understanding your goals and needs is essential before developing, as these will influence the project scope.
Features to consider
SEO. It's an excellent call to prepare technical tasks beforehand. For example, the document will benefit from including specifications for the Title, Description, and Open Graph. If you are not building a website from scratch but transferring an existing one, a marketer must collect all relevant data from the previous website before the new version goes live. The technical task also must include specifications for sitemap.xml, robot.txt, and page 404.
CMS. CMS is a Content Management System focused on providing organization and maintenance of the content on your website. While this is nothing new, it is good to consider whether you will have static or dynamic pages.
Motion design. Creative visuals greatly enhances user experience, as it improves the general look of UI and can add an element of interactiveness. Lottie animations, for example, are a popular way to incorporate dynamic images into your website. Lottie's are incorporated natively into many tools, and in other cases, it is still easy to embed those animations into any platform you need. Webflow, for example, offers native integration with Lottie. Conversely, motion design greatly influences page speed optimization, so your developers will face more challenges. Finding a balance in this matter is always a good idea.
Third-party API integrations. Do you want your website to be more than a static landing page for marketing purposes? If you need more functionality and features for user interactions, third-party integrations are a must. Such APIs may be a Login or Subscription form, Payment system, custom CRM, live chat, chatbot, Google Analytics, etc. The list goes on, and software is available for every need in building a web app. Connecting third-party software requires more technical skills, so the best scenario would be to delegate the task to professional developers if you have no coding experience.
Conclusions
No-code and low-code solutions in web design & development, provided by platforms such as Webflow, are undoubtedly the technology anyone can benefit from.
For business owners, simplifying production means saving resources, such as time, money, and human resources.
For developers incorporating low code into the development dramatically speeds up the process, eases the cooperation between team members, and generally increases effectiveness when delivering successful digital products.
If you are looking into creating a new website or web app for your business, we encourage you to take advantage of what modern technologies offer. Whether you are building a website yourself or seeking professional Webflow development services, there is a lot you can do with the platforms available.