Discover the top 10+ AI companies that are leading the way in innovation. Find out which ones are the most promising in the field of Artificial Intelligence. Explore now!
Artificial Intelligence is one of the most promising mobile app development technologies. It has great potential and can offer businesses excellent benefits.
That's why every significant business is investing in this technology to get the maximum benefits in the future. The leading companies, Apple and Google, are also investing in this technology as they know AI can significantly benefit them in the future.
If we believe the report, the market for artificial intelligence is predicted to have a net worth of $118.6 billion by 2025. Let's know some of the top benefits of AI for business sectors.
Benefits Of AI In Business
Artificial intelligence positively impacts the business sector and makes it much easier to complete complex jobs. It also provides a wide range of advantages, including the following: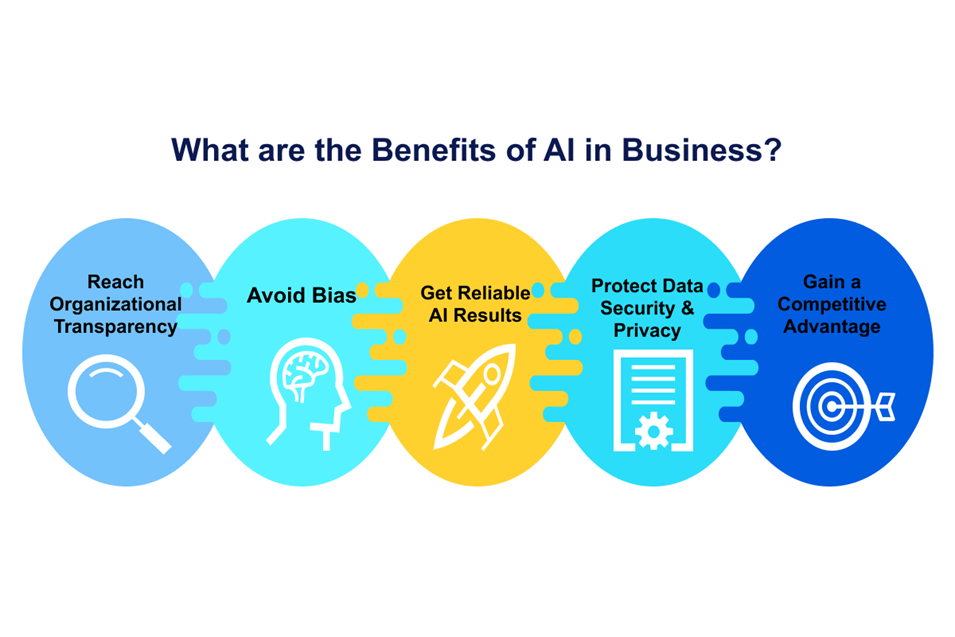 Provides sage guidance and resolute backing
Utilise cognitive technologies to assist in making important decisions.
Minimal human mistake
Helps in raising revenue
Produces quality work
Helps in forecasting client preferences and grows the customer base.
Optimizing the proper procedure ultimately saves both time and money.
10+ Best Most Promising Artificial Intelligence (AI) Companies
You can't work with AI technology without proper knowledge and experience. So, to include AI technology in your business, you must hire a professional AI app development company.
Numerous AI app development companies are available, so selecting the best one is challenging.
Here, we are presenting the top AI app development companies that will help you create the best AI apps for your business-
Vention is a leading software engineering company with significant expertise in artificial intelligence technology.
The company has a powerful team that can leverage AI technology smoothly and help clients scale more efficiently and quickly.
The best thing about the company is that they offer flexible hiring models (collaboration options), including hourly hiring basis, dedicated teams, and project-based engagements.
The company's commitment to quality and cutting-edge technology guarantees you will always get the best AI app development solutions.
Another leading enterprise AI development company on our list is Parangat. The company has worked on numerous AI app development projects. You can check the company's robust portfolio, which includes countless AI-powered solutions transforming customer communication, medical diagnosis, inventory management, financial fraud detection, and many more.
The company can provide the best AI development solutions for startups and enterprises at an affordable price and at a given time. They have earned ISO 9001 and ISO 27001 certifications, demonstrating its commitment to the quality and security of the data it gets from clients.
Additionally, they have been pioneering in the field of travel AI, developing cutting-edge applications that revolutionize the travel and tourism industry. Their expertise in integrating AI with travel solutions is a testament to their innovative approach to blending technology with user-centric services.
Markovate Inc. is a reputable and leading AI app development company in the USA, India, and the UK. The company is widely known for offering innovative and robust AI app development solutions. They have a fantastic team who keep themselves updated with all the recent technologies and trends. The company's main motto is to provide clients with the best AI app development solutions that make them stand out.
Founded in 1998, Itransition has become a top AI app development company. They have significant expertise in Adaptive and Generative AI app development. They have served clients in multiple industry niches, including manufacturing, healthcare, retail, education, banking, transportation, automotive, and agriculture.
They closely adhere to coding standards and industry norms (including HIPAA, GDPR, and PCI DSS) and offer frequent KPI-based reports.
ThirdEye Data is a market leader in AI app development solutions. They have great expertise and experience in delivering AI software for security cameras. They provide custom solutions with multiple advanced features to help you solve various issues. They offer the services for $50-$99 per hour.
Founded in 2014, InData Labs is another famous data science company with significant expertise in Artificial Intelligence and Big Data technologies. They have a powerful team of more than 100 people. The company offers its experience in AI and Big Data to advance businesses of all sizes. The most critical areas of competence include AI and Big Data, Data Science, Data Capture & OCR, Predictive Analytics, Machine Learning and deep Learning, and NLP.
Innowise is a premier software development company with significant knowledge of leading technologies, including Artificial Intelligence and Machine Learning. The company has created some of the most advanced AI platforms in the market, and many of the largest brands in the sector employ its products.
They have a skilled and enthusiastic team that uses cutting-edge technologies. The company's primary aim is to offer its clients the most significant technology and support so they can keep developing AI.
Founded in 2004, Master of Code Global has years of experience developing web applications. They offer conversational AI solutions for customer service, business process automation, and conversational commerce.
They can work with businesses of almost all niches, including transport, sports, entertainment, social media, and many more.
DataRobot is a market leader in Artificial Intelligence and Machine Learning. They have proved themselves as one of the top Artificial Intelligence app development companies with their expertise and experience. They can solve even the most complex projects with ease. They can provide outstanding AI app development solutions to every business size at an affordable price.
Founded in 2016, Hatchworks Technologies managed to come in our top AI app development companies lists with its excellence and quality. They have outstanding developers and designers who can efficiently work with advanced technologies. They hold a strong portfolio with various successful AI app development projects. They have positive reviews and ratings from clients globally.
Concluding Note:
AI is indeed an advanced and robust technology with the potential to change human lives completely. It is indeed said that 'AI is the future.' Here, we have suggested the top ten AI development companies. Our top picks from the AI development companies are Parangat and Master of Code Global.
Reviewing Procedure:
This article's research took 22 hours
Twenty-one tools were examined in all.
Top fifteen tools shortlisted:
We hope you can now select the top AI development company for your AI app development projects.