Looking for the best Android camera app to elevate your photography game? Explore our list of the top 11 camera apps for Android in 2023-24 and start taking high-quality pictures today.
In the world of smartphones and smart devices, we need a highly advanced smart Android device and a good camera on the device. With the growing craze of social media networks among smartphone users, the audience has shifted their interest toward picture quality when buying a phone.

But only buying a good camera-enabled smartphone is not enough. The phone should be capable of supporting a variety of camera apps and hardware functionality.

Android smartphones nowadays have all the advanced features built-in in their smartphones. But, these default features are not enough for users who like to goof around with the manual camera controls.

To meet the requirements of various kinds of Android users, the trend-setting new camera applications for high-quality pictures are at your rescue. So Android users usually prefer to look forward to better applications to have a mesmerizing photographic experience.

Hence for great-quality pictures, one has to look for additional camera apps which provide a whole bunch of editing and sharing features. There are a ton of options available for the Android camera app; some of them are listed below:

Open Camera

Open Camera, as the name suggests, is an open-source Android camera application that provides manual controls from Camera2 API. It has many exciting features for professional photography, such as ISO controls, timed pictures, auto stabilization, slow-motion videos, and burst mode.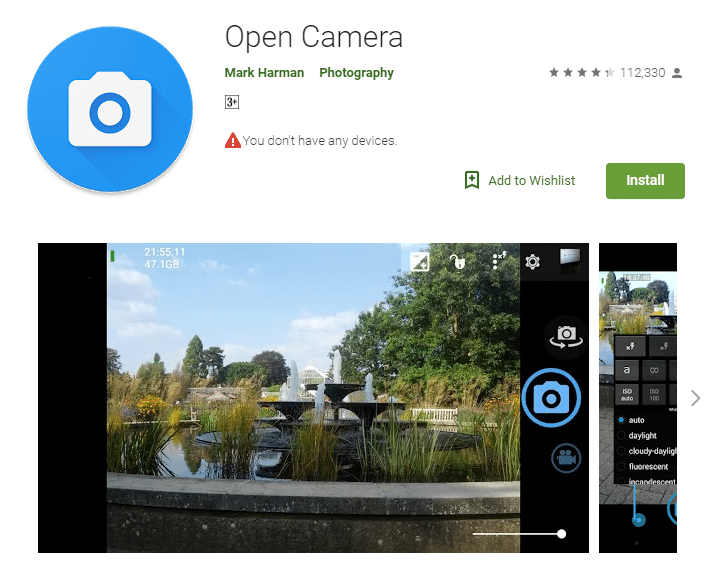 One of the interesting features is the voice instruction for clicking the pictures, which allows taking pictures when sensing a voice command, e.g., "smile" The open-source nature makes this app a continuously growing app. Every now and then, new features and modes are added to provide users with the best photography experience ever.

Footej Camera
Footej Camera is an element-pressed Android camera application that offers an assortment of shot modes and settings for free. The app has both the facility of a free version as well as a premium version which professionals prefer. Like every other camera app, it has the features of Camera 2 API, ISO control, focus settings, burst mode, slow motion recording, and more.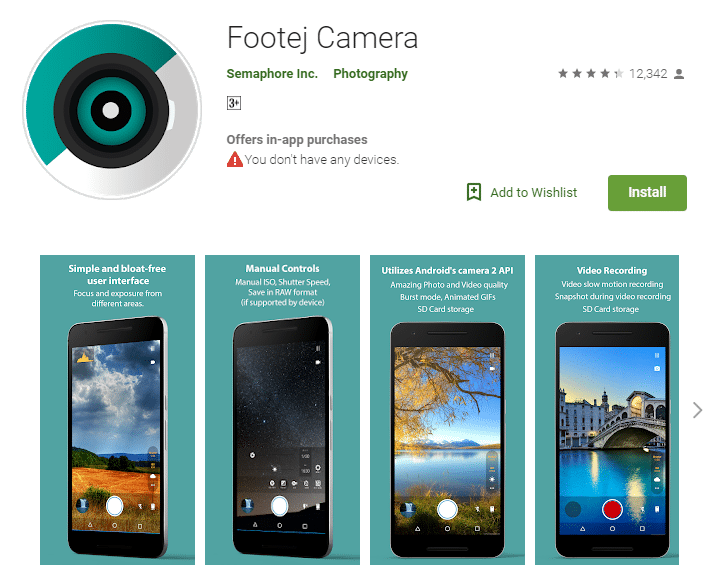 In the premium version of the application, there are facilities for reducing the interval of burst mode and making a histogram of the images. But all this is helpful only when one has prior experience using these photography features, so users going for the premium version update should keep this thing in mind.
VSCO Cam

VSCO camera app is yet another superb mobile camera application. The application is stacked with advanced camera controls, which let you change the brightness, shine, features, and more. Many clients trust that the primary feature of the VSCO application is its wide arrangement of photograph-altering highlights; however, it's the social component that has been worked around the application which is of awesome fascination.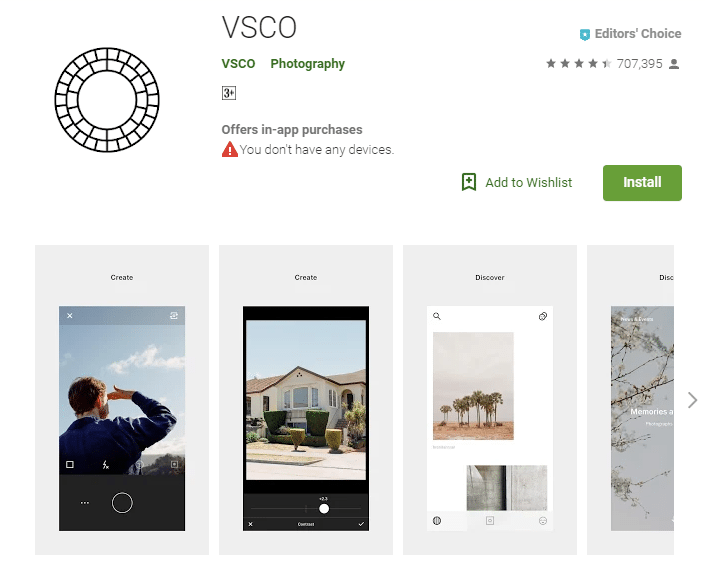 The app has made sharing your pictures through the social network easy. It has a community for photo enthusiasts to share pictures and learn about photography art.

VSCO—originally an iOS-exclusive app—differs in a few main areas. In the first place, the application solely centers on higher-end photography, pulling in clients who feel Instagram and comparable applications don't concentrate enough on the actual photo experience. Second, the camera and application interface are spotless and minimalistic.

Unfortunately, icons don't tell you much of what they do, and the app has a fairly large learning curve to figuring out what everything does. Alters should be possible inside the application, with photographs taken with VSCO and your framework camera imported into the application's "Studio." From there, you can share and post your photographs with VSCO's network of photographers.

Manual Camera

Manual Camera app makes use of direct camera controls presented in the Camera2 API, furnishing clients with close aggregate manual control over their camera settings when taking shots. It provides the feature of customizing your own shot by manually making settings for exposure, shutter, and focus. Manual Camera presents you with a huge number of controls that are almost similar to DSLR.

It expands a particular UI that is loaded down with the entire arrangement of manual controls. The entire point is to give the photographer as much direct control over the shot as possible, so if you're just aiming to get easy, optimized snapshots, look elsewhere.

Working on the actual manual control shots requires a bit of experience and skills in terms of photography. Manual camera but surely will provide you with all the experimental manual controls hence is generally recommended for high-end photographers.


It has a plethora of camera modes to take the sharp and good quality of HDR+ pictures, along with portrait mode. To make use of the RAW features of the application, the hardware should support the application features, so the user should make sure before installing a particular application and going for the RAW features.

Camera MX

Camera MX is another camera app that is much simpler and has many filters built especially for beginners. It provides many photo effects and the editing ability to provide an awesome photography experience. The editing tools provide us with a plethora of features to edit a photo taken by changing the contrast, sharpness, and other image special effects.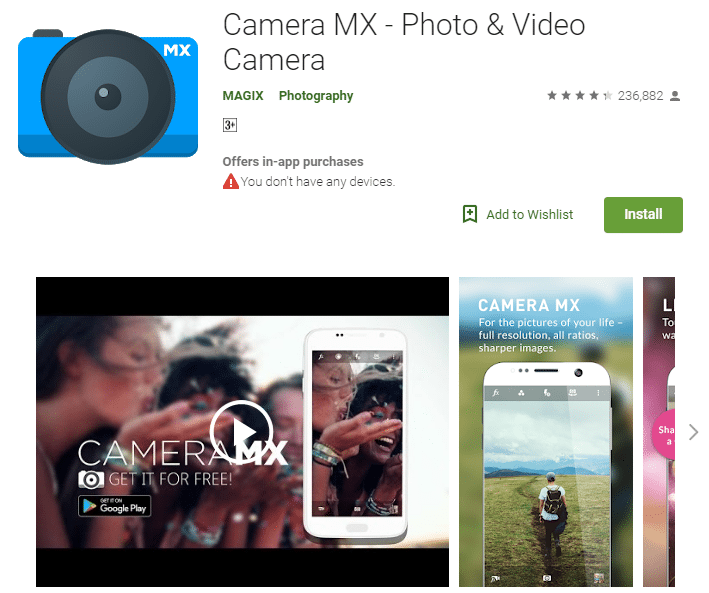 The app is free to download and worth trying for users new to photography. According to the reviews, it has the best selfie camera feature and is very user-friendly. With each of its newer versions, the camera MX application is getting better day by day. By its latest update in April 2018, the camera MX has nearly about 1 million downloads worldwide which is quite a lot.
Camera 360

Camera 360 is a fun-filled camera app with various stickers and camera modes available for excellent-quality photographs. It has features such as selfie mode, portrait effect, lens filtering, etc. A lot more than the camera, it gives a wholly customizable experience to the person taking photographs, and one can apply tons of filters to make your image look good.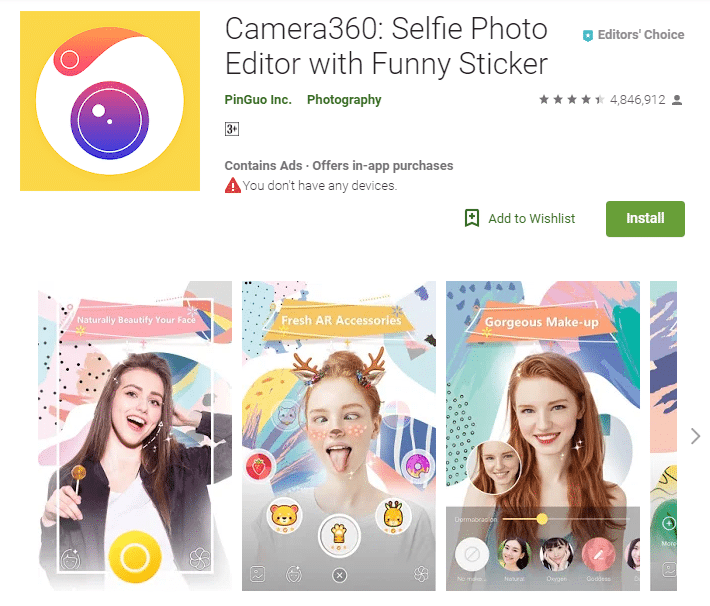 It also has a tilt-shift mode which gives a depth effect to the pictures clicked. The stickers and funny customization have made this app popular among teenagers for use. It also has the feature to give you pictures that are Instagram styled so that no more cropping and editing is required before you post it on Instagram.

DSLR camera Pro

DSLR camera Pro is totally a copy of the actual DSLR in terms of features and capabilities. It provides a very fine tuning to all your clicked pictures. The application has a live histogram for all your settings. With the manual control features, there may be a case of compatibility on some of the devices.

DSLR Camera Pro does a couple of extremely intriguing things to recreate the vibe of a customary DSLR camera: the application has a virtual two-state shutter catch, which adequately goes about as a shade catch would carry on a conventional DSLR, taking into consideration a concentration state and photographing state.

The application incorporates a light meter, something we haven't seen an excessive number of applications in the Play Store for cameras. There's a burst mode included for taking different edges and photographs on the double, and, as we've seen on other photograph applications, included lattices for following the control of thirds in your photographs.

Retrica

Retrica is the most popular Android app youth use nowadays, which helps apply real-time effects. Usually, young photographers who prefer instant editing to their photos use Retrica. RETRICA permits applying obscure impact and vignette fringes to pictures. It likewise permits taking school shots.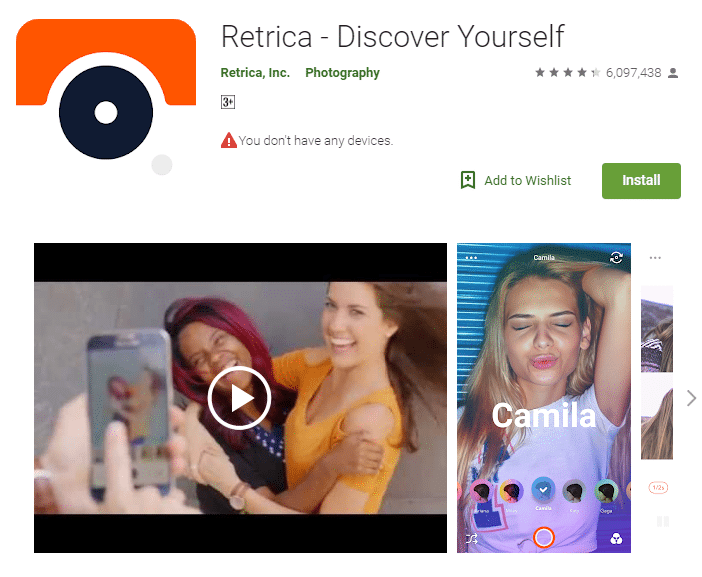 It helps you to apply doodles and stickers to make your pictures customizable. It provides many advanced, easy-to-use and apply controls along with basic controls. The photos are auto-saved, and you can share these pictures on your Facebook account. One can also add the location information on the photos.

Camera FV-5 Pro

The Camera FV-5 pro is a very different camera app for Android phones having some unique features such as the light trace mode for clicking photos, manual focusing for the pictures, changing of shutter speed, and other things. But many of these features are only supported by some of the Android smartphones.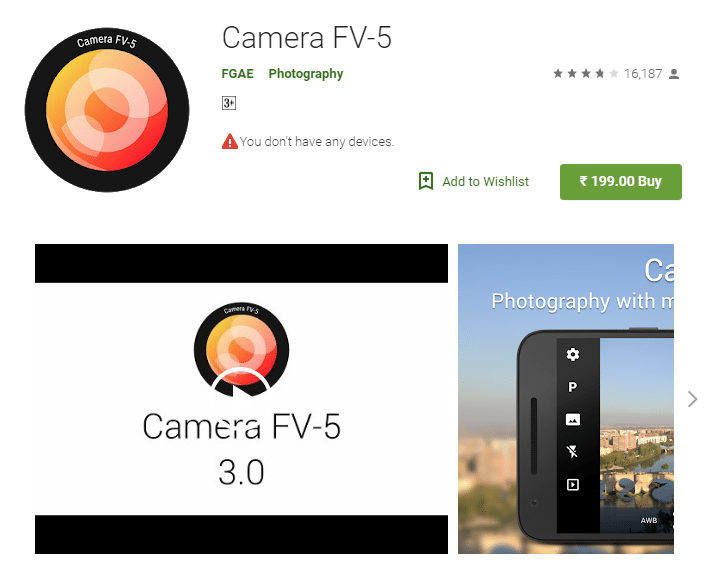 The app has a free and a paid version; for extra features, you can go to the Pro version of the application, which exactly replicates the DSLR features, but keep in mind to have an appropriate smartphone to take advantage of these superb features.

Camera FV-5 is pointed solidly at photography fans and consolidates a list of capabilities and interfaces that mirror that of a manual DSLR. The application packs various settings inside simple achieve, for example, ISO, white adjust, and center modes, and that's only the tip of the iceberg.

An intervalometer allows you to set up time slips by photography and recordings, while a long presentation mode allows you to make low-light photographs and light trails.

Camera zoom FX

The Camera Zoom FX is one of the best camera apps with both free and paid versions available for the excellent quality of pictures on Android phones. The application accompanies different shot modes, for example, burst, coordinated, voice enacted, and an unfaltering shot partner.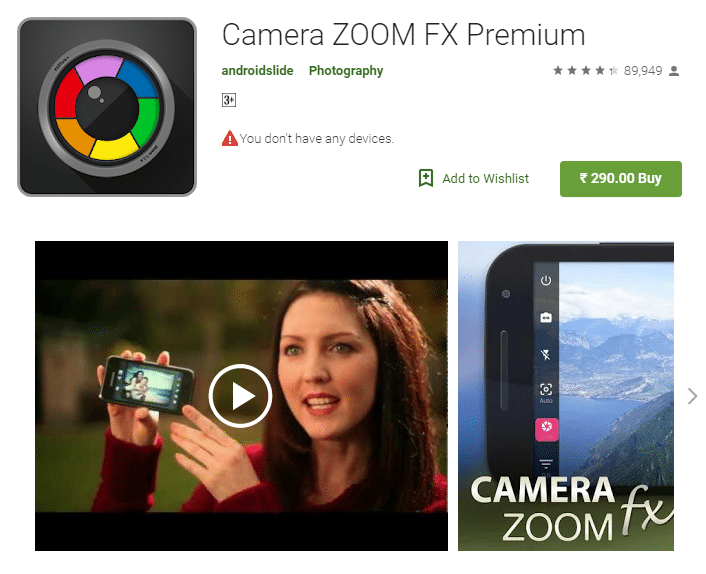 There are further settings for ISO, HDR, shine, immersion, equipment catch controls, and synthesis overlays, and that's just the beginning. The application additionally accompanies photograph-altering apparatuses for applying impacts, such as shading changes, tilt-move, and then some, which can be shown continuously as you shoot or connect later through post-handling.
The camera is the most useful smartphone functionality, and not only the hardware but also the camera software has an important role in the quality of photos you get from the phone, which compels the user to use the external camera apps present in the Play Store. Of course, it's sufficiently simple to utilize the included programming on your telephone; however, a few clients may need to add up to control over white adjust, ISO settings, and that's just the beginning.
Although many camera applications are being devised for Android phones nowadays, not all of them need to be as per your expectations. Some apps are really not that good. They might even take downgraded photos compared to your original default camera or are unsuitable for Android devices. Hence choosing a good camera app is necessary and should be a wise decision so as to have highly optimized photos.