Apple's App Store is home to a million games, there are plenty of offline games available on the App Store, but which ones are worth your time? We've compiled a list of the top 22 offline games for iPhone and iPad.
Playing games online with your iPhone or iPad can be really interesting. The adrenaline rush and the feeling are just out of this world, especially since you're playing live with or against other players who are in different locations.
However, while online games are great, you must have an active internet connection before you can play. And you can't connect to the internet if you don't have access to a wifi or cellular data plan. So what happens when you exhaust your data plan or lose the network signal? You definitely won't be able to play, and that's when offline iOS games become helpful in fighting boredom and keeping you entertained.
With the increasing number of iPhone app development courses on the internet, everyone wants to become an iPhone app developer, and as the number of developers increases, so does the number of games, which makes it quite challenging to choose the best free offline iOS games to download.
To make things easy for you, we have created a list of 36 best offline games for iPhones and iPads in 2023 that you can pay for without data or WiFi, and we have also added a brief description of what to expect from each of
1. Solitaire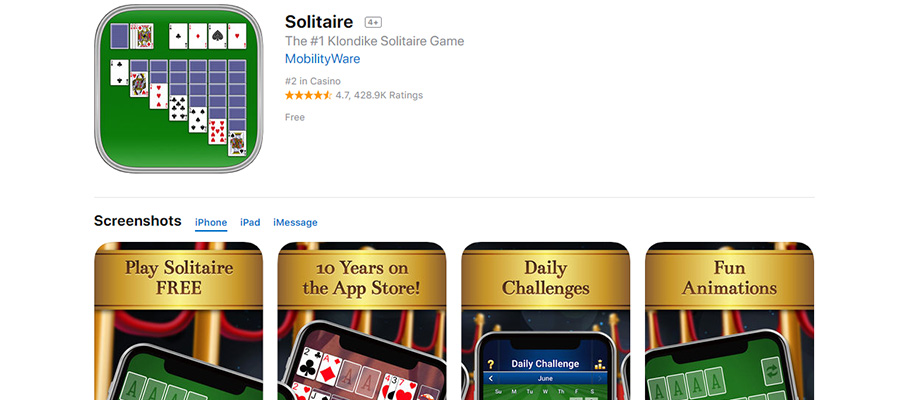 Solitaire never gets old. This strategic game has been through the ages, right from the era of personal computers. If you've ever used a Windows computer and enjoyed playing Solitaire, then the free iOS version will blow your mind away. And if you've never played it before, then be ready to have a whole new experience with this classic game because the developers have redesigned Solitaire by adding great and exciting features that make the game even more interesting.
The Solitaire iOS game features daily challenges for every new day. The objective is to win the challenge, but if you find it difficult to win, you can use the winning deal feature or the customizable options to make things interesting. Once you pass the challenges, you will be rewarded with crowns and trophies. You can play as a single player or multiple players with friends or a random programmed AI. You can also choose themes for Rainy Day, Spring, Christmas, and many others.
2. Asphalt 8: Airborne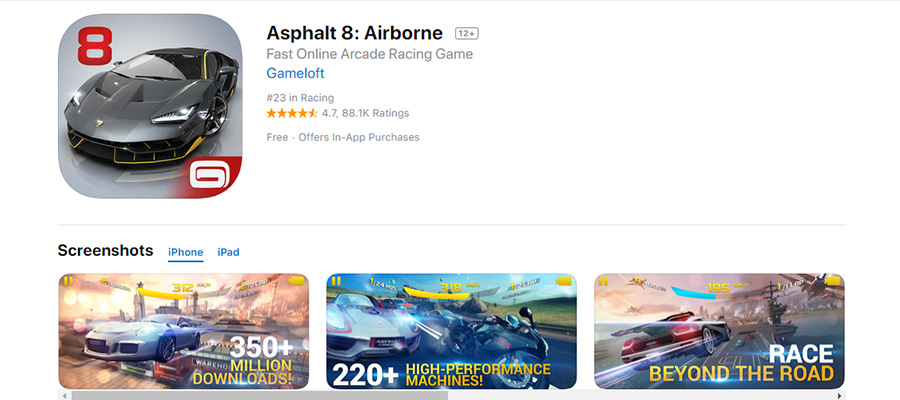 While you can't play the latest Asphalt: Legend offline, you can still enjoy some offline car racing adventure with your iPhone or iPad by downloading the Asphalt 8: Airborne for iOS. The game comes with a super interactive graphics with a truckload of features to keep you entertained. There are different ultra-fast and powerful cars for smashing your way through over 40 race tracks that you can unlock in Archase mode. To make things even more interesting, the creators added a multiplayer feature that allows you to play with more than 10 players.
Other features include upgrades that allow you to customize and upgrade your cars and unlocking new locations; and extensions such as unique game modes, mastery challenges, career events, and many more. The best part of it all is that you don't need the internet for all this, plus you get to play it for free.
3. Dream League Soccer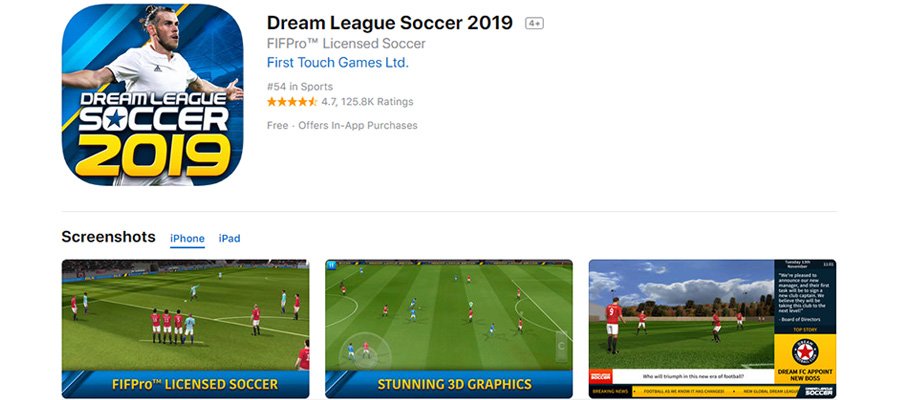 If you're a football fan looking for the best free football game for iOS, then the Dream League Soccer iOS Game should top your list. This free offline game features high interactive graphics with realistic animations to give you an exciting experience.
Dream League gives you an opportunity to create and customize a dream soccer league team with FIFPro™ licensed players. You will build your team from scratch and design your own stadium just how you want it. And interestingly, you can share favorite moments using the ReplayKitLive; you can save your game progress to iCloud so that you don't get stuck with one device, and you can take the action online by playing against other teams, but you will need data to use this feature.
4. Badland 2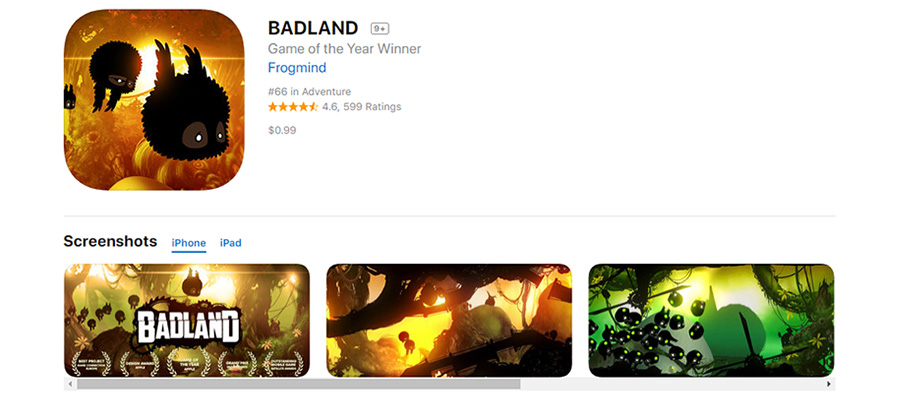 Badland 2 combines both action and adventure to give players joyful gaming experience. The game is one of the products of Frogmind Games and was released in December 2015. Badland won the Apple's Game of the Year award in 2016 with over 65 million players around the world.
The game requires you to guide a small black shadow character through obstacles, such as machines in the jungle until it gets to its destination. Although Badland costs $0.99, you will definitely enjoy playing this offline game for iPads and iPhones.
5. Plants Vs Zombies 2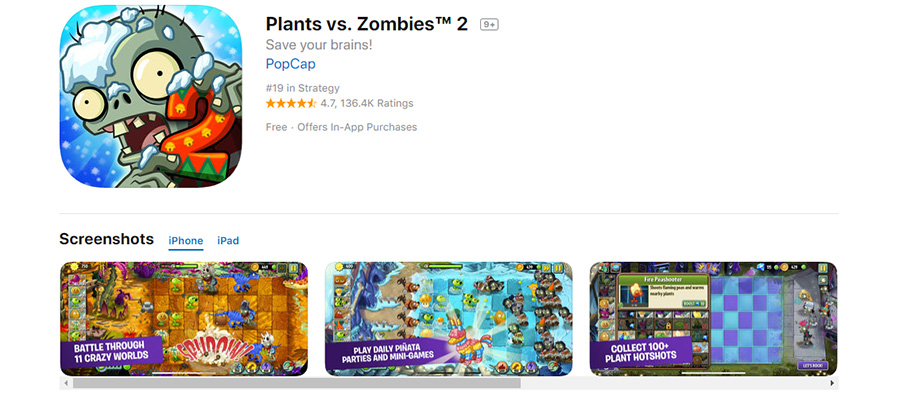 Although the first Plants vs Zombies 2 game recorded massive success, it had a few setbacks. However, the second release, Plants vs. Zombies 2 changed everything.
It's more fun and adventurous than the previous version with over 300 levels and 11 crazy worlds as your plants battle against the zombies. You can download this game on your iOS and play offline for free.
6. Crossy Road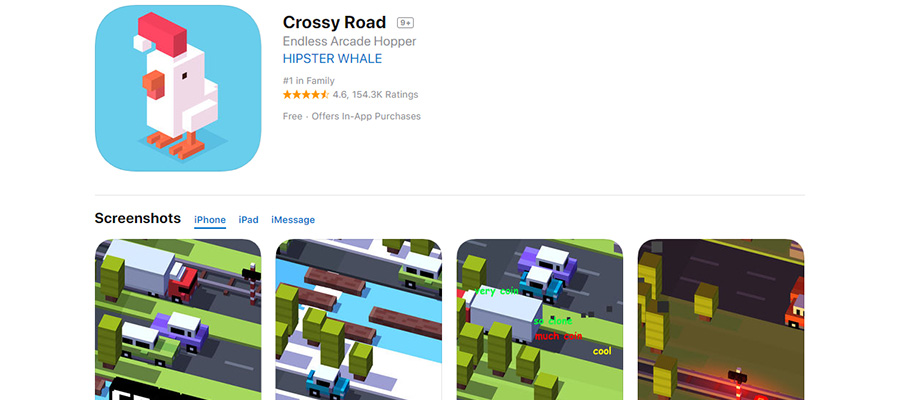 Crossy Road is an arcade game that requires you (the character) to jump your way through the busy roads of the street without dying. The game is not as easy as it sounds as you'll have to face tough roadblocks like cars, trains, and rivers which can lead to the death of your character.
While the default character of this game is an 8-bit chicken, you have the option to select from the 145 available characters. This iOS game is addictive, and you will love regardless of your age.
7. Shadow Fight 2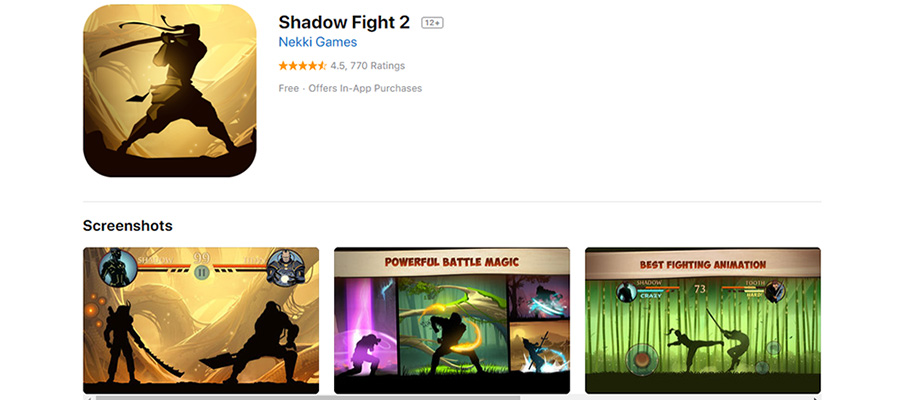 Shadow Fight 2 is an arcade fighting game designed for players who love Martial Arts games. This game features black and white realistic 3D characters that contrast the beautiful background colors.
Players can choose from a range of weapons in the shop, and the ninjas are equipped with different fighting skills. Shadow Fight 2 is one of the best free offline iOS fighting games we have seen.
8. Six Guns: Gang Showdown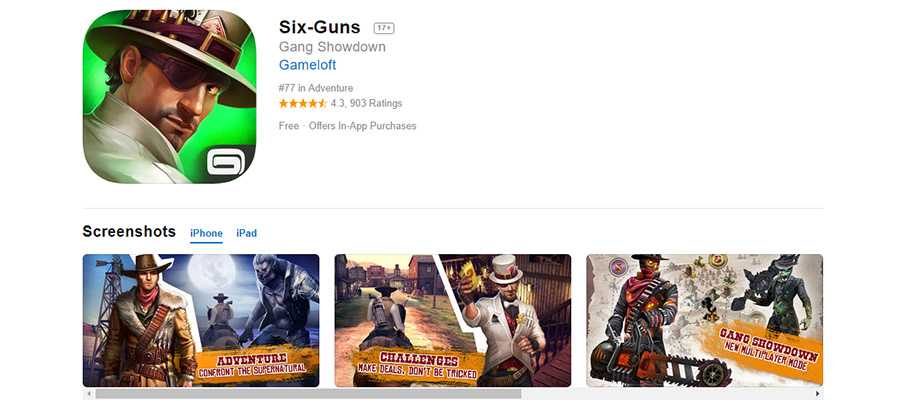 Six Guns: Gang Showdown is an interesting action adventure game that sends cowboys players on missions to fight the supernatural in an open Wild West land. You are going to battle against enemies like thieves, vampires and other crazy magical creatures while trying to avoid getting killed or outnumbered.
The Six Guns features 40 missions with each having a unique task to complete. There are 8 different horses, 19 weapons, ammo, clothes, and other useful items which you need to unlock for your adventure.
9. Criminal Case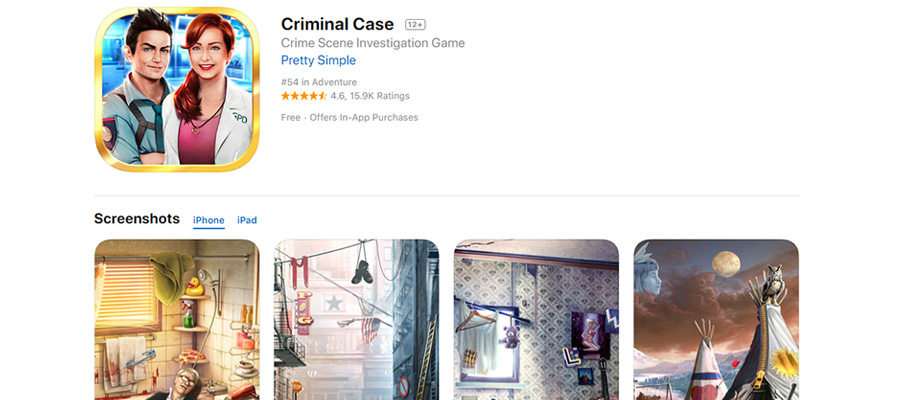 Love unraveling mysteries and death cases? Criminal Case is the perfect game for you. This game requires you to investigate and solve different crime cases by questioning suspects, finding clues, and collect information to fish out the real criminal. Once you gather enough data and hints, you have to analyze them to provide strong evidence against the culprit. You will also have to interrogate them and some witnesses leaving no stone unturned.
This free iOS game made it to our list of top offline games as it unleashes your detective and problem-solving skills.
10. Bakery Town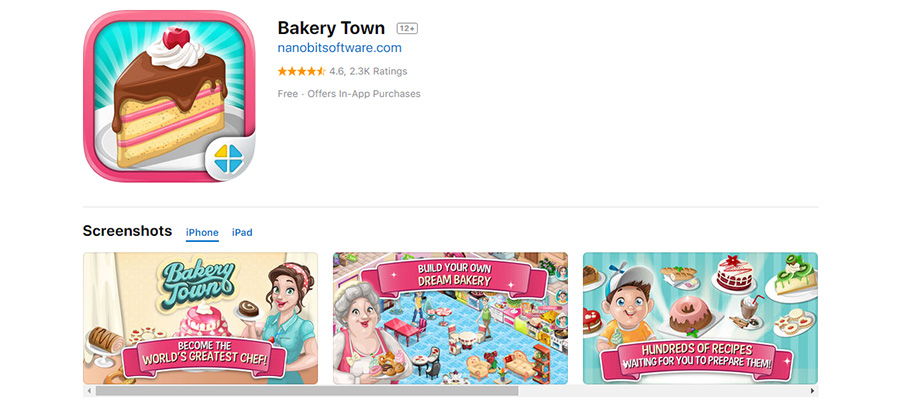 This one is those who love decorating and baking cakes and delicious bread, cookies, and snacks. Bakery Town is a free game for iPhones and iPads that allows you to create your own bakery shop where you can prepare sweet cakes to attract more customers. You can offer milkshakes, coffee, and tea to customers as they eat your yummy delights. As you continue to grow your customer base, you can employ professional chefs to help you with your business.
Bakery Town is a great iOS game that you can play offline, and you will love it if you like baking.
11. Fashion Design World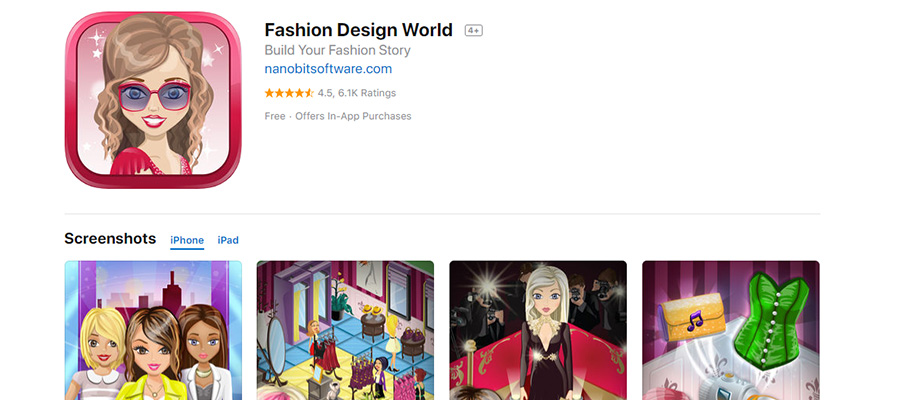 Judging from its name, Fashion Design World offline game for iPad is designed for fashion lovers who would like to create different designers clothes.
This game allows players to build a fashion shop or boutique where they can manufacture clothes with the various tools available in the shop and then sell to customers.
12. Real Racing 3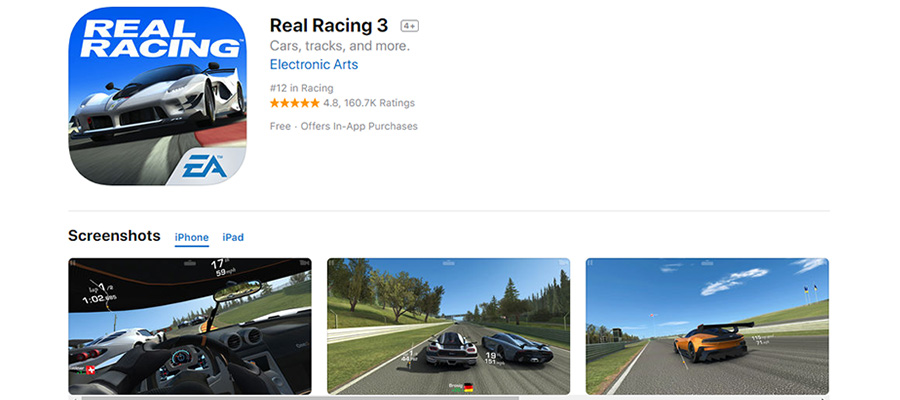 This is one of the most intensifying racing offline games for iOS. Real Racing 3 was released in 2013, and it offers players real sensation like they are driving real cars. Although while you can enjoy this game offline without an internet connection, you need data if you want to play in multiplayer mode.
Real Racing 3 has recorded over 400 million downloads. It features 40 circuits at 18 different real-world animated locations and more than 200 powerful cars from leading manufacturers like Audi, Ferrari, Bugatti, Porsche, etc.
13. UNO ™ & Friends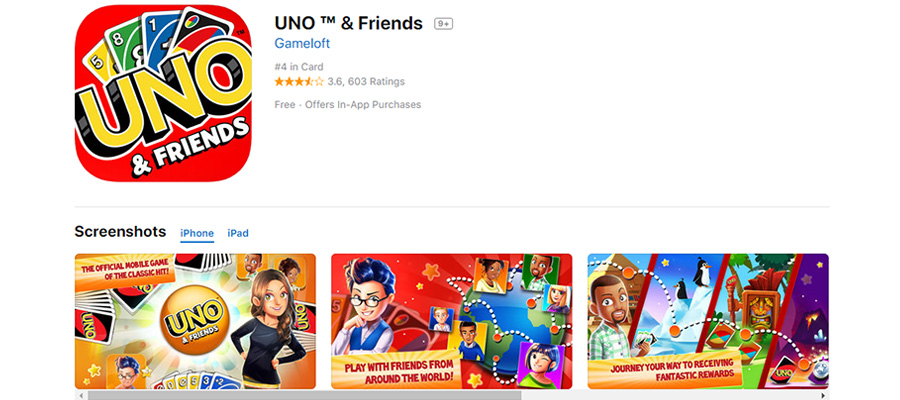 This is a strategic card game that you can play with family and friends. UNO ™ & Friends is quite addictive because you wouldn't want to quit playing once you master it. Participate and keep winning different tournaments and task to hold your position on the ranking.
The more games you win, the high you will go on the charts. All you need do is connect to the UNI network and have fun. The game is free to download and it comes with in-app purchases with you can disable.
14. Table Tennis Touch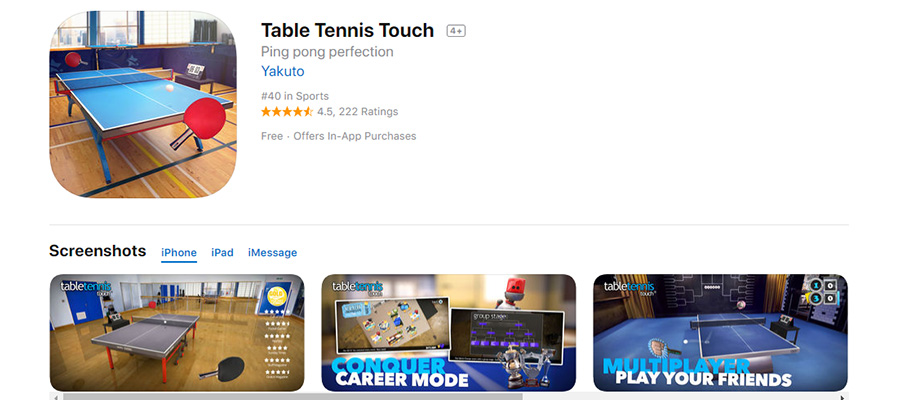 This game is for table tennis lovers, and even if you don't like tennis games, you will surely love this one once you master it. Table Tennis Touch iOS game allows you to serve, spin, and smash through different stages while offering you a real-time experience. It's fast and easy to learn.
It features Career mode, multiplayer mode, Mini-Game Fun Mode with 12 interesting ping pong tournaments, and other exciting stuff.
15. Temple Run 2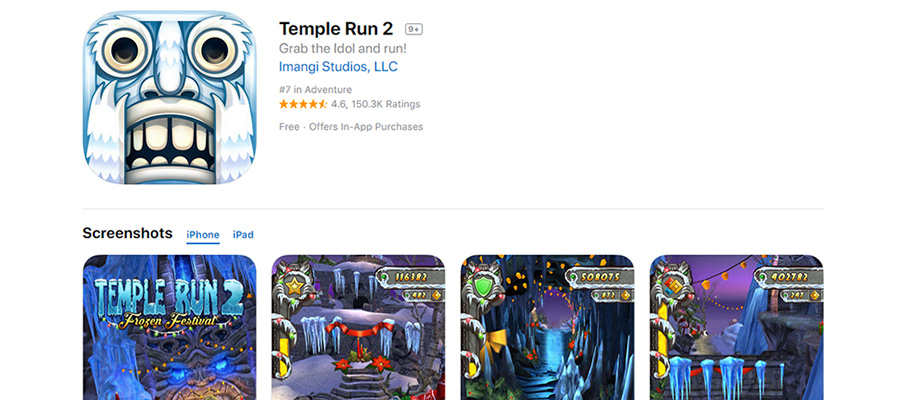 Temple Run is old but gold. This game has and will always be a favorite offline game for users. Unlike the first version, Temple Run 2 comes with new runways, more obstacles, clearer graphics, and great sound effects.
The game is addictive and you wouldn't want to stop running once you begin your adventure.
16. Fruit Ninja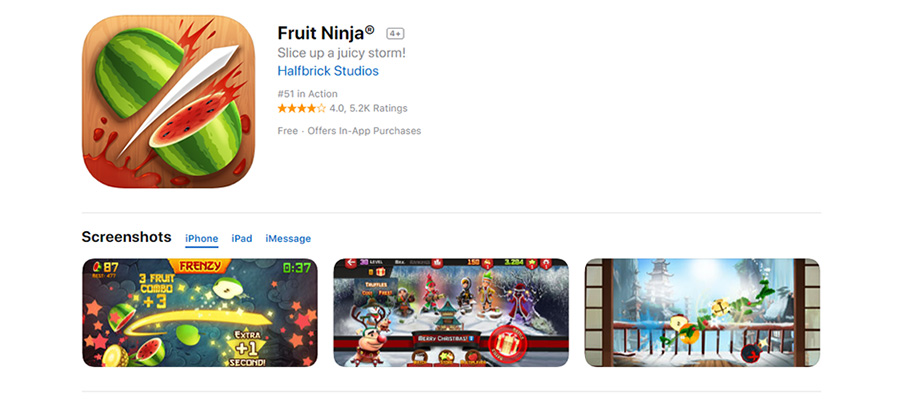 Simple but intriguing, Fruit Ninja is a game that lets you use your fingers to slice different kinds of fruits as they fall. While you are expected to cut the fruits without miss anyone, make sure you don't cut the bomb.
Everybody can play this game because it doesn't need any special skills you just need to know how to swipe your finger across the screen of your device, but keep in mind that the game becomes more difficult as you continue to play.
17. Minion Rush: Despicable Me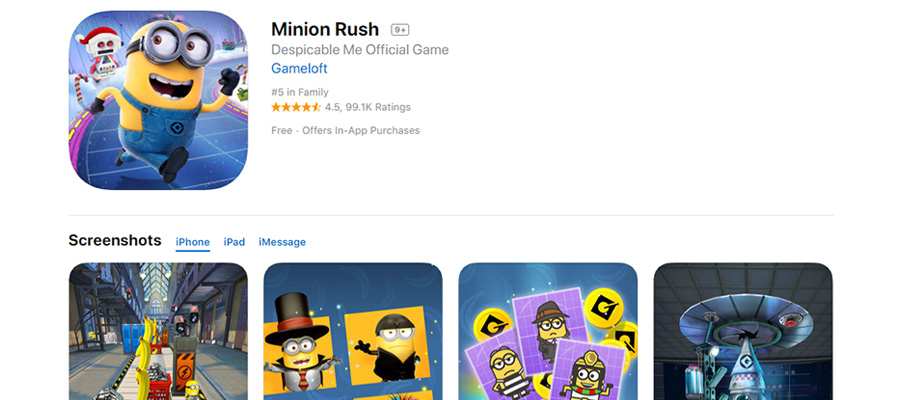 Join over 900 million players in the World of despicable adventure and experience the Minion Rush for free. To play this game, you become minions and race your way through the many exciting stages, dodging obstacles while grabbing collectibles to unlock amazing costumes.
There are different Minion characters available for you to use, but you have to unlock some of them with your costume cards.
18. Brothers In Arms 3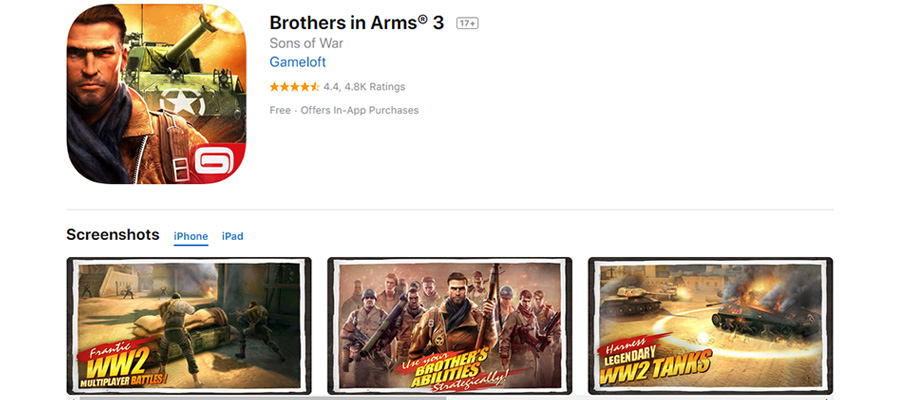 Another great offline iOS game for players who love shooting games is Brothers in Arms® 3. You become a soldier and fight against the enemies on the intense battlefields of World War 2 with access to a war chest that contains different powerful weapons, armour, maps, and other useful kits. In our opinion, this is one of the best battle royale games of 2023.
You can call your brothers for help when you need Air Strikes, Mortar Fire, Rocket Blasts, and many others. As you continue to play, ensure you unlock new brothers and upgrade them into skilled fighters.
19. 4 Pics 1 Word
4 Pics 1 Word is a puzzle game that gives players four pictures linked to one word. In other words, you must think of one word that closely relates to all four images to solve the puzzle. The game may seem easy at its early stage, but it becomes more difficult as you make progress.
4 Pics 1 Word is one of the best offline games for iPads and iPhones available for download. You get to have fun while trying to rank your brain to solve the puzzle on the ground.
20. SimCity BuildIt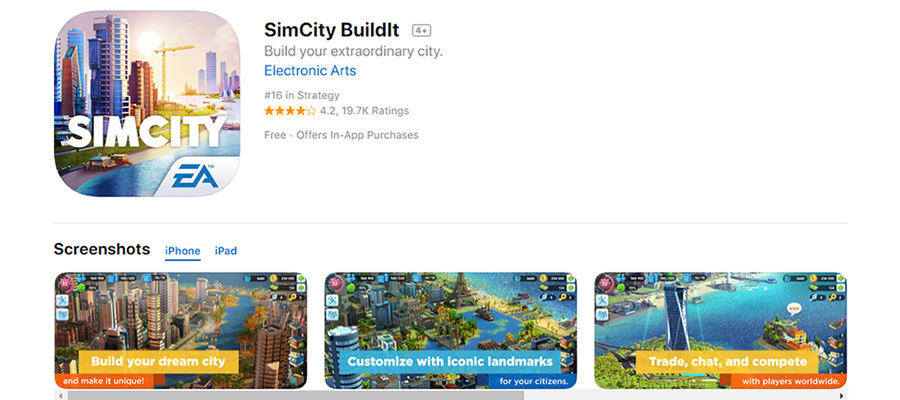 What would you do if you were a Mayor and in charge of a city? Find out with SimCity. SimCity BuildIt is a fun iOS game that allows you to build and design your own town with beautiful buildings and.accommodations. You can now create your own city just how you want it, deciding how you want each building to be positioned to provide the best lifestyle for your citizens.
You can play with friends to find out who can build the most beautiful city. You can also chat with other Mayors by joining different clubs, chats, and find ways to help solve the problems affecting the people in your city.
21. Wordscapes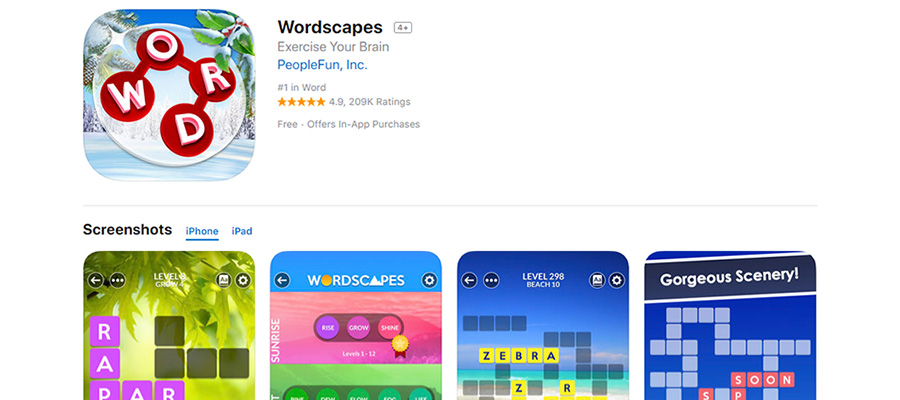 Puzzle and word games are some of the most addictive games you will ever find. Wordscapes is a simple yet addicting offline iOS game designed for everyone.
The game will not only help you escape boredom but also stimulate your mind as you explore over 4,700 puzzles of word chums, spell Blizt and MixTwo. The start is usually easy, but it gets more difficult as you progress.
22. Solitaire Bliss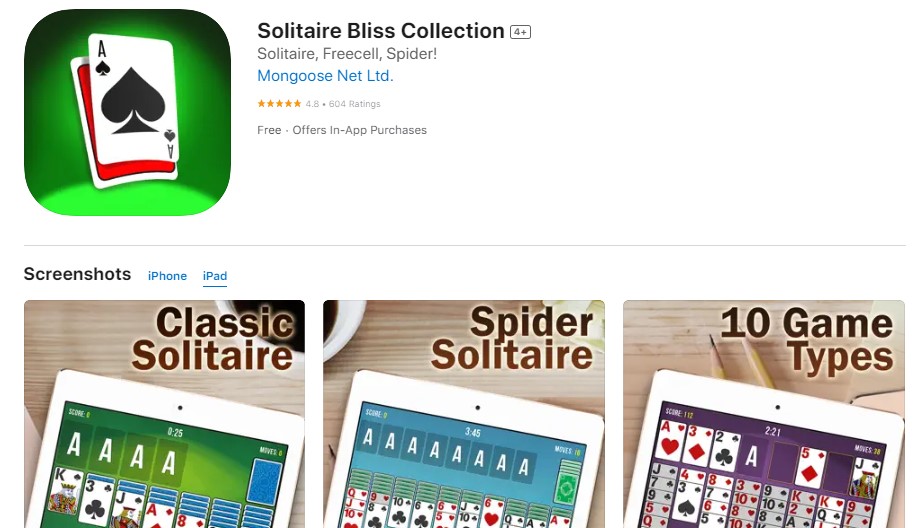 Do you enjoy card games? Solitaire Bliss offers a large inventory of some of the most beloved card games of all time for free. Check out Hearts, Freecell, Spades, Pyramid, Golf, Solitaire, and many more games. Furthermore, Solitaire Bliss allows users to customize their card decks and backgrounds and create an account where they can track their progress. Play through the various difficulty modes and beat your score; Solitaire Bliss provides hours of entertainment for players of all skill levels. Additionally, you can play their games online at solitairebliss.com
23. Minecraft Pocket Edition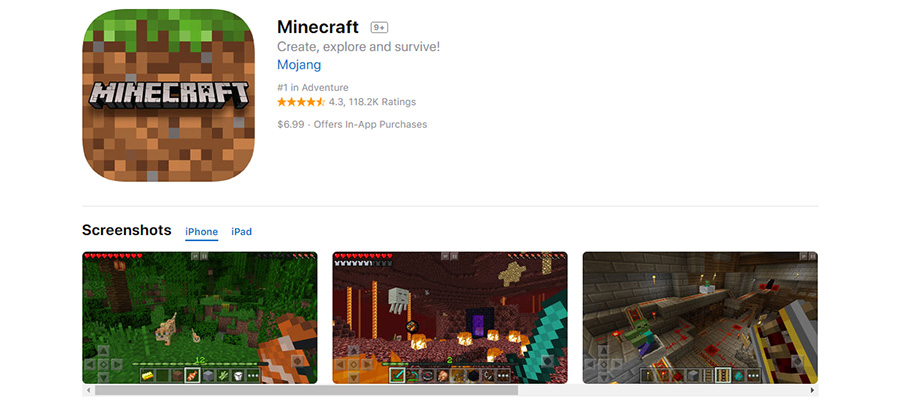 Minecraft is unarguably one of the best offline iOS games. It lets players unleash their sense of creativity by creating a world of beautiful homes and great castles. You can explore the unlimited resources for building your kingdom just like Westeros in Game of Throne.
The only limitation to what you can a create is your imagination. You will also need to craft weapons and armors for battling against thieves and enemies who have eyes on your castles and want to dethrone you.
24. Jumbline 2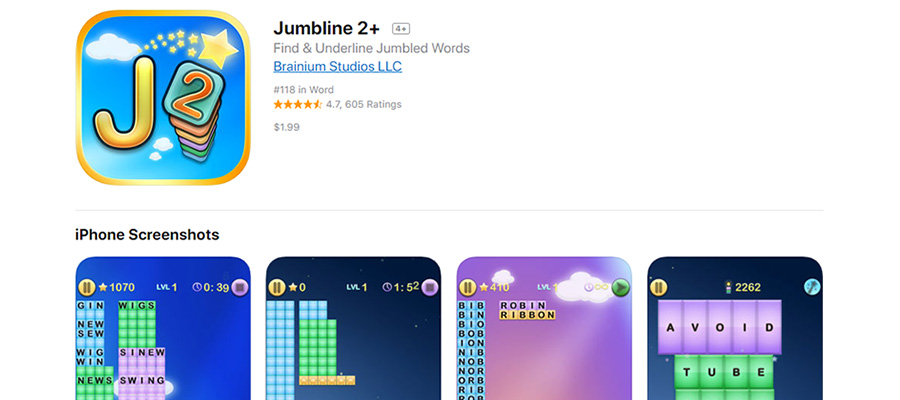 Jumbline 2+ is one of the most addictive word games for iOS. Its simplicity is one of its virtue. All you have to do is rearrange the scrambled letters into meaningful words to score some points. The longer the words, the more points you will earn and quickly complete each level. You can play the game in two different modes, the timed and the un-timed mode.
Jumbline 2 features two extra games: Cloud Pop that allows you to pop as many clouds as you can while spelling the words; and Star Tower that allows you to build a tall tower as you rearrange the jumbled words. Jumbline 2 costs $1.99.
25. Smurf's Village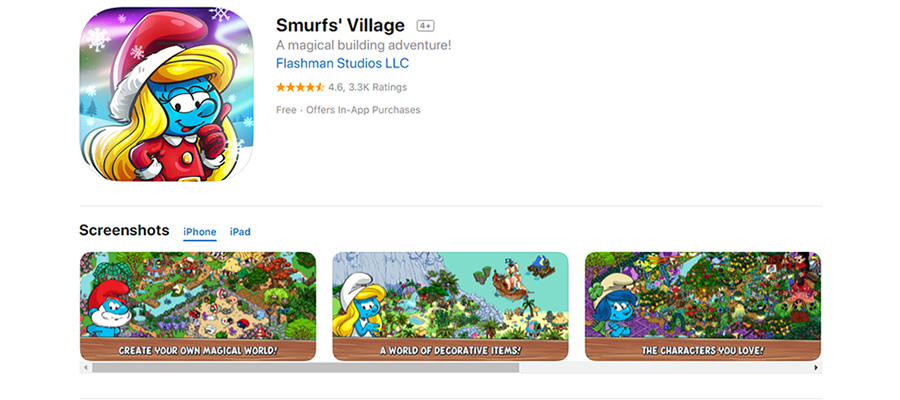 Smurf's Village is another interesting offline iOS game that lets players build and maintain their villages. The game is tailored along the storyline of the Smurfs, a comic story of small, blue human-like species living in houses shaped like a mushroom.
You become the smurfs and build your own homes, bakeries, bridges, and farmlands where you plant your smurf berries and other crops. You can expand your lands, decorate them with flowers, gardens, etc. and organize festivals such as Christmas.
26. Hill Climb Racing 2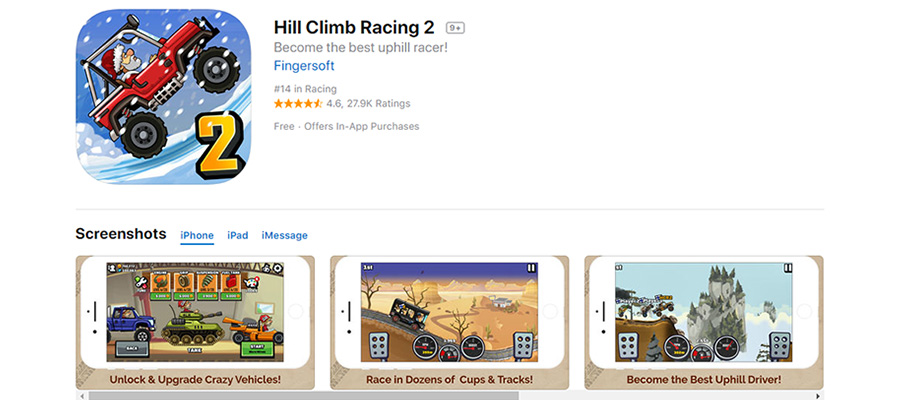 Hill Climb Racing 2 doesn't feature ultra-fast cars and smooth road tracks like Asphalt 8. Instead, it focuses on vehicles with powerful engines designed for hill climbing. You can throw some stunt and acrobatic in the air as you race your way through the hilly roads.
The Hill Climb Racing 2 iOS game has more detailed graphics than the original version and also features multiplayer modes.
27. Hungry Shark Evolution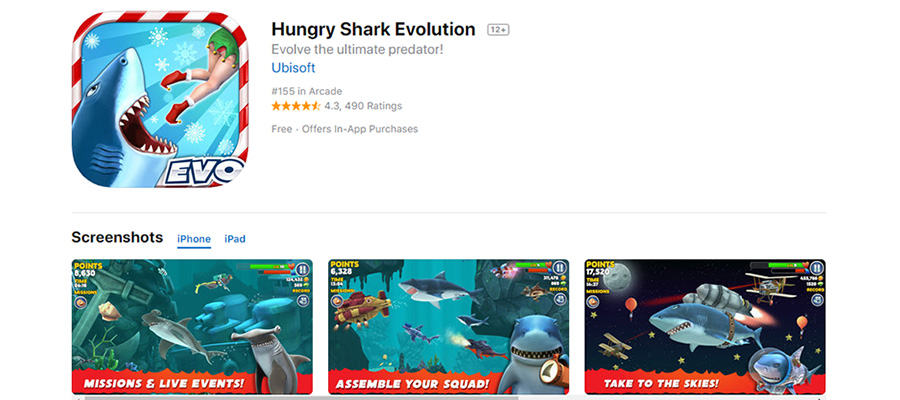 Hungry Shark Evolution is an iOS game that took a different direction from most other games around. Instead of being the prey like most games, you are actually the predator hunting the weaker creatures in the ocean.
You are the hungry shark, and you will have to feed on other fishes and sea animals but don't think it's that easy because these creatures will try to defend themselves since you're a threat to them. There are also mines and bombs in the water, so you will need to be careful as you eat your way through the ocean.
28. Texas Holdem Offline Poker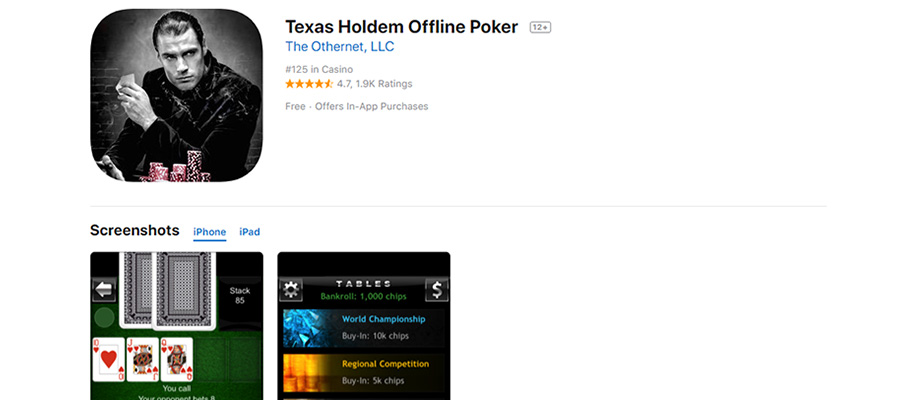 This game is for those who love and know how to play poker games. Texas Holdem Offline Poker is one of the best poker games you can use to kill boredom. It's fun and easy to play. So even if you're a beginner, you can learn how to play it with the beginner's tips for the first few levels.
If you're not using multiplayer mode, you will play against an AI that will give you a tough time trying to outsmart it. Texas Holdem has great HD graphics with realistic sounds and animations.
29. Jetpack Joyride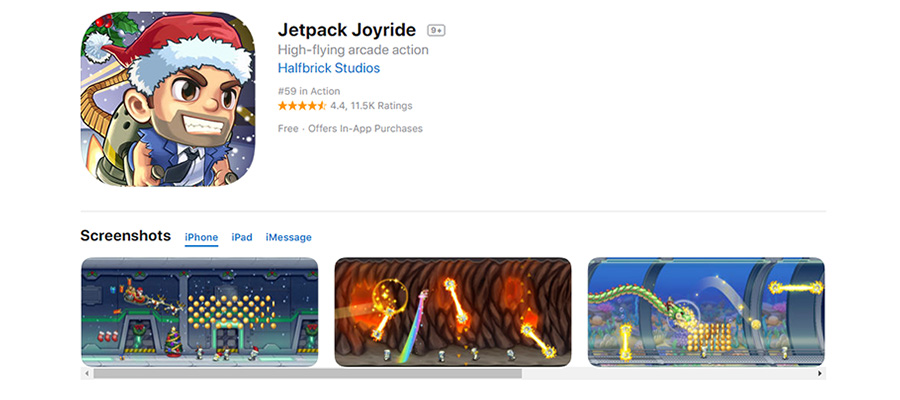 Jetpack Joyride has over 500 million players around the world who find the game really interesting since its initial release in 2011.
This offline arcade game lets you play as Barry, a legendary hero with the coolest jetpacks flying his way to glory while dodging incoming missiles, lasers, and electrifying zappers.
30. ZigZag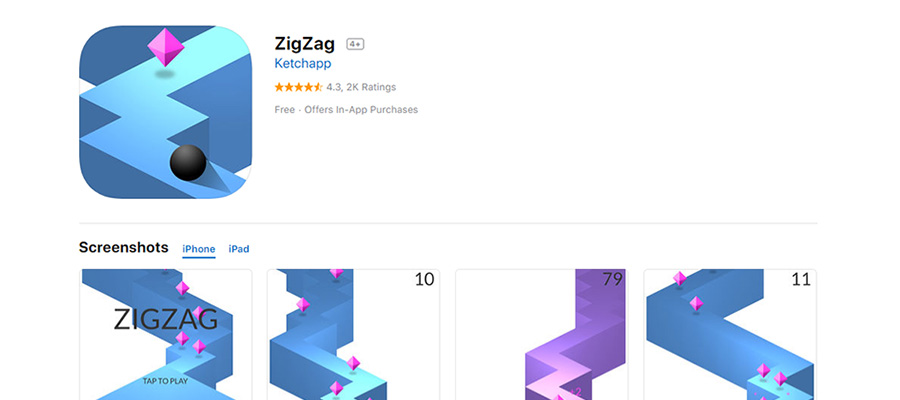 ZigZag is an incredibly popular offline game for iPhones and iPads. It's a reflex and straightforward space game that requires you to swipe your finger across the screen to control the black ball in a zigzag maze to prevent it from falling off.
You get additional points when you collect the purple diamonds, and the background color changes for every 50 points you earn. Although you might find it difficult to play at first, it becomes addictive as you get better at it.
31. Plague Inc.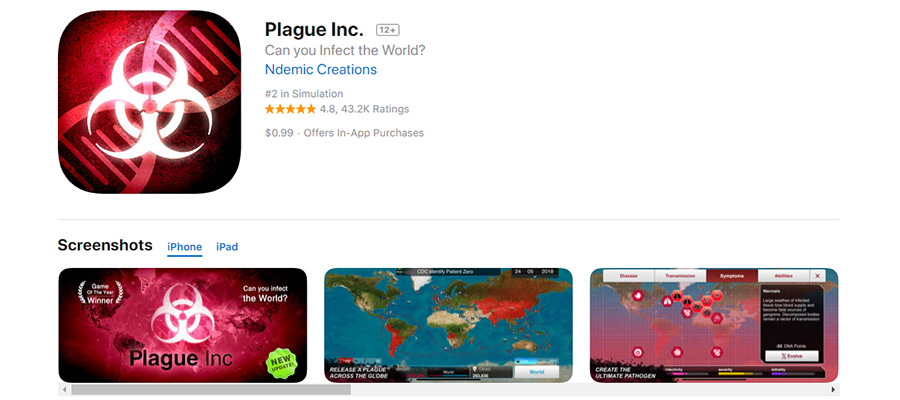 Plague Inc. has since great success since its launch. The game received the most prestigious business award from the Queen Of the United Kingdom.
This offline iOS game is different from other games in the Simulation Video Game category. Instead of playing as the hero, you will play as a deadly plague, ensuring that you infect and kill all the humans in each location. But don't think it is that easy, because the humans have well-trained specialists and researchers who can find different methods and cure to fight your plague outbreak. Plague Inc. iOS game cost $0.99.
32. Alto's Adventure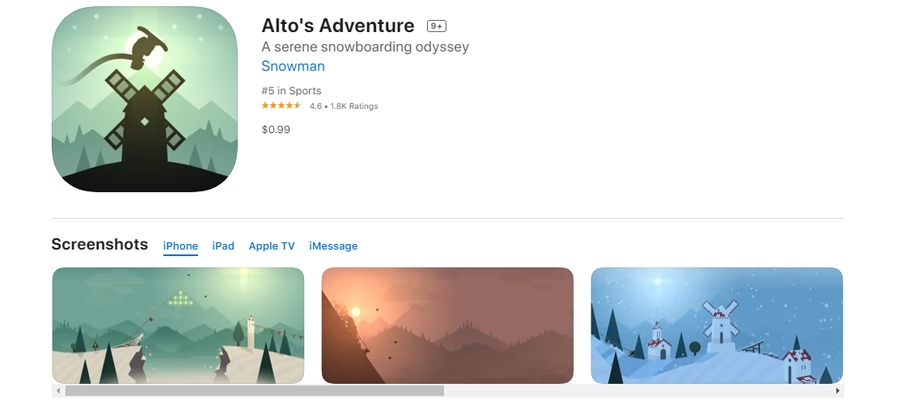 Alto's Adventure has enjoyed great success ever since its inception. It presently ranks 8th in the Sports category. This game is an infinite runner where the character, Alto, runs endlessly using his skis. Along with just Alto, there are other charactes that you can play with.
Throughout the game, you ski throughout the Andes while collecting coins and dodging different obstacles and clearing different levels and getting rewards. You can use touch controls to make the character jump and do tricks. You can purchase the game for $4.99
33. Monument Valley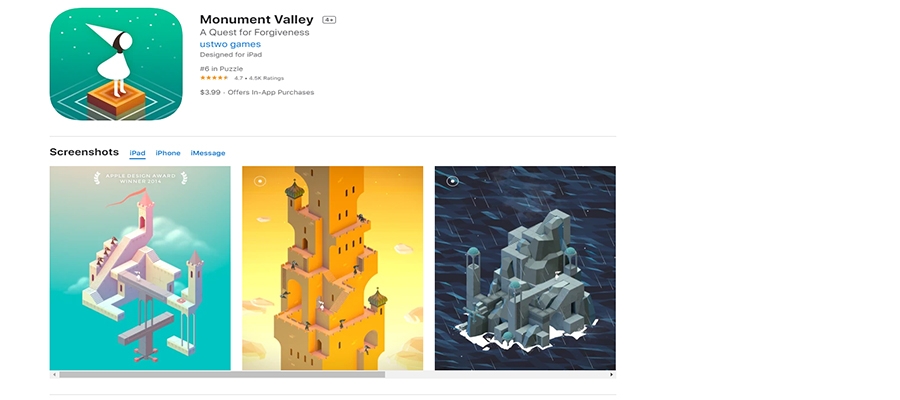 Monument Valley is a particularly interesting game. In the game you play as princess Ida who travels through mazes and illusions while solving puzzles. Throughout the game you have the ability to change the perspective through which you see the screen which helps you unlock new ways of getting out of mazes and illusions. It currently ranks #7 in the app store under the Puzzles category. This game offers in-app purchases and currently costs $3.99
34. Drop7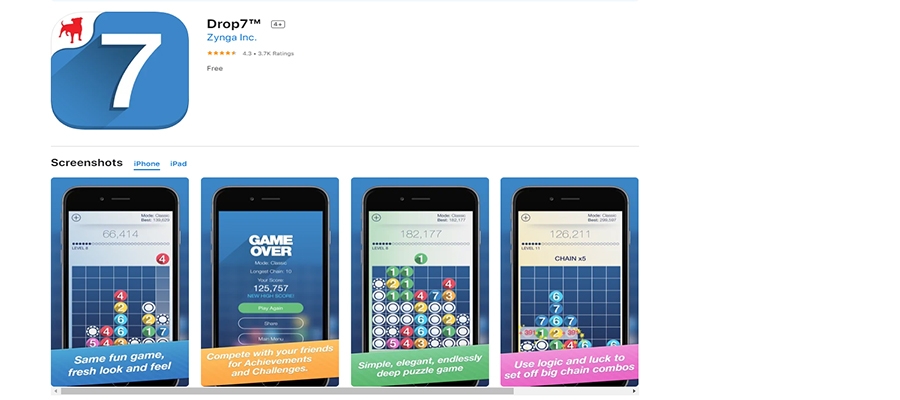 Drop7 is a mix of Tetris and Sudoku, it has simple rules. In a 7×7 grid, you have to fill it up with ball that are either white or have numbers on them, 1 to 7 in a sequence. The only thing that matters is to not have the balls go over the top, just like it does in Tetris. All you have to do is accumulate points while doing all of this. It is one of the simplest games and extremely fun to play. Whenever you have some time to kill, this is one of the best ways to do it.
35. Civilization VI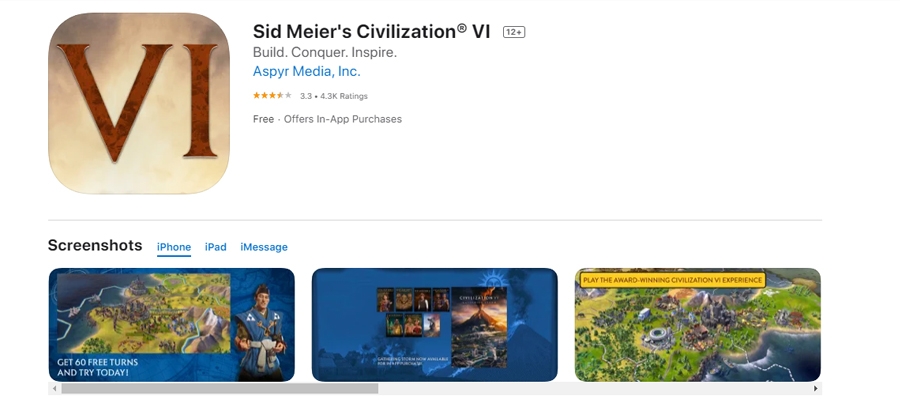 Developed by Firaxis Games, Civilization VI is a turn based strategy game. What makes it perfect for iOS is that even though it takes a long time to strategize, it can still be done in short intervals of time and taking small chucks of time. Within the game, you can use real world leaders, real names of places, and also historical monuments. Along with the offline campaign, you can engage in local and online multiplayer as well.
This game is currently free but has in-app purchases.
36. Startdew Valley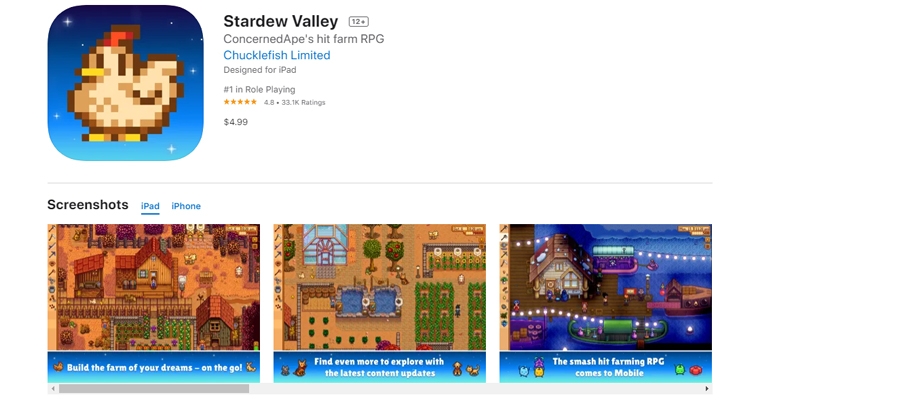 This is an extremely simple and non-competitive game. Stardew Valley allows you an escape from all the bustle in your surroundings and starts a farm quietly in a small and old town. You can almost lead a separate life in this game; from settling down with a family to raising cattle in a farm, you can do almost everything there.
On the app store, the games will cost you $3.99
Conclusion
You will never get bored with these top 36 offline games for iPhones and iPads even when you have exhausted your cellular data plans. However, while most of these games are free to play, some require a few bucks and in-app purchases.
Feel free to leave your recommendations in the comment box below if you have played any interesting offline iOS game that doesn't require WiFi or a data plan.