Discover strategies for eCommerce brands to thrive during economic downturns. Learn how to drive growth and succeed in a recession with effective tactics and insights.
The trajectory of the eCommerce industry has been a roller coaster ride, marked by substantial growth and occasional downturns. The industry experienced a momentous surge during the peak of the COVID-19 pandemic. However, as the pandemic's effects began to wane, the industry's growth started normalizing in 2022, with downward trends becoming evident.
The slowdown in the eCommerce industry was further compounded by global events, such as the Russia-Ukraine conflict, leading to significant disruptions in the supply chain. Additionally, record-high inflation has made consumers increasingly hesitant to spend, further impacting the industry's growth prospects.
The eCommerce industry's growth trajectory has been unpredictable, with various factors coming into play, making it challenging to forecast future trends. As the industry navigates these challenges, it must adapt and innovate to overcome these headwinds and continue its upward trajectory.
Table of Contents:
1. The Return of In-Store Shopping
2. Offer Flexibility in Payments
3. Leverage the Opportunity of DTC
4. Prioritize Retention over Acquisition
5. Prepare to Sell to Gen Z's
6. Solve the Last Mile Problem
7. Optimize Reverse Logistics
Stats of eCommerce in 2022: A Tough Year
eCommerce sales growth in 2022 slowed down to 8.9% compared to the previous year's 20.7%. This is for the first time in its long history that the industry is experiencing negative growth.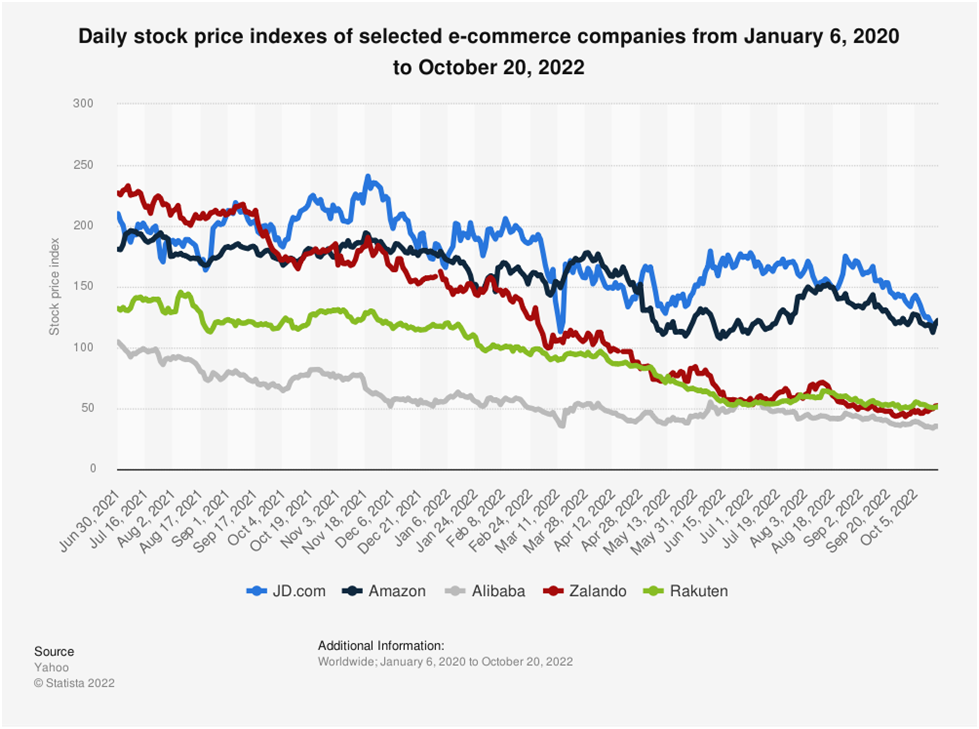 E-commerce transactions fell 13 percent in 2022 compared to 2021, with revenue decreasing by 11 percent year-over-year. (Grips Intelligence 2023)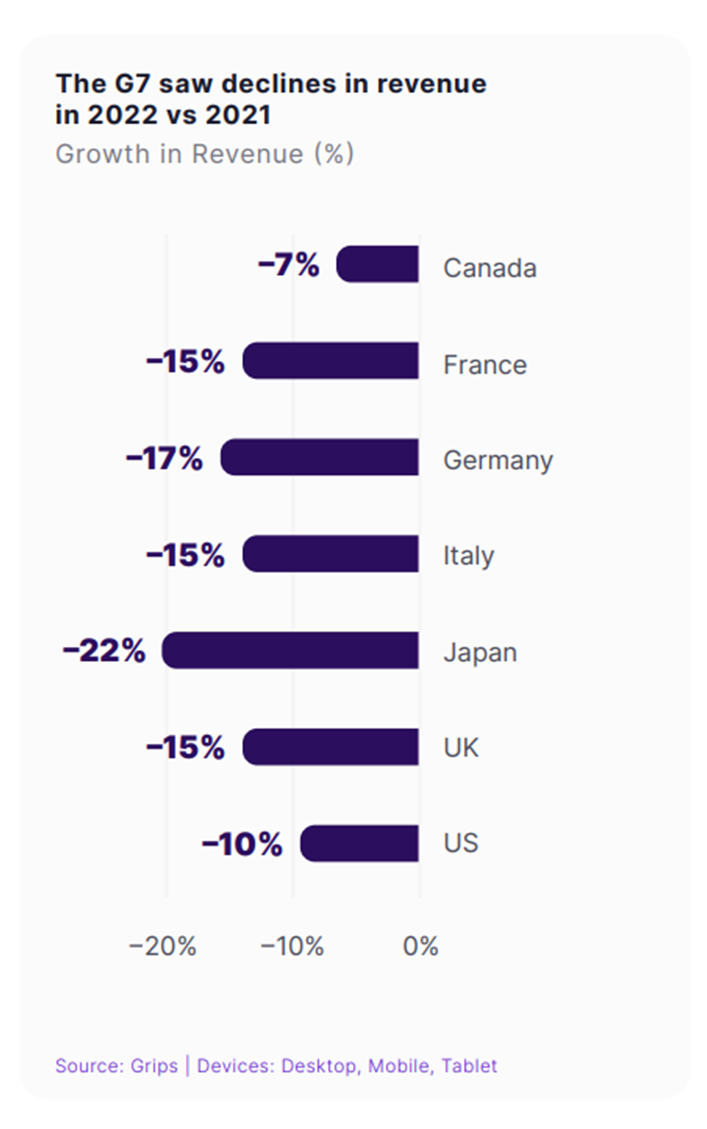 According to Jungle Scout's eCommerce and consumer trends report for Q4 2022, more than 93% of consumers noticed higher prices in their everyday shopping. It seems like American shoppers are adjusting their spending to inflation.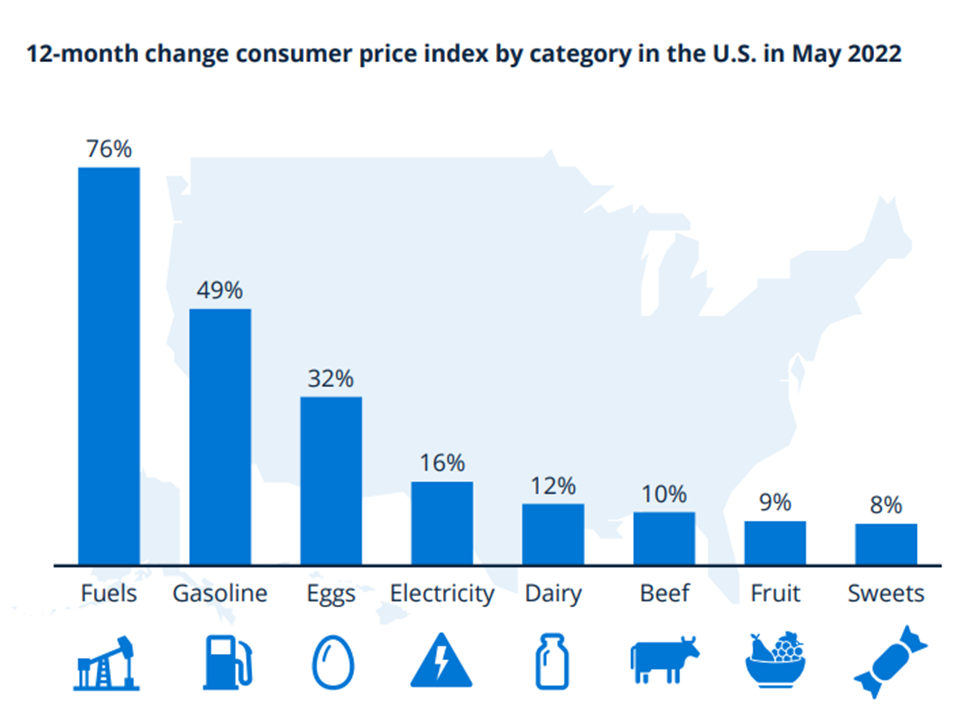 In Jungle Scout's consumer spending survey, the majority of customers anticipated a decline or no change in their spending for Q4 2022, both in-store (77%) and online (72%), when compared to the third quarter, showing caution in customers' spending behaviors.
Here's a detailed breakdown of how consumer spending reduced in different categories in 2022. (Jungle Scout)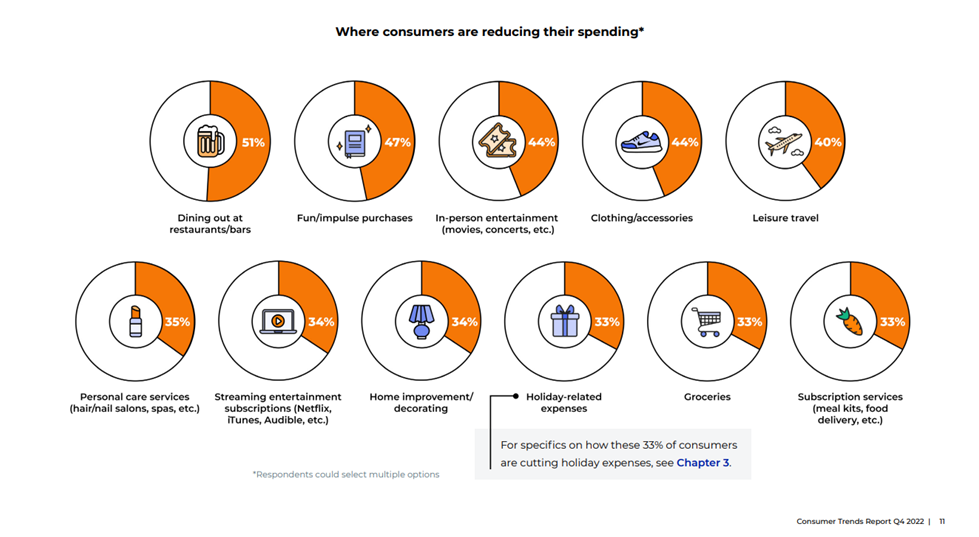 eCommerce growth was hampered due to advertising becoming costlier, slower, and less effective. (Blumtritt et al. Statista)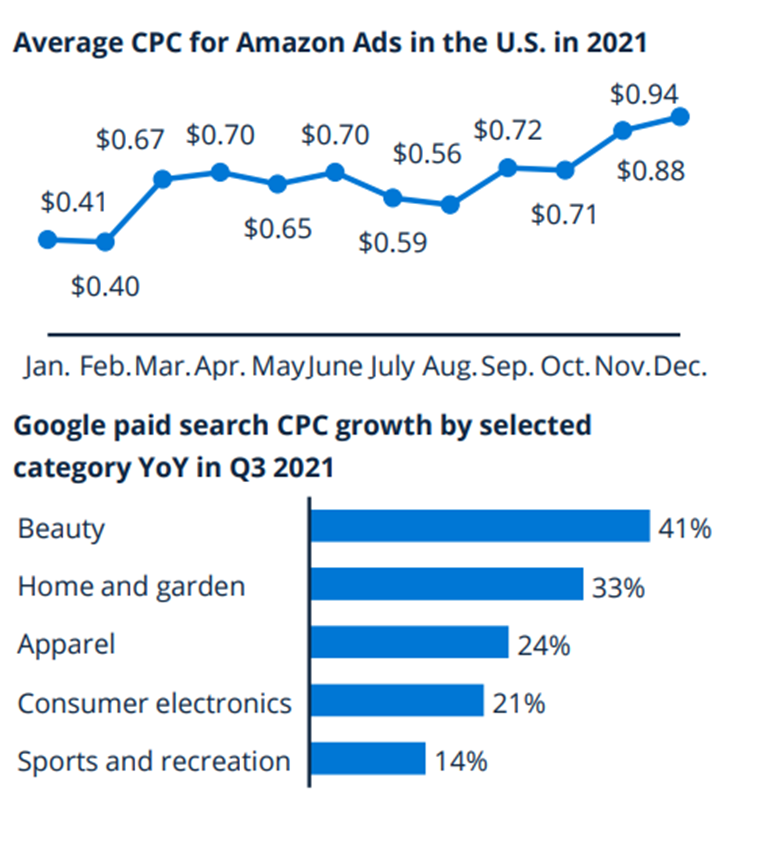 Will the eCommerce Industry Bounce Back in 2023?
2022 presented unprecedented challenges for eCommerce businesses. First, the industry was subjected to the normalization of COVID-induced growth. Companies that over-hired and over-built had to make tough decisions about layoffs and cost-cutting. But just as the bubble came back to its normal size, global events like the Russian-Ukrainian conflict shook the economy leading to skyrocketing inflation and declining consumer spending power. Overstock became a widespread eCommerce problem, and brands were found to run extended promotions to clear their stock.
As we move into Q1 of 2023, the question remains: what can we expect for eCommerce in the year ahead?
Results from Holiday Season 2022 Showed Signs of Hopes for eCommerce
The holiday season of 2022 showed hopes of the industry crawling out of the abyss. In the U.S., more than 196 million people shopped from Thanksgiving Day through Cyber Monday, according to the National Retail Federation (NRF). The results shattered NFR's expectations by more than 30 million. Even in a tough economy, consumers aren't pulling back as much as expected.
"The pace of spending was choppy, and consumers may have pulled back more than we had hoped, but these numbers show that they navigated a challenging, inflation-driven environment reasonably well. The bottom line is that consumers are still engaged and shopping despite everything happening around them," NRF President and CEO Matthew Shay said in a statement.
Online Sales will Make Up a Bigger Portion of Total Retail Sales
While there is a growing trend of consumers returning to brick-and-mortar retail stores, the global share of online sales is predicted to continue to rise until 2025. (Blumtritt et al. Statista)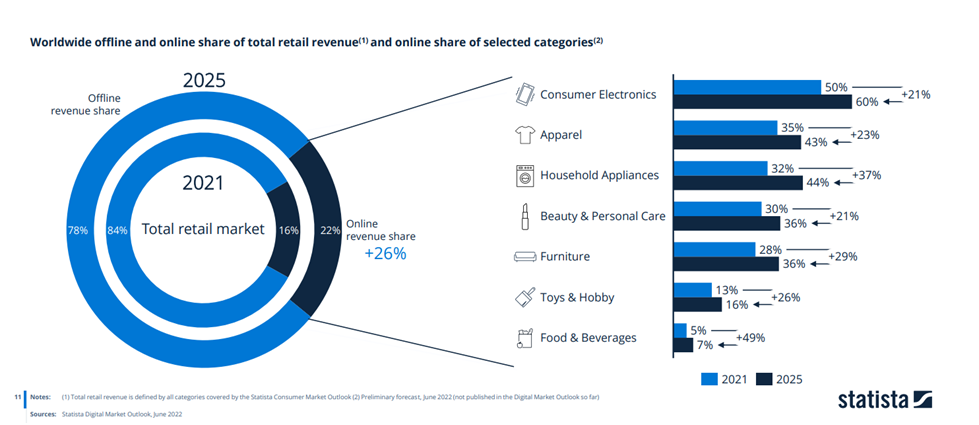 E-commerce sales are expected to grow by 10.4% in 2023
The global e-commerce market is expected to total $6.3 trillion in 2023.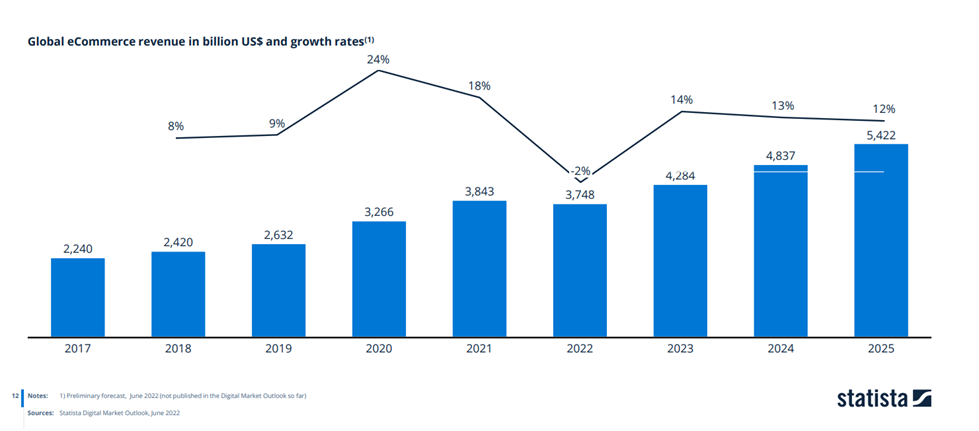 While things look promising for eCommerce in the coming years, one thing is certain. Buying behaviors of your customers, their priorities, and concerns have changed. To claim their share in eCommerce growth, brands need to go one step further in understanding their customer behaviors and capitalizing on emerging trends, including custom eCommerce development, to achieve a different level of personalization.
Click here to download our eBook: Recession-Proofing Your eCommerce Store - Strategies for Success in a Tough Economy.
How To Thrive in 2023 & Beyond: 8 Strategies to Grow Revenues in Trying Times
The Return of In-Store Shopping: Deliver a Synced Omnichannel Experience
While experts were optimistic about the digital habits of consumers becoming permanent, things turned out to be different. We saw an increase in in-person shopping and a decrease in eCommerce sales, especially for high-ticket items and everyday staples.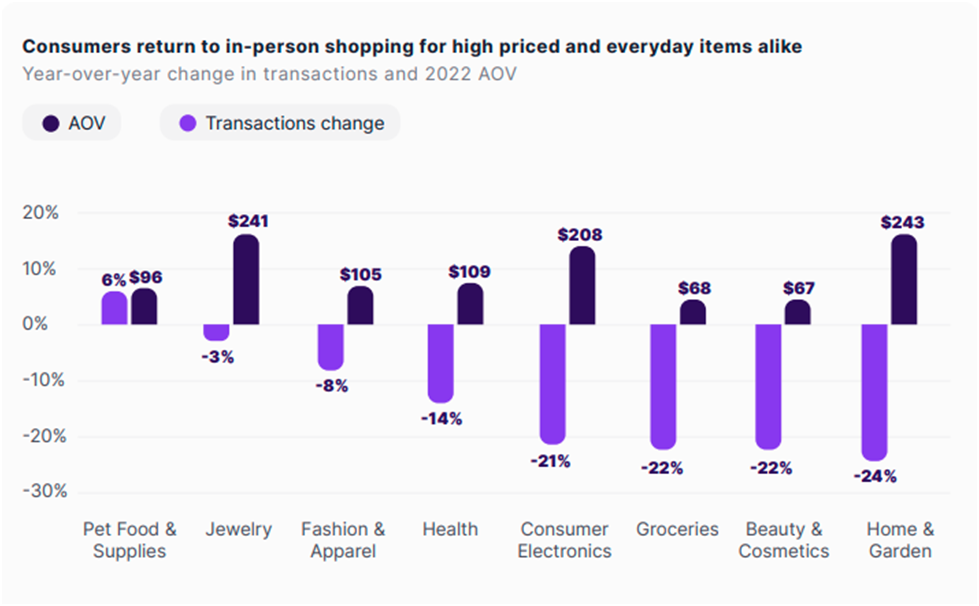 We also notice a trend related to age groups, with the older population being more inclined to shop in person. While younger consumers tend to shop online more frequently, their buying behaviors are quite different, and there's a big gap between how retailers sell online and how youngsters, especially Gen Z, tend to buy.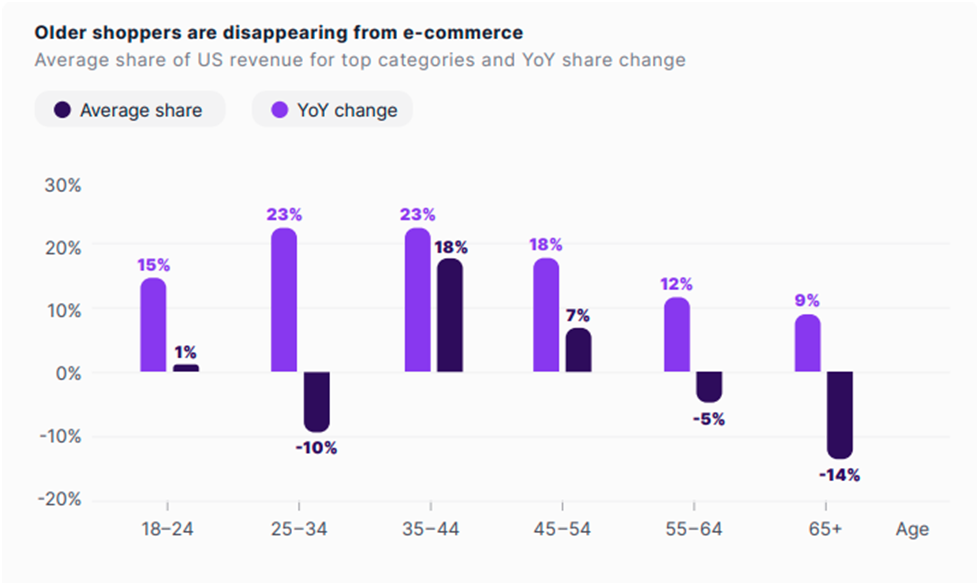 To increase eCommerce sales, retailers can provide a better-integrated and omnichannel experience replicating the in-person shopping experience.
Now the question is, how to get it done? Well, there are four ways to achieve this.
Let Customers BOPIS (Buy Online Pick Up In Store)
BOPIS allows customers to browse and purchase products online and then pick them up at a nearby store, reducing delivery times and costs. BOPIS can provide:
an opportunity to engage with customers in-store,
offering additional personalized services and promotions,
enhancing the customer experience, and
driving sales.
Customers seem to love it as well. According to data collected by business wire, 67% used BOPIS in the past six months. Not just that, McKinsey and CO. predict 10% of all sales will be fulfilled by Click and Collect by 2025.
Implementing BOPIS requires more than just an option on the checkout. Successful implementation requires accurate inventory management, successful order fulfillment, communication through multiple channels to inform customers about their order status, and well-integrated technology that can be achieved through expert Shopify Development Services.
Use AI to Take Personalization to the Next Level
Brands increasingly use Artificial Intelligence (AI) to increase personalization in their eCommerce stores.
For example, Amazon's recommendation engine uses AI to suggest products based on a customer's browsing and purchase history. Same for Netflix.
H&M uses AI chatbots to suggest outfits based on customer preferences and can assist with sizing questions.
Use AR to Augment the Online Experience
Augmented Reality (AR) technology can seamlessly integrate online and in-person experiences by overlaying digital information onto real-world environments. With AR, users can view products, services, or locations in a new dimension and better understand what they are interacting with.
Virtual Try-on and Product Visualization are ways brands use AR to integrate online and in-person experiences.
For example, Sephora's Virtual Artist feature allows customers to try on different shades of lipstick and eye makeup using their smartphone camera.
IKEA's Place app allows customers to place virtual furniture in their homes to see how it looks before buying.
Provide Consistent Pricing and Promotions
Offering consistent pricing across online and in-store channels can create a seamless and integrated customer experience. Customers can shop confidently, knowing they are getting the same prices regardless of where they purchase. Brands like Walmart, Best Buy, and Target have implemented this strategy to provide a consistent and transparent pricing experience for their customers, whether they are shopping in-store or online. This helps build customer trust and creates a more convenient shopping experience.
Give More Flexibility in Payments with BNPL
Consumers face a tough economy and record-high inflation, so they want more flexibility in their payment options. BNPL is one to offer that. It allows customers to make purchases and pay for them in installments over a period of time.
According to a report by eMarketer, the BNPL market is expected to reach $1 trillion in global transactions by 2026. In addition, a survey by The Ascent found that 60% of shoppers aged 18-24 and 48% of shoppers aged 25-34 have used BNPL services in the past year.
While it may seem counterintuitive to offer a payment method that delays revenue, implementing BNPL can help recession-proof eCommerce businesses in several ways.
Increases Sales
Offering BNPL as a payment option can increase sales by making purchases more affordable and accessible to customers. This can be especially beneficial during a recession, as customers may be more hesitant to make large purchases upfront.
Reduces Cart Abandonment
By offering BNPL, customers can see the total cost of their purchase upfront and have the option to pay over time, reducing the likelihood of cart abandonment.
Builds Customer Loyalty
Customers who may have otherwise gone to a competitor may choose to shop with a business that offers BNPL, as it allows them to make purchases they may not have been able to otherwise.
Improves Cash Flow
While BNPL may delay revenue, it can also improve cash flow by providing a steady recurring revenue stream. This can be especially beneficial during a recession when cash flow may be tight, as it can provide a reliable source of income over an extended period of time.
When implementing BNPL, businesses must choose a provider or program that aligns with their needs and goals. They should also communicate the payment option clearly to customers, including any fees or interest rates associated with the program. By providing a straightforward and transparent BNPL program, businesses can help increase sales and build customer loyalty while minimizing the risk of bad debt.
DTC: Opportunity for Manufacturers
With the current economic situation continuing to be wildly unpredictable, consumers seem to have adopted a cost-effective way of living, which involves buying products and services at a discount. They are also open to buying brands they have never heard of before, creating opportunities for manufacturers to sell their private-label brands directly to consumers.
As many consumers search for better product deals, it's a good time for manufacturers to sell directly to consumers with new private labels – while also protecting their B2B channels." Justin Racine, director, commerce strategy, Perficient.
While manufacturers have traditionally faced challenges with channel conflict and pricing strategies, the current recession presents an opportunity to overcome these challenges and explore the DTC model. By directly engaging with consumers, manufacturers can build a loyal customer base, reduce dependence on traditional distribution channels, and increase profit margins.
This model also gives manufacturers more control over the customer experience, allowing them to tailor their products and services to meet consumers' changing needs and preferences.
While DTC does have higher profit margins per item, the overall profitability of the DTC channel remains questionable. This also might be the reason why manufacturers are hesitant to invest and build out tier DTC channels.
One, abandoning the wholesale channel can result in a loss of volume for the company. This could mean slow-to-move inventory, which might harm the manufacturer more than good. To counter this, manufacturers should look towards an omnichannel approach instead of a purely DTC one.
Two, DTC eCommerce can raise costs for the fulfillment, logistics, marketing, technology, and return policies. Whatever they may earn through higher profit margins can go to cover up these expenses, hence, not making DTC a profitable channel.
While these are genuine concerns and challenges, many brands like Casper, Nike, and BarkBox have set successful examples of DTC.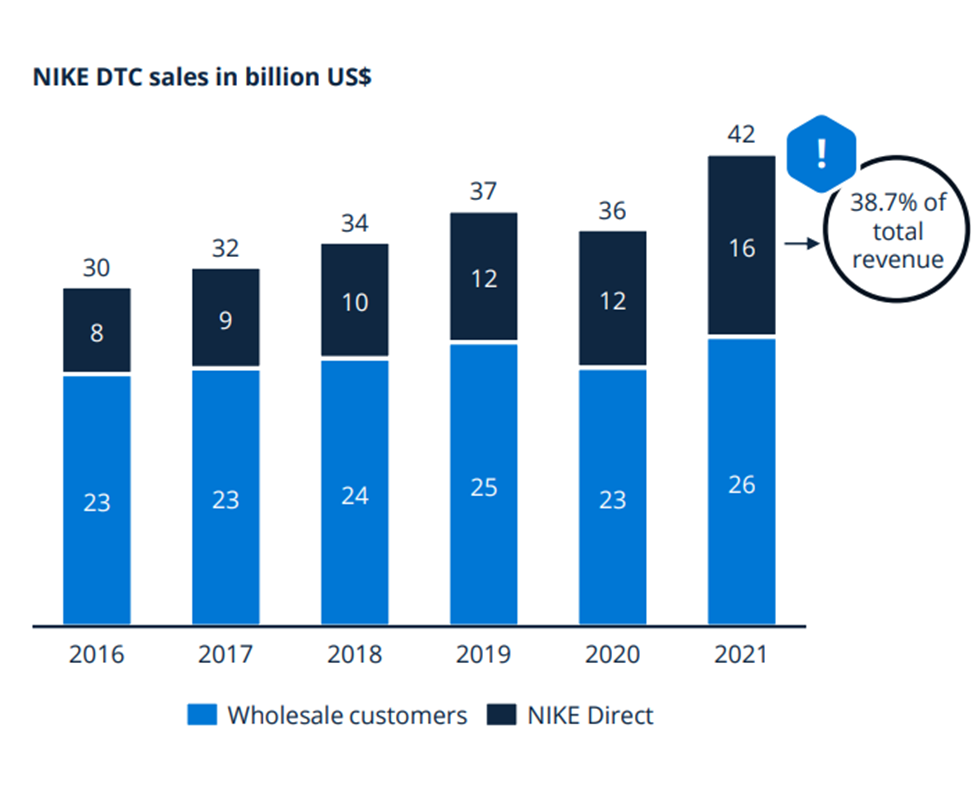 Prioritizing Retention with Subscription, Loyalty, and Referral Programs
In today's economy, it is best to invest in retaining consumers than investing more in acquiring them. Why? Research states that existing customers are 50% more likely to try new products and spend more compared to new consumers. Besides, investing more in running ads and marketing campaigns in the economic downturn is more likely to cost more than providing value to existing consumers. Research by HubSpot states that new customer acquisition costs have increased to almost 50% in the past five years.
Here, leveraging subscriptions is the best way to appeal to price-conscious consumers. In order to retain subscribers, it is important to offer flexibility and allow them to manage their subscriptions based on their changing needs. Tiered discounts can incentivize customers to stay engaged and purchase more, increasing lifetime value.
As said above, customer acquisition costs are skyrocketing from 2013 to 2022 and will not be sustainable should the economy fall even further. During this time, repeat sales have risen by 36%. It means that loyal customers are returning to buy from their favorite brands. This works two ways; the more you invest in retaining your customers, the more connected they will feel with your brand. This will build trust, ultimately bringing more opportunities to increase average order value, flipping your marketing funnel.
Remember: your most valuable customer is the one you already have. Incentivize your customers with a loyalty program to come back and spread the word with a referral option. Studies show that customers who purchase based on referrals have a 16% higher lifetime value and 37% higher retention rates.
Overall, subscriptions strengthen businesses with dependable recurring value, providing businesses with a higher level of predictability for better planning and sales forecasting. Not just that, businesses can also use the data of their subscribers, average order value, and previous churn rates to predict sales accurately and forecast trends to help in decision-making.
Prepare to Sell to the Gen Z's: Implement Social Commerce
Generation Z and millennials combined account for approximately 40% of global consumers.
"We have 92 million people between 22 and 42, and they're all going to spend their money on necessities in the next 10 years, whether the stock markets are good or bad," Smead, Chief Investment Officer, Smead Capital Management.
The Bureau of Labor Statistics notes that individuals between the ages of 25 and 54 tend to spend more on various expenses, such as food, housing, clothing, and transportation, as their incomes peak during this time period.
With these younger populations making up a big part of the consumer force, it's important to understand their buying behavior and sell the way they want to buy.
When it comes to buying habits, young consumers are known for their preference for online shopping and their reliance on social media platforms to discover and research products. They also tend to prioritize convenience, personalized experiences, and social proof when making purchasing decisions.
This is where social commerce comes in. Social commerce is the practice of selling products directly through social media platforms, allowing consumers to make purchases without leaving their favorite apps. By leveraging social media platforms, brands can reach a wider audience and create a more personalized and engaging shopping experience for their customers.
Implementing social commerce can be especially beneficial for brands that target younger consumers. For example, a recent survey found that 40% of consumers aged 16-24 had purchased products directly through social media in the past year. Additionally, 30% of consumers in this age group said they would be more likely to purchase from a brand that offered social commerce options.
Overall, social commerce provides brands with a unique opportunity to connect with younger consumers and drive sales through social media platforms. By offering a seamless and personalized shopping experience, brands can create loyal customers and stay ahead of the competition.
Solve the Last Mile Problem
In times of economic recession, retailers must focus on cutting costs and increasing profitability to survive. One area that can be a major drain on a company's resources is last-mile delivery. This final leg of the supply chain, from the distribution center to the customer's doorstep, can be the most costly and inefficient part of the entire process. However, with the right solutions in place, retailers can optimize their last-mile operations and save costs.
To solve the last mile problem, retailers can automate the management of drivers, third-party logistics providers, and the last mile process itself. By doing so, they can reduce costs associated with labor, fuel, and inefficient routing. Route automation and selecting drivers and fleets based on their distance from the delivery destination can also reduce fuel costs.
Retailers must also reevaluate their technology stack and integrate better technologies that automate and increase efficiencies. Automation in customer support can help reduce the number of "Where is my order?" calls, which can be a drain on customer service resources and increase costs.
Real-time delivery tracking is another solution that can increase efficiency and reduce costs. This technology provides customers with transparency into their package's journey, which can reduce the number of customer inquiries and help retailers control the customer experience. Flexibility in delivery options, expedited delivery, and reduced delivery costs are some other areas that retailers should focus on in 2023.
Another solution that can help retailers optimize their last-mile operations and save costs is the use of micro-fulfillment centers (MFCs). These small-scale warehouses are strategically located closer to the customers, which can reduce the distance and time needed for delivery. By using MFCs, retailers can increase the speed and efficiency of their last-mile operations and reduce transportation costs.
In summary, the last mile is a major money-eating problem for retailers, hurting their profitability. By solving the challenges related to the last mile, retailers can increase their profitability and improve customer experience.
Optimize Reverse Logistics
This process involves the management of returned products, which can be a complicated and costly endeavor.
Reverse logistics can hurt a retailer's profitability in several ways:
Processing returned products includes labor, transportation, and disposal expenses.
Returned products can take up valuable warehouse space and tie up inventory, negatively impacting cash flow.
There is the potential for lost revenue due to damaged, lost, or stolen products during the return process.
To solve the reverse logistics problem, retailers can implement several solutions. One strategy is to improve the customer experience by offering a hassle-free return process. This can reduce the number of returns overall and help ensure that returned products are in good condition, reducing the costs associated with damaged or unsellable items.
Another solution is to implement a robust inventory management system that tracks returns and helps retailers make better decisions about how to handle returned products. This can help reduce the costs associated with unnecessary transportation and disposal of returned products.
Retailers can also consider partnering with third-party logistics providers that specialize in reverse logistics. These companies have the expertise and infrastructure to manage returned products efficiently and can help retailers save costs and reduce the burden on their own resources.
Conclusion
The ongoing COVID-19 pandemic has triggered a global recession, posing unprecedented challenges for eCommerce brands. As a result, many are struggling to adapt to the new economic reality, with declining sales and revenue becoming increasingly common.
Recent statistics reveal a significant slowdown in eCommerce sales growth, which indicate the need for a strategic approach to survive and thrive in this challenging environment. By following the blueprint presented above, eCommerce brands can successfully navigate the current economic climate, overcome the hurdles of the recession, and position themselves for long-term success in 2023 & beyond.