Whether you're new to B2B sales or a seasoned pro, these prospecting tips, techniques, and strategies will help you build a strong pipeline and drive revenue growth.
A sale is an act of exchanging products or services in return for money. However, good selling is far more than trade. Fortunately, B2B transactions are predicted to exceed B2C sales by 2023. This shows the constant growth of B2B selling, differentiating it widely from the approaches of B2C trading.
In this article, we will go through the techniques, tips, and strategies of how businesses can use B2B marketing tactics to create a loyal client pool and generate profitable revenues.
Also, you can determine which prospecting technique suits your business best to implement effectively.
What is a B2B sale?
B2B refers to selling business to business. It applies when a company sells its products and services to other companies. Business-to-business selling uses many strategies and is often a complicated process involving multiple decision-makers to close a deal.
B2B vs. B2C Sales
Conversely to B2B sales, B2C sales refer to customer sales when a company sells its product or services directly to an individual customer. Selling strategies for B2C include using marketing campaigns to establish an emotional response from a consumer and using multiple channels to create a personalized connection with buyers by hosting and leveraging promotional contests. Alternatively, B2B focuses more on marketing strategies for other companies' customized needs.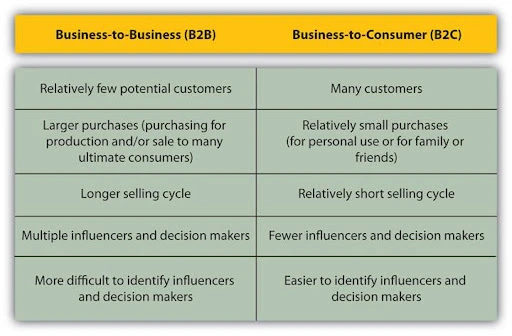 B2B Sales Prospecting Tips, Techniques, and Strategies
Research Your Prospects
Getting to know your customers can either make or break your sales call. According to a study, only some customers are the right fit for any business's client pool, while 100% conversion rates are impossible. Hence, researching your customer's needs can increase your chances of closing a successful sales call.
Research for prospects doesn't have to be time-consuming in the large pool of contacts. Therefore, knowing your aspects to pitch before the call or an email will make sure you make a tailored conversation.
Ideally, you should research your prospective company's background, mission, vision, goals and values, current number of employees, their products and services, and organizational processing. Moreover, you should explore their online presence, such as the youtube thumbnail maker website and social media, along with their mentions in publications and blogs to set the direction for your pitch.
Focus on Building Relationships
Undoubtedly, a B2B sale process is more time-consuming than a B2C selling process. However, developing a good relationship with your client company can be highly beneficial in the long run. Research shows that most B2B businesses lose half of their clients over five years. Hence, relationships are essential for ongoing businesses.
B2C businesses tend to have small subscriptions and one-off payments, while B2B sales keep a high worth representing thousands of dollars as profitable revenue. That is why losing a single customer can give a massive dent; hence, keeping your clients at the heart of your organization is essential. Therefore, fuel your marketing efforts to satisfy your customers and hook them to the best.
Build an Effective Website
According to a study by Acquity Group, more than 90% of customers research online before purchasing. This may include online reviews, social media reputation and updates, blogs, search engines, and websites.
A dedicated and well-designed website helps your clients understand your business well. It lets you stand out from your competitors and gives you a platform to showcase your values, goals, and customer services to the industry. Also, your website is the center of your content marketing to generate leads. It serves as your home to present your offerings to your prospects.
Establish a Social Media Presence
Research shows that companies incorporating social media selling into their B2B marketing strategies get a 15% more profitable outcome than those without. Another study by Megan Heuer found that 67% of a buyer's journey is via digital channels, and 90% of the purchase decision-makers prefer to avoid responding to cold sellers.
Hence, social selling is a better option to consider. It helps you to get the right decision-maker, establish warm leads, and emphasize nurturing your clients before you close a call. In addition, it eliminates all risks of traditional selling, from getting random lead contacts and closing a cold sales deal.
Create Content to Aid Your Prospect
Ideal content should revolve around the prospect's needs, queries, pain points, and solutions. In addition, it helps to build trust and establish your brand as a market leader because you are sharing updated information with our customers.
Create content that is focused on providing knowledge instead of selling. This will help nurture long-lasting relationships with your clients. High-quality content in your client's first buying journey aids both of you. Educational content published regularly is meant to drive a healthy amount of organic traffic to your website and is also beneficial for inbound links.
Utilize Email Marketing
According to a survey, more than 60% of the respondents believe that marketing emails give the highest ROI compared to other marketing channels. Undoubtedly, email marketing is a critical part of B2B sales, which helps marketers convert potential prospects into buyers. Businesses can utilize the following marketing emails to nurture their customers:
Educational downloadable content: summaries of your articles, a short piece of informative content, an infographic, or a preview of an eBook.
Newsletters: a blog post, an announcement, event updates, news, product launches, and workshop updates.
Personalized emails: individual queries, greetings, special discounts, addressing pain points, and closing a sales deal.
Provide Real Results
Most clients are interested in real results instead of your product or service. So they work on a simple approach: WIIIFM (what is in it for me?); tell them what you can do to help them by specifying your claims in numbers.
Proven statistics can be surprising when you present them with a survey or a case study on your website or social media profile. Also, include a testimonial from your existing customers and add success stories to showcase your work progress.
A research paper service provider, Martha Richard, elaborates that they always get feedback on every deal and use them to improve aspects that could be done better. Therefore, don't get shy to let people know about your achievements and uniqueness. Also, clearly state your client's goals and elaborate on what you did to achieve precise results.
Attend Events
Hosting or attending an event gets you close to your customers. According to a survey, 69% of B2B marketers believe attending events is useful, while 64% use functions to generate leads. Hence, participate and speak at an event, sponsor, or co-host to get in the market with fair competition.
Getting Ready For 2023
As mentioned above, B2B is a complex process used to close a deal and gain leads from businesses using multiple strategies. Therefore, the approach may also be expected to continue in the coming year, but with exponential growth and an established approach of achieving higher with mutual benefits.