Discover how digital transformation and the evolution of marketing can help your business scale to new heights. Learn the strategies and tools you need in this comprehensive guide.
Turning the pages of history, politics and science, and witnessing one thing which remained common throughout all these years is that human needs keep on changing with the world changing around us so quickly. Human demands are endless; similarly, every organisation's urge for survival and transformation is unstoppable.
Adaptation to digital transformation remains an indisputable reality; without it, one cannot stand it; it is like the backbone of your body. Akin to this, it is now essential for businesses to maintain a position ahead of marketing trends due to constant advancement in customer experience.
In this modern era, the user has an ample amount of data access from different sources. It's making them aware of the changing business environment. Each step and tool is followed to provide them with great insights and the ability to question everything they buy or consume.
Businesses must adapt and embrace new techniques to reach their target audience where they spend the majority of their time—online, as conventional marketing channels lose their influence. In this situation, keeping up with the most recent marketing trends and technology is a need of the hour for survival and a way to find long-term success in the competitive business world.
However, the question of why it is so critical for businesses to accept this model of change goes unaddressed. According to our extensive study, 81% - 85% of shoppers undertake online research before making any purchase, and organizations that engage customers through digital marketing channels receive a 3.3x increase in revenue.
The digital landscape has become an intensive marketplace that no business can afford to ignore, with over 4.9 billion active internet users worldwide and an average person spending 6 hours and 54 minutes every day online.
With the changing behaviour of end-users, the need for digital platforms for shopping has initiated. In this platform, they can explore and can react to the marketer's need to accept these changes and adapt and frame their strategies accordingly. With the digital solution, an effective tool and strategy can be developed that will allow businesses to conduct a unique transformation for accessing the countless growth potentials, operational optimization, and great customer experiences.
Many businesses, however, fail miserably to keep up with and adapt to current digital marketing trends, which causes them to lose contact with their customers, fall behind rivals, and eventually experience growth that is stagnant.
You will get an understanding of the complexities of digital transformation as well as the basic causes of marketing change. We will also help you to under the use of technology for your business to get a competitive edge.
It will further helpful for expand the market reach and scale the operations to amazing heights. We have many years of experience and a great team of experts who will ensure great insights and data-driven solutions to motivate and grow your company toward a brighter future.
In this article, you will get the most significant and innovative digital transformation solution to ensure a splendid outcome for your marketing innovation.
Marketing Transformation in the Digital Age
Change is hard for everyone, but adapting to it and then getting the best results is better than that. Marketing is no different; the way it has grown and changed in recent years, as have marketing methods, has experienced a remarkable metamorphosis, propelled by the rapid growth of digital technology.
Gone are those when billboards, print advertising, and cold calls were used aggressively to attract or get leads. Now digital generation knows better and doesn't want to consume irrelevant content; henceforth, companies are also aware of the fact not to use any traditional methods and get immersed in digital transformation to reach target audiences like never before.
Traditional marketing tactics for market leaders need higher precision and substantial investment to provide results. However, with the emergence of digital technology, marketing itself underwent a fundamental shift.
The world has drastically changed; the internet, social media, mobile technology etc. and all of this combined have made way for new opportunities for companies to engage and get new leads in sophisticated ways, unlike old times when clients used to get irritated by companies' tactics of selling.
People used to understand marketing merely, but when the word "digital marketing" entered the picture, it completely changed the game by providing innumerable benefits over traditional approaches.
Look around; no one is unaware of social media. In today's world, every individual uses social media for different purposes. It can be for earning money, conducting marketing processes, entertainment, and so on. Many platforms are used for social media such as Instagram, Facebook, YouTube, Twitter, LinkedIn, Threads, and so on are the perfect places to market any kind of product or service.
Organisations now focus more on these platforms for marketing their products and services as one can find easy targets and find most of the consumers on these platforms. It will be done by keeping the audience requirements in mind; companies raise awareness about their brand and products through advertisements and other forms of marketing.
And the data they get from these platforms becomes their real-time insights about what customers like and what they're looking for, and based on that, they get a boost in their sales and engagement, plus traffic on their website.
Blessed Digital Transformation Integration
Plenty of organizations have assessed the best possible digital marketing and utilized it effectively. Here are a few well-known case studies to consider:
Nike
The recognised sportswear brand, used social media to interact with customers by delivering engaging content, thought-provoking campaigns, and customized experiences. Customers got an opportunity to engage with the company and one another through their Nike+app and social media campaigns, establishing a feeling of community and commitment.
They have set a great impact on the marketing segment by choosing digital transformation, it can be identified by their sales growth and level of customer satisfaction.
Mcdonald
This brand never fails to surprise the world with its marketing tactics and how they always manage to keep its marketing game on point. Mcdonald's engaging campaigns always get millions of views on all kinds of social media platforms and especially youtube.
Be it a kid or the elderly, everyone loves and knows the name of Mc'Donald. Mcdonald's is also capable of making useful strategies for ensuring their target audience is getting the right product, and there is no issue of r over-selling with the help of digital transformation. They also use some powerful technology to secure great results for their trade events, making them the unique provider in this dynamic world.
Dollar Shave Club
A well-known American company is known for changing the dynamics of the shaving market by developing entertaining and amusing video content. This company has set their name in the digital transformation world by using some advanced tools and received a lot of appreciation, brand recognition and consumer loyalty by releasing some good ad videos on websites like YouTube, which eventually led to a huge billion-dollar acquisition by Unilever. It has directed digital solutions to guarantee a significant outcome for fulfilling its end-users effectively.
Marketing Automation with Artificial Intelligence (AI)
Artificial intelligence (AI) is now an important part of almost every industry; you name it, and yes, talking about marketing, it has got a lot of importance in the digital marketing industry in the era of automation, where augmented reality and virtual reality have slowly started to step into the market.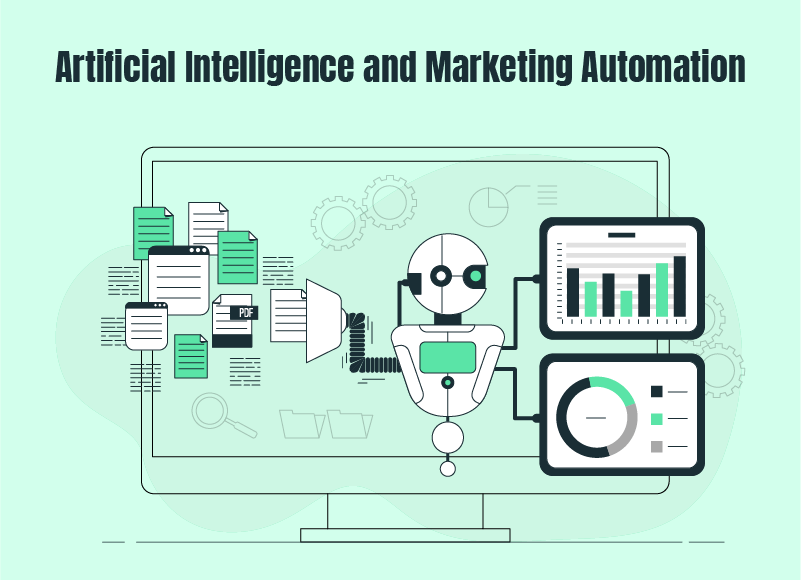 Do you know that as per Mailchimp report (2023) "to achieve consumer expectations and remain competitive, 88% of marketers feel that their company must boost its usage of automation and artificial intelligence (AI)"
Machine learning algorithms analyze large volumes of data. Advanced learning and NLP process allow firms to tailor their business content, improve marketing, forecast and comprehend client behaviour for better results. The growing features of data-based solutions are changing the process of making business decisions in the period of digital transformation effectively.
Recommendation engines and Chatbots provide quick customer support, predictive data analytics guide strategic decisions, and they expedite and personalize shopping experiences for customers in every industry. And it has been observed that 40% to 50% of customers happily prefer to see targeted ads so that their time is not wasted and they only get to see what they're looking for.
By implementing AI, businesses can get a positive outcome for their marketing state. It will help them to drive tailored marketing campaigns, which can be a great solution for sweetening the customer conversion rate.
With the help of advanced digital solutions, businesses can design personalized email drives, social media posts and bespoken offers based on unique customer preferences, improving their experience and ensuring a remarkable result for sweetening brand loyalty.
For example, customers only see ads on Facebook or Instagram related to their recent searches on various platforms like Amazon, eBay etc. Based on that, they get ads or recommendations on various platforms, which makes the buying process quick.
The Use of Omnichannel Marketing
These days, humans have a very less attention span and want quick results, which leads to the requirement of getting instant responses and solutions to their problems and queries.
That's where omnichannel marketing comes into the picture, and digital transformation now depends on omnichannel marketing. To offer a smooth and unified consumer experience, this strategy incorporates key touchpoints, including social media, mobile applications, websites, and physical storefronts.it is basically a medium or best for marketing across a variety of channels. Although maintaining uniformity across channels can be difficult, successful implementation boosts client satisfaction, loyalty, and conversion rates.
And we found that, as per Shopify, "Brands with excellent omnichannel consumer interaction enjoy an annual revenue gain of 9.5%, compared to 3.4% for brands with weak omnichannel brand strategy. "
Furthermore, research indicates that good multichannel companies have a 7.5% annual drop in cost per interaction.
The benefits of omnichannel marketing are clear: customers have a better experience, and brands see higher conversions and loyalty. To remain on the high of the business, it's important to provide a truly engaging experience for your customers; omnichannel marketing is a great option for conducting this process.
Anticipating the Future of Digital Marketing
The digital marketing strategy is constantly growing; this rising ratio eventually provides ample amount of opportunities for organizations. To ensure a positive result, it's important to adapt these new technologies, such as voice search, AR, and VR. These standard trends and technologies are spreading up new possibilities for the target audience, eventually increasing engagement by ensuring a compelling shopping experience.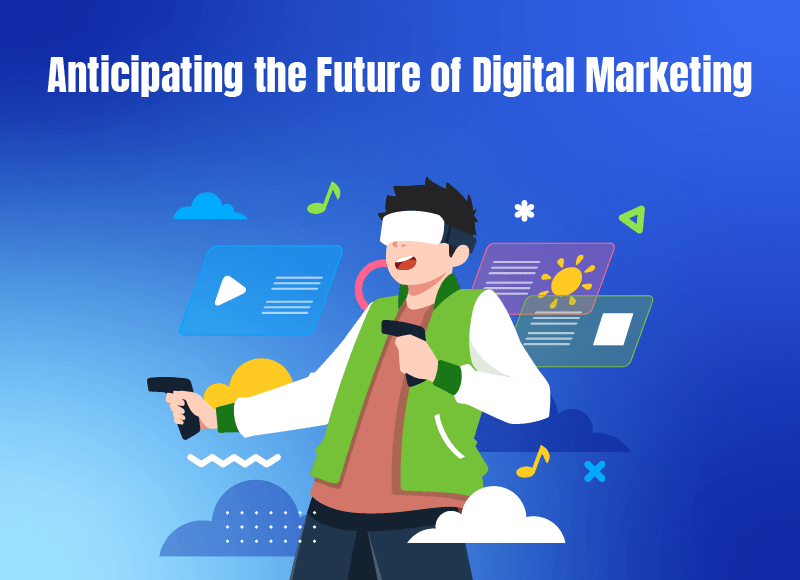 The example of Apple Vision Pro can be considered to understand the future of digital marketing in a better manner. This product has received a great response around the globe for its outstanding customer experience tools through advanced technology. Humans will be able to see and hear digital things being placed in the physical environment around them in real-time. Ideally, it would feel like they are actually sitting in that room or environment.
The clients and businesses both have endless opportunities to explore and experience new things and still, there is so much more to know about, for example, the use of voice search in marketing.
Voice Search
With the great innovation around the world, access to every element has become easier for customers to access anything. For example, with the rise of smart speakers and voice assistants, updating and improving content for voice search is necessary for a smooth process. Marketers are obligated to immediately alter their strategy to reflect this shift in consumer behaviour or risk falling behind in a competitive industry.
Augmented Reality (AR) and Virtual Reality (VR)
Augmented reality and virtual reality technologies are key terms that always come in the trends. But unfortunately, many people are still not aware of this solution and their benefits for business. AR and VR allow customers to try on virtual items, be they clothes, jewellery, or anything else in the fashion industry; similarly, a person can get exclusive tours of real estate properties while looking for his or her new house.
It will deliver an outstanding customer experience by allowing real-time updates that to the user. With these smart updates, they will be able to enjoy insights from anywhere at any time. It will result in higher customer engagement for your end-users. It accelerates the decision-making process as customers can directly look at themselves in their desired clothes without even trying. Similarly, they can see different houses and imagine themselves with AR and VR technology.
Final Word
Digital transformation has changed the growth prospects for various industries. It has a great impact on developing marketing strategies. This advancement has ensured higher possibilities for the business with their innovative solutions. With the digital solution, all will have boundless opportunities to explore and expand from the bottom.
Because of the transition from traditional techniques to digital strategies, businesses can now reach a larger audience, participate in targeted interactions, and make data-driven choices. Digital marketing, AI, omnichannel and Automation are the smartest methods that can be used for everyday businesses to succeed.
Decide on a suitable third-party vendor to secure great results and understand more about digital solutions. You need to select your expert wisely and learn more about digital transformation to turn your business ideas into reality with marketing automation solutions.