The best flyer makers and graphic designers use the best flyer-making software, tools & mobile apps. This article contains a comprehensive list of 28 leaflet design tools to use in 2023-24 on a mobile or desktop.
Whether you're a full-time graphics designer, a blogger who loves good graphics, or someone who likes to thrill your social media audience with colorful flyers, you will always have the chance to choose a flyer design software that comes off as perfect.
Well, you may already have a flyer design software that you're in love with, and hence you find it difficult to experiment with the other applications or at least check out what they are offering. But using that single program to make flyers may not allow you the chance to experiment with all your creative skills.
However, we know the barrier you are facing with trying out other flyer design apps.
It is difficult to go out there and start testing all the best apps for flyers. So, we've taken some time to create this list of the top programs, tools and mobile applications that you can use to create your next fantastic flyer.
If you're bent on saving yourself some money by designing flyers by yourself, you will want to do it so well that no one ever asks why you decided against hiring a professional designer.
So here is all the help you can get!
1. Adobe Illustrator
Without a doubt, Adobe Illustrator is one of the oldest and best flyer design software out there. Although the program was created in the mid-1980s, it has continued to keep up with the pace of modern graphics revolution.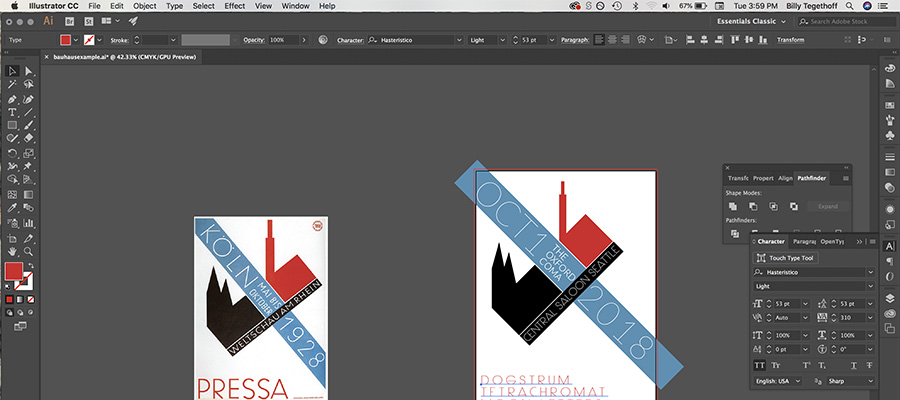 Using this program to make flyers or other promotional documents will guarantee that you get a perfect blend of crisp, sharp lines and text, while playing around the best color schemes that match your project.
Whether you're using only a small or sizeable chunk of text, Adobe Illustrator is an excellent choice for arranging all of that in a single layout without squeezing the text or suppressing the images you choose for your flyer design.
Adobe Illustrator is compatible with Windows or MAC users and easy to use if you already have some experience with graphics designing.
2. PosterMyWall
Unlike Adobe Illustrator which runs offline, PosterMyWall is a simple online application for creating flyers. There is no long process involved in getting started. You can begin your poster work by clicking the create a design button on the homepage and then picking any of the customizable images to pops up on the next page.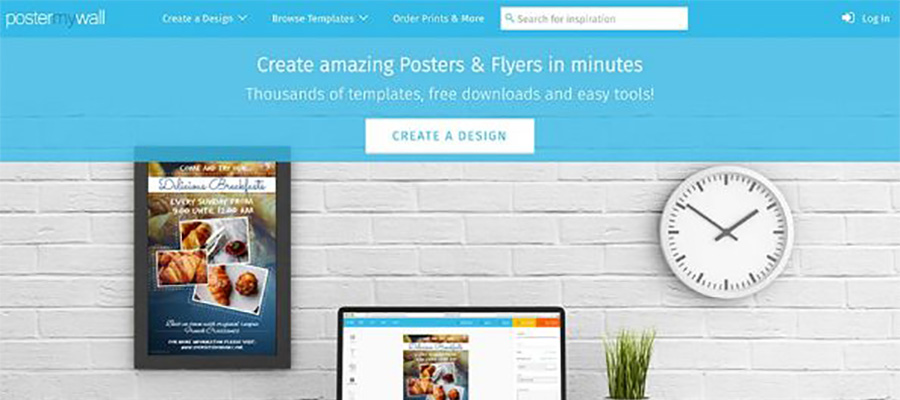 PosterMyWall is easy to use since it has almost the same features as your regular graphics app, so you should have fun in the process of designing your flyer. Once you're done, you can choose from any of the three download options to save the design to your local storage or even use their paid printing services.
But wait!
Some of the features on PosterMyWall are for premium users, or you have to let their big thumbnail stay on your flyer. Alternatively, you could screenshot your flyer and then crop the rest of the image if you can't afford to pay for premium services on the site.
Their prices range between $29.95 for three months subscriptions and $99.95 annually. The second offer is a good bargain if your business creates several flyers throughout the year.
3. Adobe Photoshop
The Adobe Photoshop software is for anything graphics and as such comes handy as a program to make flyers.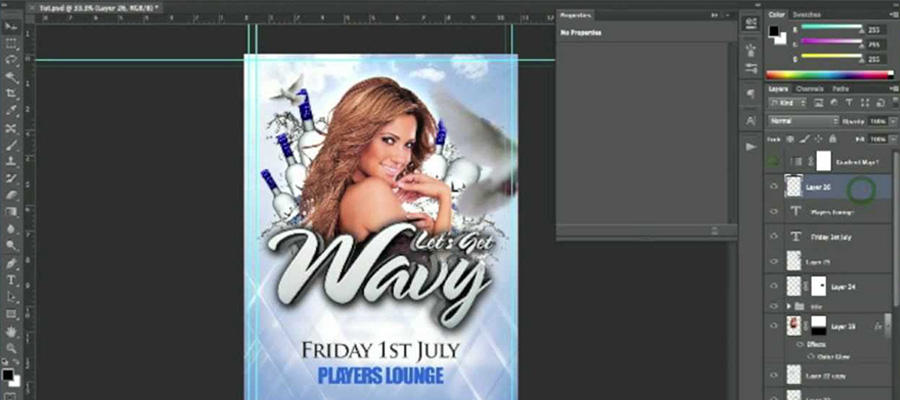 Photoshop usually requires some training before you can get the best out of it. However, you can still come up with something cool as an amateur if you focus a lot more on creating beautiful images than writing a large chunk of texts.
Adobe Photoshop usually allows a seven-day free trial for first-time users, after which you can upgrade to a paid plan.
What is cool about the paid subscription is that it includes a cloud storage system (20GB for the least plan) that lets you save your designs on their servers and allow you more freedom to suspend flyer designs until you get some new inspiration.
Adobe Photoshop is well suited for Windows and MAC users with over 5 million users globally.
Adobe Photoshop is well suited for Windows and MAC users with over 5 million users globally which means that there are plenty of tutorials and youtube videos to help you learn and improve how you use Photoshop, like this article on Adobe productivity.
4. Canva
Without a doubt, Canva is one of the best programs to make flyers or any piece of eye-catching graphic design. Canva was created in 2012 and has since then become the preferred choice of their over 4 million users globally.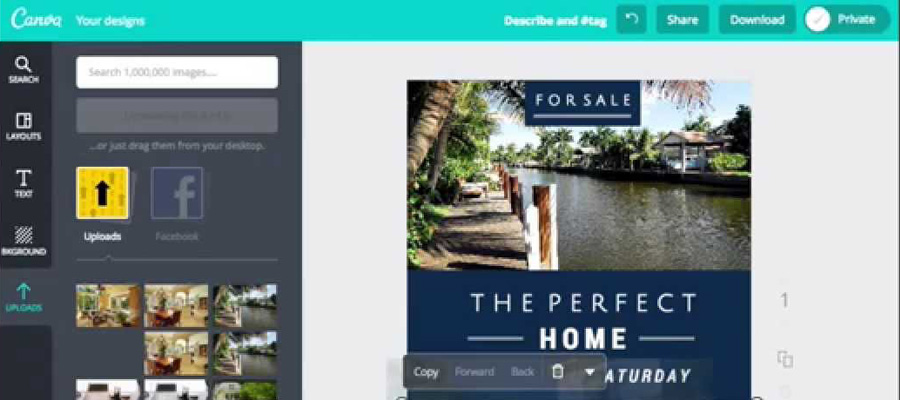 With Canva, creating e-flyers become a drag-and-drop process that you can repeat as many time as you want to create more beautiful designs. There are lots of pre-formatted flyers that you can edit to create your design or you can start from scratch.
The best thing about Canva is that your work is stored on their servers and can just be accessed by logging into any computer with your registered email address and password.
With the introduction of Canva for Android and iOS sometime in 2017, it became the best app for making flyers.
Your work can be synchronized across any device you use to sign in, and you can design flyers on the go with your mobile.
Even though some of the templates and graphics on Canva have to be paid for, you can create some fantastic graphics without purchasing any of them. If you ever decide to, you will only have to pay $1 to get access to these templates, icons, or tools for a lifetime.
5. Instasize
Do you need more portable software so you can design your leaflets on the go? Instasize is a great application that allows you to edit and put together photo compositions on your mobile device. You can use either an existing photo from your gallery or a new one from your camera as a base and push it through a process easily accessible through swiping through all the options.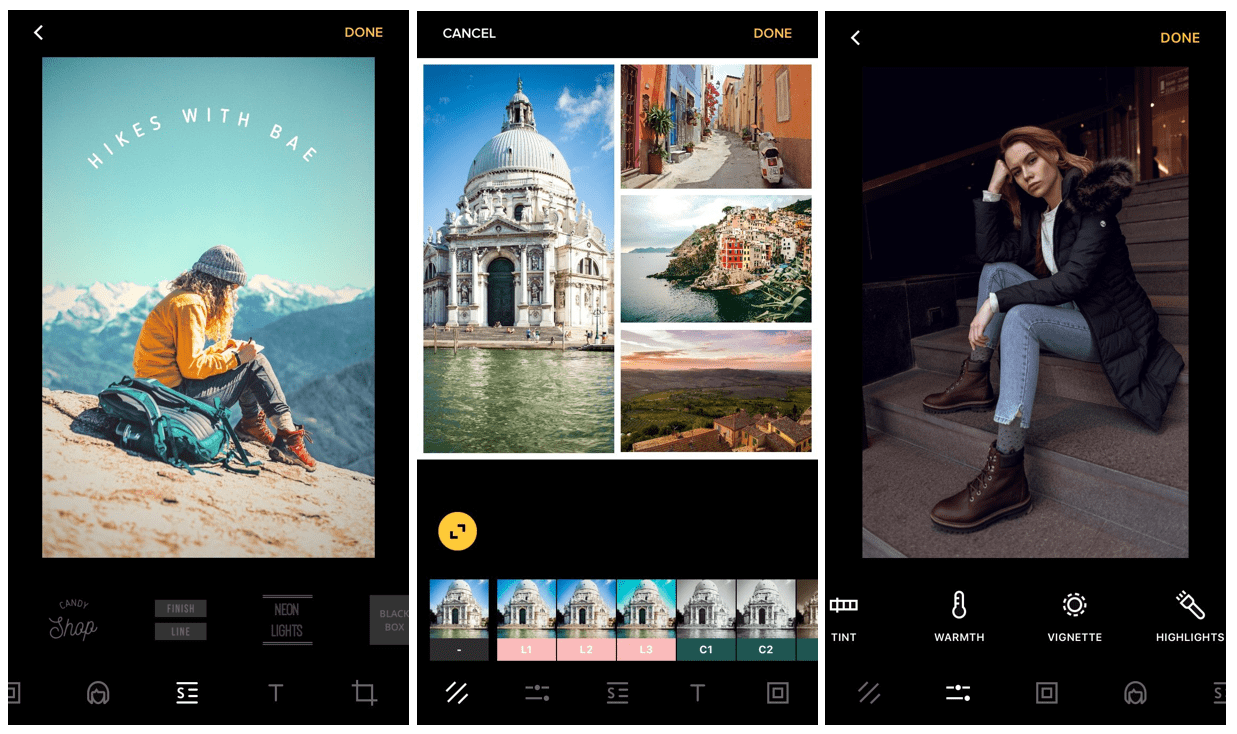 The text options and border packs are especially of note. You can easily place, rotate, and move multiple segments of text on your image using the touch screen. For borders, you can use pre-made border packs or make your own using other photos in your storage.
It's available to download for free on both Android and iOS devices, with a premium subscription for users interested in new content packs.
6. Crello
Crello's strong suit is their affordability and continuing suitability with the latest design trends. This free graphic design tool has everything to help you create impressive flyers for events, parties, promotions, and more.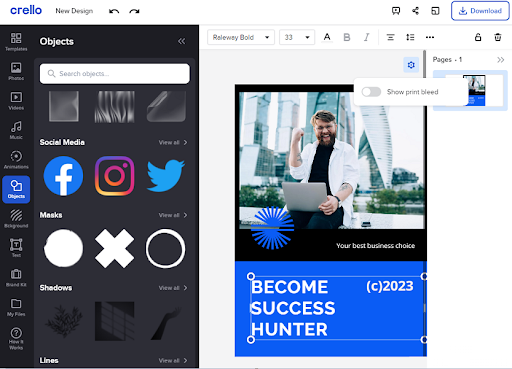 Crello holds a massive library of pre-designed trendy templates for you to turn into original leaflets in minutes. Everything you need to do is sign up for free, choose a design, and customize it online via Crello's drag-and-drop editor.
Here you'll get dozens of editing features: change your flyer's color and font, add texts and objects, resize, add images from Crello's library, remove backgrounds, add animation if applicable, you choose! Or, you are welcome to create your flyer from scratch: Upload external files to the library, and customize them whatever you need.
Crello is web-based, but free versions for Android and iOS devices are also available to download. Besides leaflets, the tool offers templates for 50+ other content formats, web and print.
7. Microsoft Word
Did you tell yourself that Microsoft is only a word processing tool for MAC and Windows?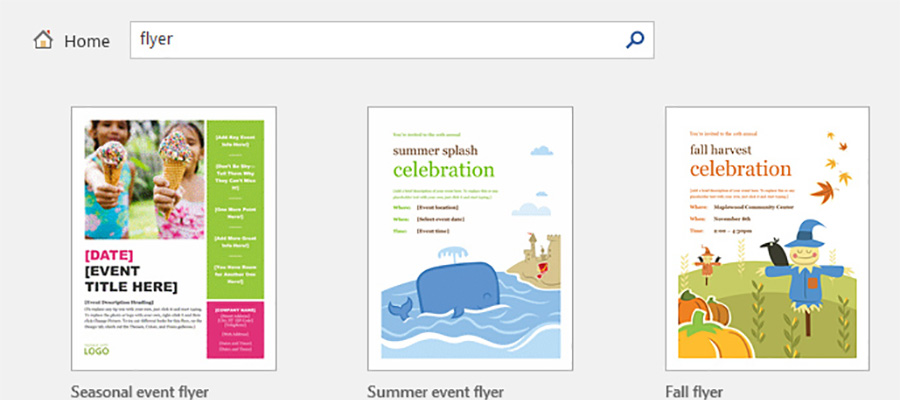 Well, that was in the past. Most of the newer versions of the Bill Gate software, starting from 2007 can be used to create excellent flyers for a variety of purposes. You can create anything ranging from leaflets, cards, poster, and simple infographics for free using your everyday word processing tool.
Another good thing is that creating these designs is easy because most of the MS Word graphic features is as simple as the word processing environment. So you do not need to be an expert before trying out your hand at creating flyers with MS Word.
There are also already made flyer templates on the program for you, so you have some inspiration to begin!
8. LucidPress
LucidPress is an online flyer design software that you can consider the mini-version of Canva. It has a clean user interface that prompts you to start creating your flyer the moment you arrive on the website.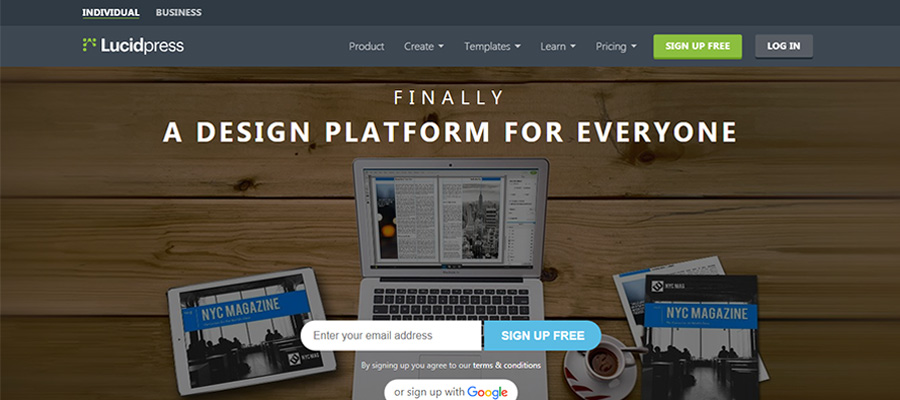 The best LucidPress feature is a rich gallery of resources which teaches you how to do some essential graphics work using their service. You can also create brochures, business cards, invitation or infographics.
To get the best results from LucidPress, you will have to complete their registration form and apply for a free trial. Even when your free trial expires, the design software allows you access to all your work done before then until you decide to subscribe to any of there premium packages.
You can choose any of the packages for personal, education or business.
9. Template.Net
Template.net, one of the world's leading and accessible library of beautifully-designed, easily editable, and professionally-written documents, has a wide range of templates that businesses and individuals can use in their daily activities and future goals.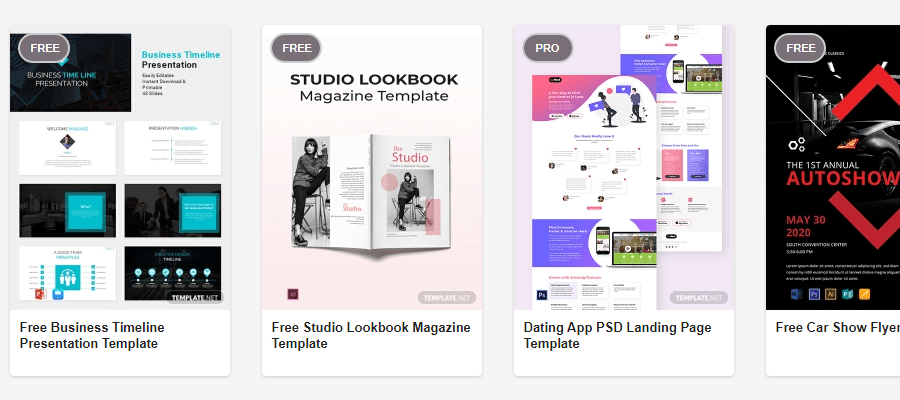 The website offers a variety of materials, ranging from design templates to business templates that benefit entrepreneurs, students, and organizations, alike. Design templates feature original, innovative, and high-quality designs that attract audiences. It also has an aesthetically pleasing and usable format for the convenience of users. On the other hand, business templates contain organized and well-written content, which serves as a guide for companies with different end-goals and future plans. The documents include comprehensive and relevant content that's adaptable to the customers' needs.
The workforce within the company are artistic, skilled, and knowledgeable individuals who are passionate about helping global users save time and effort. With extensive experience in both writing and application design, our team values creativity and professionalism. Driven with dedication, they focus on ensuring that all their customers receive excellent and first-rate template designs. They guarantee that there templates, whether design or business, are high-class and authentic for the benefit of all users.
Today's hectic work environment inhibits individuals from achieving completion of their daily tasks.
10. Poster Maker, Flyers, Banners And Graphics Designer (Android)
A search on Google Play Store for 'flyer maker' will return with a list of tools but has Poster Maker, Flyers, Banners, and Graphics Designer by Apps You Love sitting on top. This flyer maker app is a preferred choice by many Android users (1M+ downloads) because it has an easy to interface and ads placed in positions that to do not interfere with your designing experience.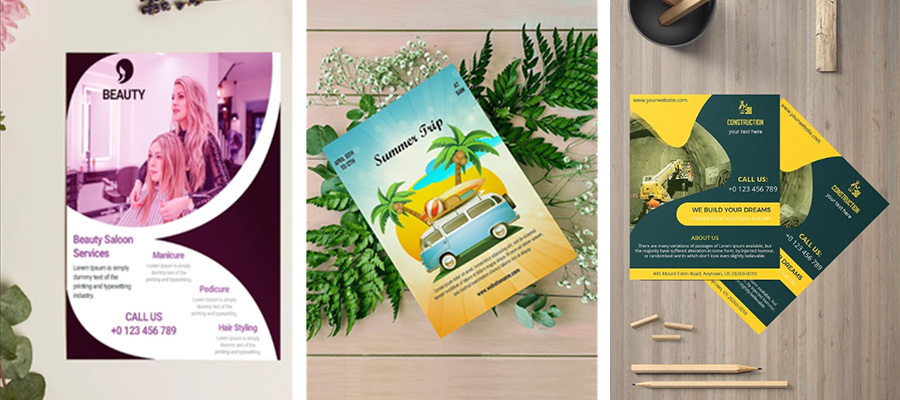 A decent 4.7 rating says it all, and if you are ever looking for the best app for creating flyers, then their application is worth giving a try.
Please note that there are some in-app purchases when you want to use some clips or template from the app, but just like Canva, you can still create some cool designs without spending a dime.
Extra features include easy onboarding with no registration required as well as a collection for all your flyers designed with the app.
11. Phoster (IOS)
Phoster is arguably the best iOS app for creating beautiful flyers and invitation posters very quickly. The tool costs only $1.99 to install from iTunes and has in-app purchase features that you can choose whether or not to pay for it.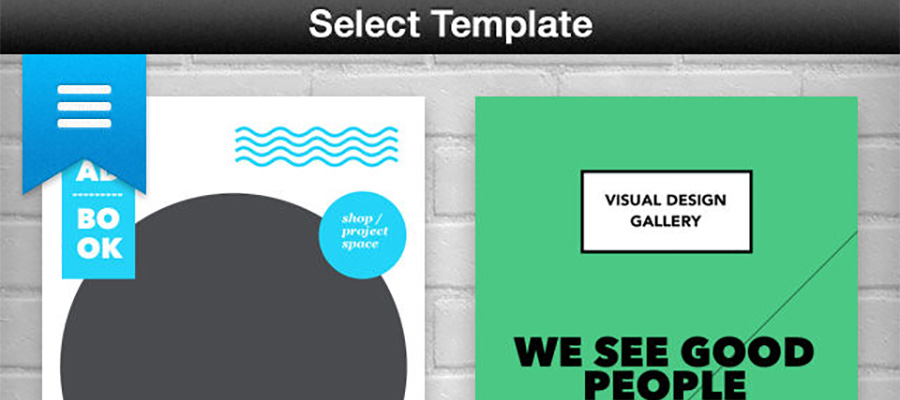 Hey! We only mean that you can do something cool for free on Phoster (there are free 197 templates) while you can pay for premium to get the best value.
It is evident that user experience was made a priority during the Phoster iOS app development process since the work environment is free from clusters and easy to navigate. Additionally, it is the only excellent flyer maker app on the store that allows you to personalize and share your invitation with friends and family once you're done with designing.
Wait!
We also forgot to mention that Phoster once won the iPhone APP OF THE WEEK in the U.S, Canada, Japan store. So it's worth checking out.
12. Easy Flyer Creator
Easy Flyer Creator is a highly recommended flyer designer software that is compatible with Windows 8 and above and free to install from the Windows Store.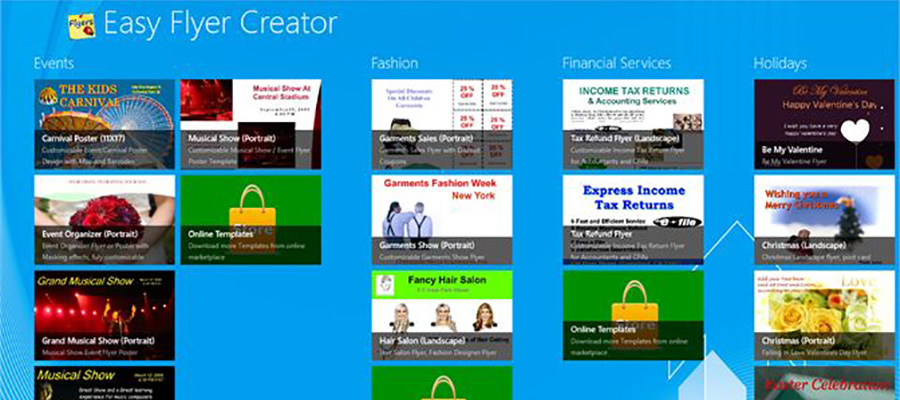 The program comes preloaded with ready-made templates for industries such as Real Estate, Travel and Tourism, Institutes, Organizations, Hotels, Entertainment, Showrooms, Events Management.
Easy Flyer's interface is very easy-to-use even someone who has little to no experience in creating e-flyers. You could publish your invitations, flyer in a variety of formats including JPG, PNG, PDF, etc.
The little problem with Easy Flyer Creator is that you have to pay $39.99 for lifetime access or license key. If you're a full-time graphics designer that needs to work on a lot of posters daily, then this is a fair deal.
13. Edraw Max
Edraw Max is a free flyer software that is compatible with Windows version 8 and above, XP series, MAC, and Linux.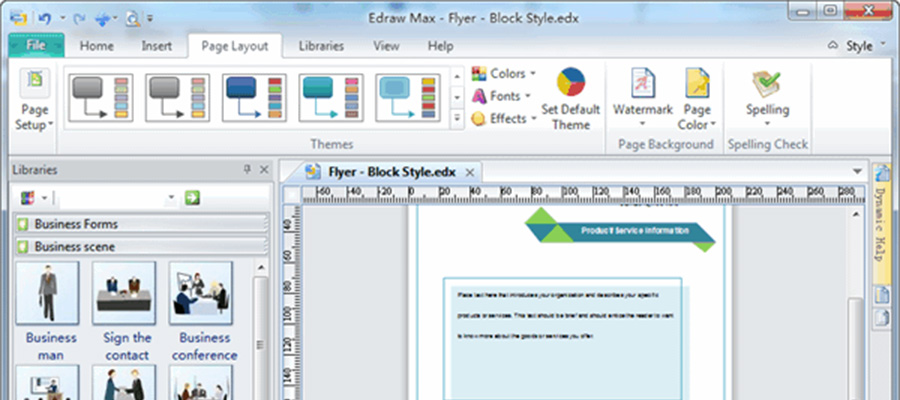 With ED Max, you could create professional looking flyers, brochures, leaflets or certificate in minutes and export them in basic image formats as well as PDF, PowerPoint, Word, and Graphics.
Over 12000 vector shapes are available on the service while there are also inbuilt templates that you can get inspiration from to create your ideal flyer or poster. You can also insert clickable links and images that you have on your device storage.
There is no limit to what flyer customizations you can implement on Edraw Max!
14. Envato Elements (Web)
If you're hunting for very fanciful flyer ideas that you can easily customize to your taste, then you may want to look at the Envato Elements flyer store founded in 2006. Most of the flyers you find here can easily be edited with either Adobe Photoshop or Adobe Illustrator.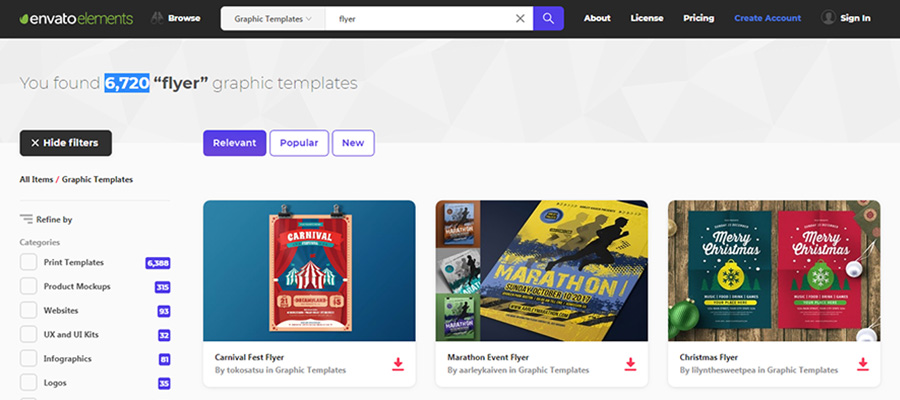 There are more than 6270 flyer templates on the Envato marketplace for different industries and occasions. To use the service you pay only $16.50/m to download these flyer templates as well as over 850,000+ items which include stock photos and video templates.
15. FlipHTML5
This flyer marker tool is ideal if you have an online brand and want to create fascinating posters for your audience who read content on different devices.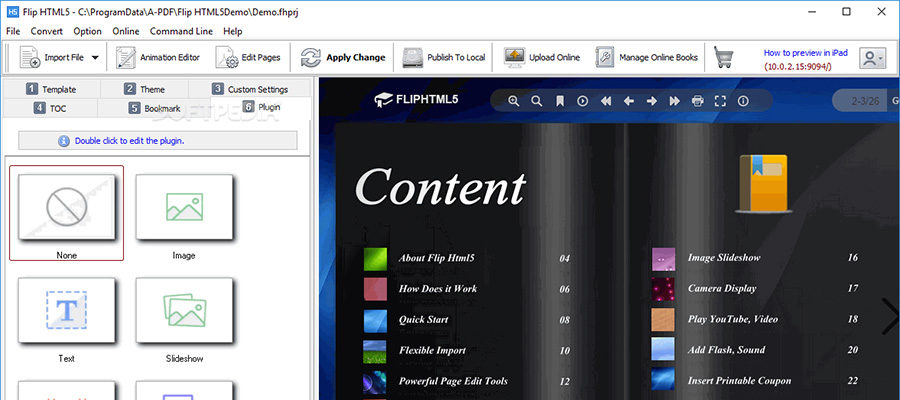 FlipHTML 5 allows you to convert PDF images to page flipping flyers. Additionally, you will have the chance to attach your logo and website link to any of the flyers you generate on the service and can easily be integrated to your website content using a simple line of HTML 5 code.
Other features of the tool include free online & offline distribution, social sharing, and email sharing options. FlipHTML 5 is available for Windows and Apple devices and boast 50,000+ global users at the time of writing this article.
You could get access to 20GB free storage space as first time user, but your designs will have their watermark until you upgrade to Premium for $15/month.
16. SmartDraw
If you're looking for a flyer maker program that is compatible across several devices, then the SmartDraw application is a handy tool.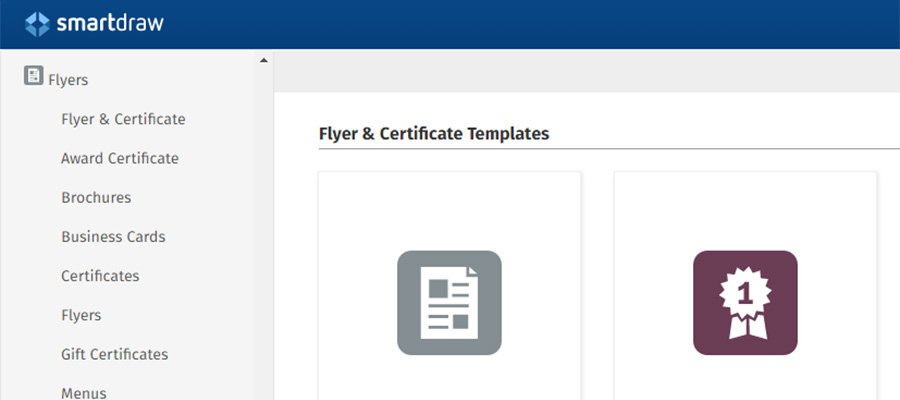 The service is accessible to Windows, Mac, iOS and Android users and gets even better with an option for team members to collaborate on multiple projects via Google Drive, Dropbox or OneDrive.
You can create advertising flyers, leaflets, brochures, certificates and much more using already-made templates on SmartDraw. Your designs can be exported with just a single click to any of the PDF, PNG or any MS Office application formats.
Unlike most of the flyer maker software we have reviewed so far, SmartDraw developers offer technical support for Premium users. This option is very beneficial when you have a hard time finding one of the app features and need to get your flyer out within a short time.
17. BeFunky
Befunky is a modern flyer creator application that allows you to create posters for almost any event you can dream about. There is a variety of professional-grade templates for various industries including real estate and fitness, that you can customize to create your ideal flyer.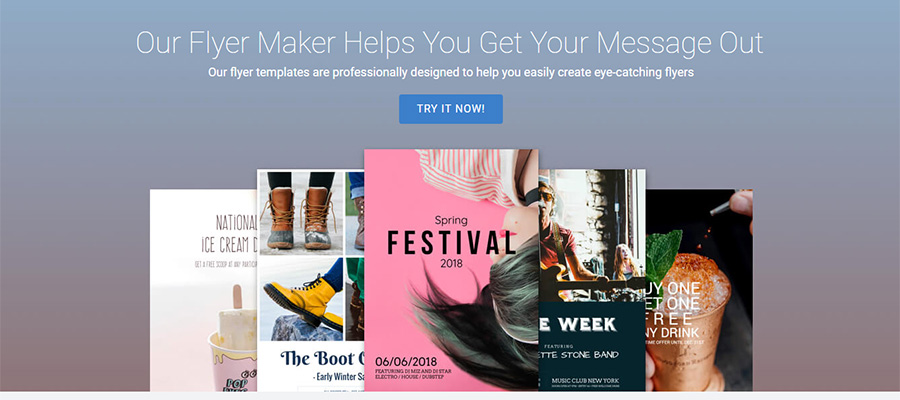 There is also little stress since customizations are as simple as drawing on the photograph itself or moving the sliders from side to side.
One cool thing about BeFunky is that you can use it online with your PC or create flyers on the go with their mobile versions that are downloadable from the iOS and Google Play Store. Just like Canva too, you can choose to create a fantastic leaflet or flyer with BeFunky's free features or use some in-app purchases to enhance the quality of your design.
18. GIMP
GIMP software prides itself as an open-source manipulation software and even has enough features like image manipulation service that can compete with your favorite editors like Photoshop or CorelDraw.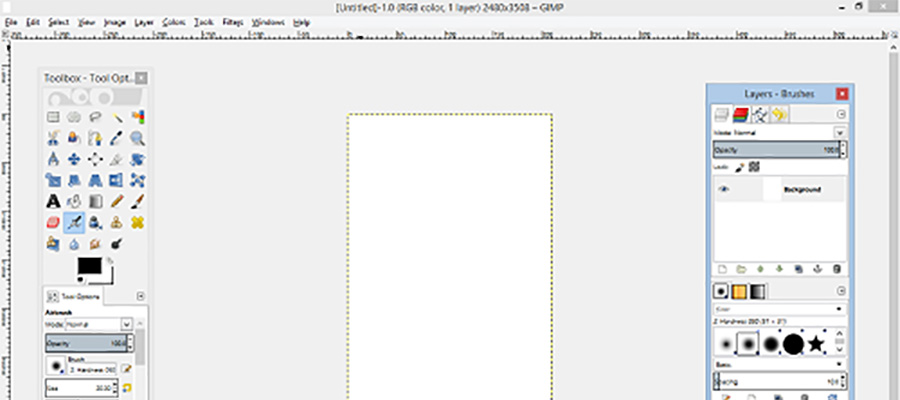 GIMP is free and comes handy for making flyers from scratch.
The little disadvantage is that you'll have to spend a bit more time to learn how to use the software effectively, even though the developers have improved on the features that made it so hard for newbies to use it.
GIMP is compatible with Windows, MAC, and Linux while also offering a full-screen mode that allows you to live the design experience.
19. Poster+
Poster+ is another free flyer maker tool but only available on iOS. With this app, you can create simple but amazing flyers using a square photo and some text.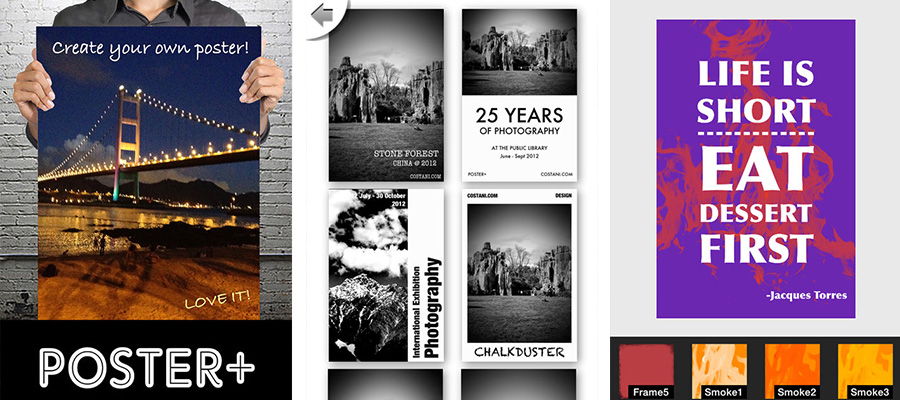 There are also design templates that you could customize, but you will have to $1 to get access to filters or use $3.99 to unlock lifetime access to all the amazing features on Poster+.
The app is highly recommended if you do not want a sophisticated flyer and want to keep things as simple as we love to. There is also family sharing support which allows you to add up to six people to use the app.
20. Adobe Spark
Well, just like all other Adobe software, the Spark tool is an excellent option from creating flyers/posters or any other piece of graphic work that you can conceive.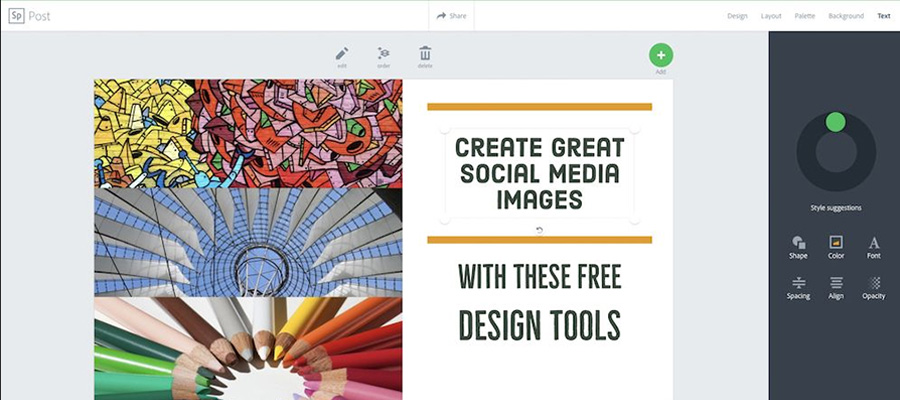 Adobe Spark has numerous template images that you can pick from and easily customize using the tools on the program's interface. There are also preformatted texts and design styles, just in case you're running out of inspiration on what to write on your flyer.
The software is also one of the best for overhauling your current design work without going back to the start page. You only have to click on one of the Sidebar Menus to get this done.
Adobe Spark is compatible with web and iOS users with many free features. You can still upgrade to premium for $9.99/mo to enjoy more leaflet design freedom.
21. Desygner
This tool is also another close Canva competitor and does a good job when you have to come up with an amazing flier instantly on your mobile. Desygner has a web version but is best suitable for use on your Android or iOS device.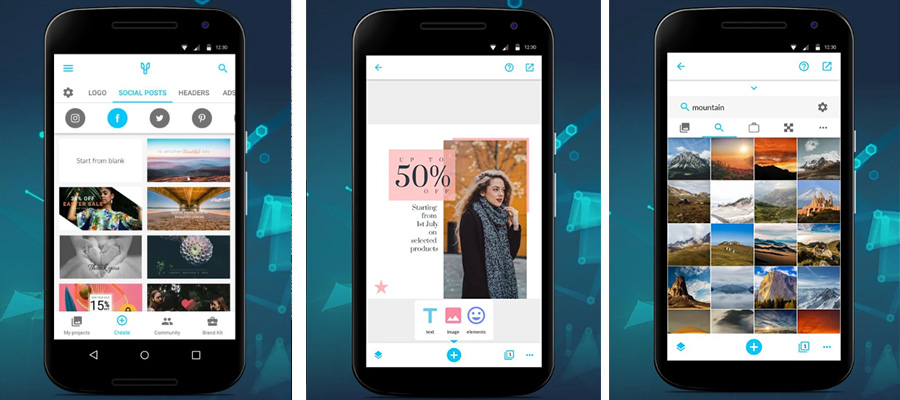 You can start designing your flyer by choosing one of the many templates or starting from scratch by using your image or one of the free-royalty photos on the app.
Bear in mind that while Desygner is simpler to use than Canva, it has fewer templates and tools available on its free plan. You can upgrade to Premium for $6.95 to enjoy more features that help you create professional-looking flyers and leaflets.
22. Gravit Designer
Gravit is a free graphics design tool that is available for Web, Mac, Windows, Linux, Chrome OS.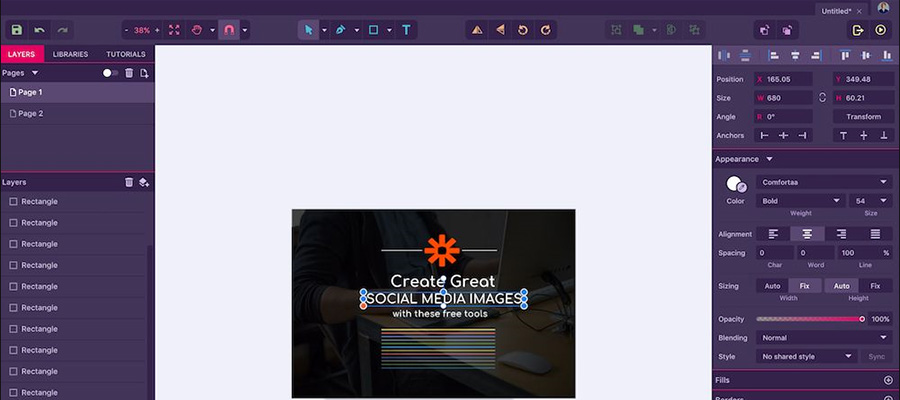 It practically combines most of the necessary design tools you find on Photoshop, GIMP or Sketch but offers a more easy-to-use interface and a less ambiguous work environment.
Creating your flyer with Gravit will mean that you start from scratch, but you can be pretty sure that the program has everything you need to transform your flier idea into reality with little fuss.
You can take some time to run through the tutorial that comes up after installation so that you will be ready to go as soon as the work environment pops up.
Gravit also offers a free cloud backup feature that you can get access to by just signing up for a free account on their website.
23. PosterLabs
The last flyer maker tool on our list is only available to Android users and allow the easy creation of professional banners and posters. You have to pick from one of the three classes of template available on the app – Classic, Stylish, and Minimal – to get started.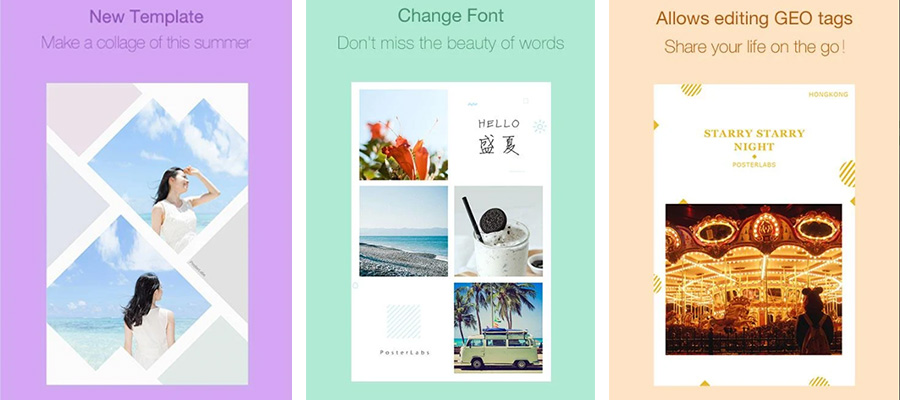 One slight disadvantage that PosterLab has is that not all the texts on the templates are customizable. So if you're open to sticking with predefined texts, then it can be a quick tool for designing flyers on the go.
24. QuarkXPress
This tool essentially helps you create and edit complex page designs. QuarkXPress is compatible with macOS and Windows.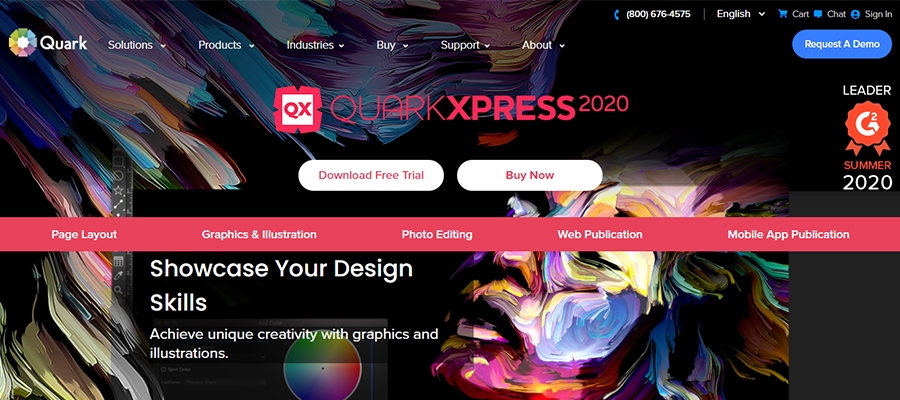 The best thing about this tool is that it is extremely simple to use and it operates in a WYSIWYG (What You See Is What You Get) environment. You can create and include your own images in the document designs that you make.
What is more, is that you can automate, collaborate, and manage content to make the process of content production easier, not just for you but for your whole team as well.
25. Print Creations
Print Creations is a leaflet design software that is available for both macOS and Windows. Created by ArcSoft, Print Creations is a design software that allows users to create various types of deliverables.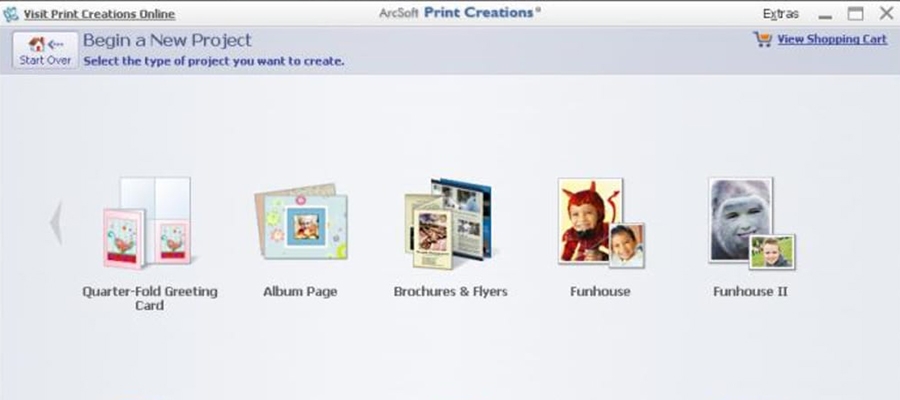 It offers a high level of customizability which makes it extremely printer-friendly. We would not be wrong is saying that this is probably the most printer-friendly app on this list.
26. Inkspace
For the more advanced users, Inkscape provides the solution. It is an open-source graphics software that allows the end-user to create vector images, mostly in SVG format. It runs smoothly on Linux, Windows, and macOS.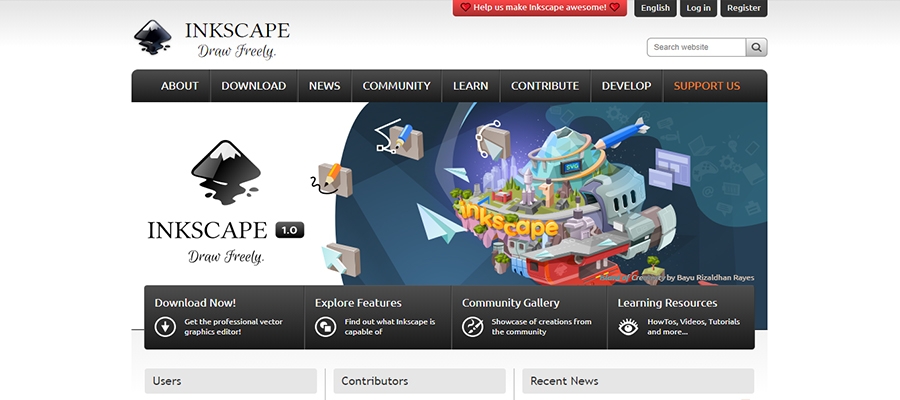 Even if you are a beginner, this software has the fastest-growing user community and a lot of learning resources to go along with it.
Apart from using this software to create leaflet designs, it can be used to create cartoons, clip art, logos, typography, diagramming, and flowcharting
27. CorelDRAW
With CorelDRAW, users can create professional-looking designs using this simple to use software. It is available for Windows and Mac, both.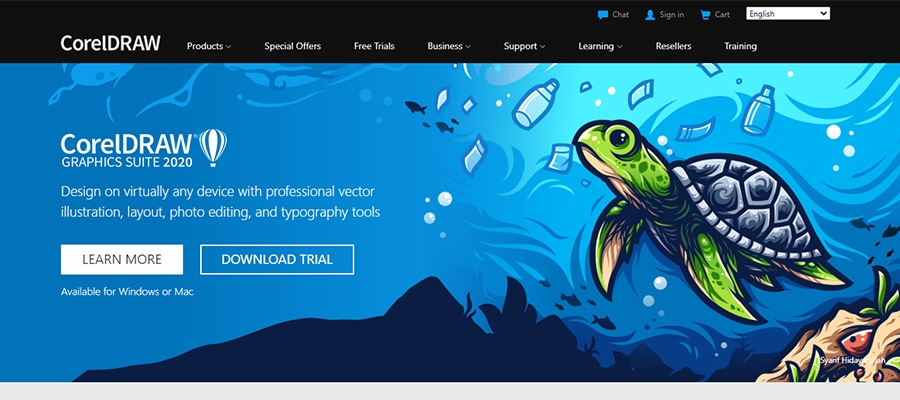 You will have complete customizability and can create your leaflet design from scratch. Apart from just design features, you will have the option to collaborate with your team members and clients so that they can give feedback and you can complete the whole process faster.
28. Bannersnack
Bannersnack has put in a lot of effort to create a very simple to use interface. This allows users that have various amounts of experiences to work with this tool and create the perfect leaflet design for their industry.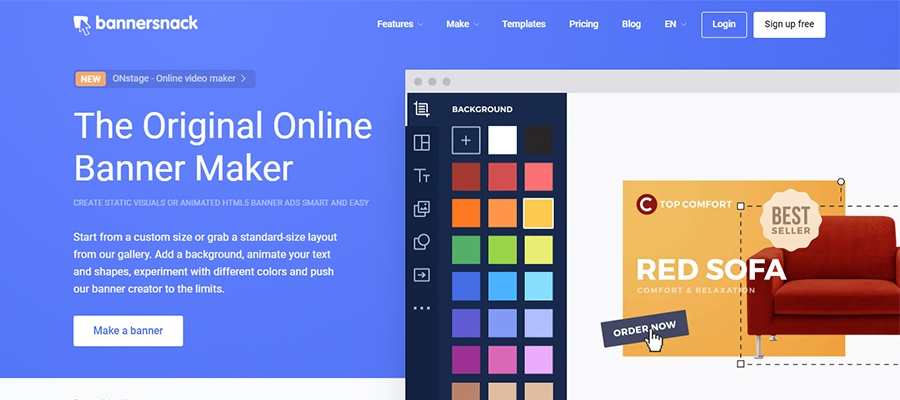 There is an option for users to create and customize their own templates or use the already provided templates.
You can use this software for your own use or your team as well. They have different pricing plans for Individuals and Teams. So if you're looking for a tool that allows you to create simple, fast, and convenient leaflet and brochure designs while collaborating with your team, look no further.
Final Words
Now that you have a comprehensive list of the best leaflet design maker programs/applications, you can go ahead to try out the ones that you already feel comfortable with or take some time to test as many as you want to.
You could also combine the features on one or more of the tools to achieve more significant results while we wish you happy designing!