Wondering how long it takes for Facebook ads to start working? The answer depends on the type of ad, your campaign goals, and more. Learn the basics of setting up a campaign and get tips on optimizing your Facebook Ads for success.
How Long Does it Take for Facebook Ads to Work?
Let's set things straight at the very beginning.
There is no concrete answer to this question. Depending on various factors, your ads may take 24 hours to a few days to give results.
The main reason for the incongruence is Facebook Pixel.
Pixel is a tiny piece of code Facebook uses to optimize your ads for the right audience. You need to give Pixel a few days to understand how visitors behave on your site.
It is advisable not to make any changes to the ad settings when you test ads. Doing so will reset the Facebook algorithm.
The performance of your ads also depends on the money you put in. If you set your daily ad spend at $10, you must wait for a few days to measure the performance.
7 Simple Tips to Consider Before Running Facebook Ads
1) Set Your Objective
You must be clear on what you want out of your advertisement. Sales are not the only goal for a business.
Maybe your audiences are not aware of your brand.
Maybe your business needs quality leads so that you can target them effectively.
Say that you are a new entrant in the eCommerce industry, and you never ran Facebook ads. What you need first is not sales but unfiltered traffic.
If you are an established player and want the most bankable prospects to see your ad, choose 'Conversion' as your campaign objective.
2) Go for the Right Format
Once you are clear on your campaign objective, you must choose the suitable ad format to get the most bang for your buck.
Say that you sell workspace tools and want to advertise on Facebook. A video ad showcasing the operation of your tools will be an excellent choice to go with.
If you are an online store selling an array of products, a multi-product ad is what you may need. Say that you display five to six lifestyle products in one ad. Chances of a viewer liking at least one of them are high.
If you are a non-profit organization dedicated to rescuing abandoned dogs, a simple photo ad with an emotional description will do wonders.
3) Be Emotional
Humans are emotional creatures. So, do not try to be rational with them all the time.
Read the following two ad copies.
A) "Our sweat-proof undershirts fight underarm sweat all day long so that you work with confidence. Get one at 50% off as a Father's Day offer!"
B) "You have never seen his tears because he has been sweating like a pig for years now. This Father's Day, gift him a sweat-proof undershirt that he deserves."
Now say which one bears more emotion and is likely to make you buy the shirt for your hardworking father. Obviously, the second one outweighed the first in terms of emotion. Because emotions connect your brand with people effortlessly, the chances of you making sales are high.
4) Budget Matters
Gone are the days where you spent a little on Facebook ads and took home a handsome profit.
The platform has changed so much. Facebook ads have become expensive, and there is no beating around the bush about that.
Does that mean you should overlook Facebook? Nope. For a clever marketer, Facebook is still a goldmine. But remember that you get what you pay for with today's Facebook.
Years ago, Facebook was so generous that it displayed your ads like a desperate hawker. Today, the CPI, aka Cost per 1,000 impressions, has increased significantly.
For example, the average CPI in 2019 was somewhere near $5.12. However, in 2020, the number rose to $7.19. So, keep your expectations reasonable. Do not set $5 as your daily ad budget and expect massive results.
5) Always Retarget
Studies show that, on average, one out of four persons who have added your products to their cart is likely to abandon it.
And they are the ones who are highly likely to buy your product if you show them ads again.
From a marketer's perspective, one who has engaged in your ad but did not buy anything is a bankable prospect. The user might have abandoned the card due to various issues, including payment issues, dissatisfaction over additional costs, and a cumbersome checkout process.
Troubleshooting and remarketing such prospects will prove positive.
6) Focus More on Visual
Facebook is a visual medium. Do not bombard your audiences with loads and loads of text.
Trust us. Only a fraction of your audience is going to read through. That does not mean that you should not pay much attention to your ad copy. A compelling copy is a must. But keep it simple and tight.
Do not rely on stock images for your ad. Those might have been seen countless times by your audience. Shoot your videos.
If you are not into videos, do not afraid to use images. But ensure that it's striking and stands out from the rest.
If text overlay is an inseparable part of your ad, use a legible font against a contrasting color.
GIF ads are perfect if you want to combine text and visual elements in your ad. And they perform better on Facebook. The best part is that GIF ads are cheaper than video ads.
7) Be Creative With Your Ad Copy
Speak to your audience and do not sell anything explicitly. Write copies according to your industry.
If your target audience is men who love outdoor activities, fill the copies with energetic words and be full of optimism. Words like raw, adrenaline, extreme, uncompromising, tough, rugged, high-octane, and masculine immediately strike a chord with them.
Don't be afraid to be different. Evoke emotions through your copies. For example, a copy along the lines of "Every handmade mud pot purchased helps feed a starving child for a week" does not sell a product on the face of it.
Some Best Facebook Marketing Campaigns
1) Workout Anytime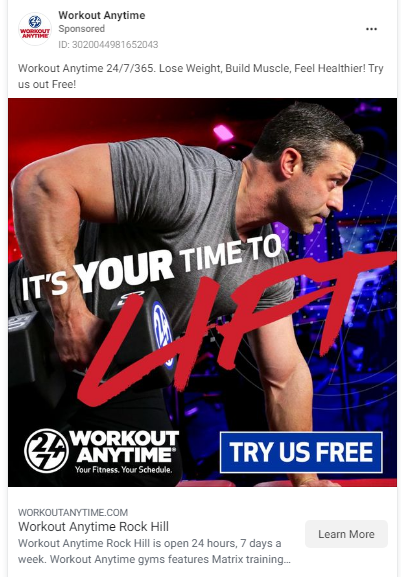 Workout Anytime has more than 170 owned and operated fitness clubs across the US. The company uses Facebook Ads to its fullest extent. They have around 290 active ads running as of September 16.
Though many of their ads are just images with text overlay, they do exploit other ad formats such as video ads.
The strategies they use across their ads are social proof, powerful one-liners, and wordplay. Check this one out: "Train Insane or Remain the Same." Another one goes like, "Don't Weight on Your Fitness."
They use real-life pictures of people exercising in their clubs and leverage social proof to get more eyeballs.
2) Redbubble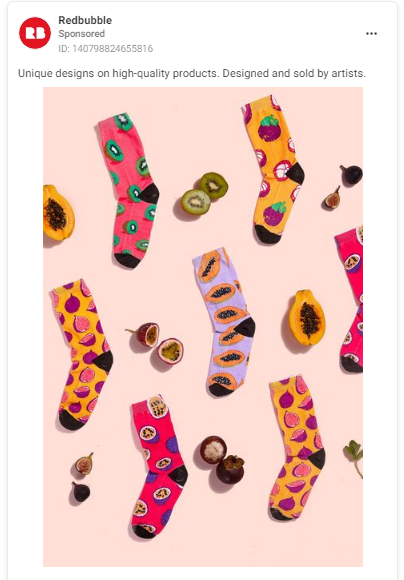 Redbubble is a global e-commerce marketplace for print-on-demand creations based on user-submitted artworks. The company leverages its users' unique product photos to drive traffic.
In the US alone, Redbubble is running 72 ads at the time of writing this article.
It primarily relies on multi-product ads, which give it relatively ample space to attract more eyeballs.
They are very clear in emphasizing the fact that they work with independent artists. All of their ad copies say that.
For example, one ad copy goes like this – "Unique designs on high-quality products. Designed and sold by independent artists." Some of their ads are really successful that they have been active for five months straight. Redbubble has spent $5,881 so far on Facebook Ads.
FAQs on Facebook Ads
1) Do Facebook Ads Work in 2021?
The answer lies on your Facebook newsfeed. Do you see ads between every five-six posts on your feed? If yes, the answer is yes too.
The question should be, "Does Facebook Ads work the way they did a few years ago?" And the answer is NO.
The CPI is on a steady increase, and marketers are looking for other avenues to promote their products. Does that mean you should stay off Facebook Ads?
True that Generation Z is more interested in TikTok, Snapchat, and Instagram. But let's not forget that people between 25-50 actively use Facebook more than any other social media platform.
2) Where Can I Learn About Facebook Ads?
Facebook offers you free online courses for you to learn how to market your business on it.
These are self-guided courses and are well structured. The lessons come as sections and are easy to digest. By logging into your account, you can track your progress on the courses. The downside of these courses is that they are pretty basic.
If you want to learn the ad strategies that work right now, follow reputed websites that will help you simplify the automation of your Facebook ad campaigns. Their articles will give a beginner a good idea about what Facebook advertising is all about in 2021-22.
3) Why Should I Choose Facebook for Advertising?
Facebook could win any social media platform, hands down, in terms of reach, period.
The Zuckerberg-led giant has 2.85 billion active users across the world. If you want precise targeting, Facebook is perhaps your best bet.
Another crucial factor to consider is that Facebook is more popular among adults, with whom the real money lies.
Facebook Ads are also great for retargeting and to find new leads. Not to mention how crucial these two things are for any business.
4) Is Facebook Dying?
Facebook is aging, and there is no denying that. But bear in mind that it is also evolving.
Maybe the biggest social media platform has lost its party years. But it is certainly not dying.
There is also enough room to believe that Facebook is dying, especially when considering ousted platforms like MySpace and Orkut.
There are also predictions that Facebook is slowly getting pushed to extinction, thanks to platforms like TikTok.
But the data clearly says that Facebook is still a dominant player and that it will stay the same for a few years to come.